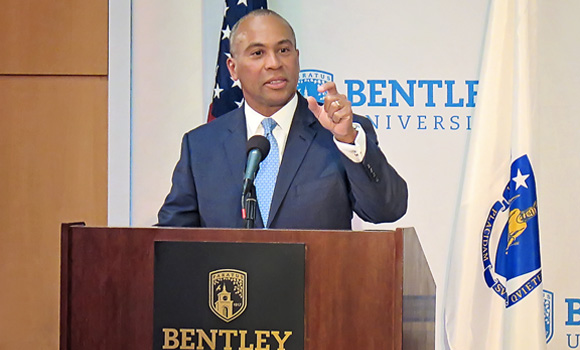 Governor Deval Patrick today announced the Massachusetts Women's Leadership Fellowship developed in partnership with Bentley University and its Center for Women and Business (CWB). The program is part of the Governor's Women in the Workplace initiative that will underscore the key role all working women play in business and the economic success of the Commonwealth by growing the pipeline of women poised to fill high-level positions in both the public and private sectors. It will also examine policy steps the Commonwealth can take to advance women in the workplace from across the economic spectrum. 
The Fellowship program will place fellows in key positions in state government and the quasi agencies for a year, while participating in leadership development and networking programs created by the CWB throughout their tenure. These women will leave the fellowship well prepared for careers in public or private sector management, setting them up to fill executive office and board of director positions later in their careers. The application process will be open by late April 2014. Fellows are expected to be selected by late June and begin their fellowships in September.

"An economy is only at its best when every individual has an equal opportunity to participate," said Governor Patrick. "By focusing on redefining our own strategies to support women in the workplace, and challenging our business community to do the same, we will strengthen our economy and build a better Commonwealth for generations to come."

"I could not be more pleased that Bentley University is joining forces with Governor Patrick in this groundbreaking initiative," adds Bentley University President Gloria Larson. "Our Center for Women and Business was founded to help companies and other organizations develop, support, retain and advance women in today's workplace. We believe our efforts fit hand in glove with the Patrick Administration's bold plans to create the Massachusetts Women's Leadership Fellowship. This is a strong step forward in our collective efforts to prepare women to lead — by creating more actual opportunities for them to do just that." 

During today's announcement, the Governor challenged the private sector to join the state in committing to establish similar programs in their own organizations, with the shared goal of creating a deep bench of talented and experienced women leaders throughout Massachusetts.
According to the Boston Globe, despite Massachusetts' image as forward-looking, recent studies have shown that it may not be as progressive toward women as it might seem from its reputation. The Boston Club, a nonprofit that supports the advancement of women, found that Massachusetts ranked 10th among the 18 states it surveyed in terms of top female executives in publicly traded companies. It lagged behind several other states, including Minnesota, Ohio, and New Jersey. Susan Adams, management professor at Bentley who helped author the Boston Club report, told the Globe, "Female leaders too often get stuck in middle-management jobs because they lack the support of bosses and companies to move up." She said the fellowship program could provide the experience and credentials that may help them eventually break into executive positions.

The Governor also announced the formation of the Successful Women, Successful Families Task Force, which will be charged with reporting back to the Governor within six months with a series of recommendations including, but not limited to, what the Commonwealth and the Executive Branch can do, as an employer, to advance women in the workplace; and what policies the Commonwealth could adopt to govern the employment practices of the private sector. Recommendations could include additional policy steps the state could take on matters such as equal pay, flex time and family-conducive schedules, maternity leave, lactation facilities, family responsibilities discrimination, minimum wage and child care. 

"Women play a key role in the Commonwealth's economic competitiveness, yet they are under-represented in board rooms, elected offices and private and public sector management," said Secretary of Labor and Workforce Development Rachel Kaprielian. "At the Governor's direction, the Task Force will identify ways to support women as they climb the career ladder to become the Commonwealth's decision makers and policy leaders."

"With nearly 194,000 women-owned businesses in the Commonwealth, women play an active role in our economic competitiveness as a state," said Secretary of Housing and Economic Development Greg Bialecki. "In order to continue to propel our economy forward, we must ensure everybody has the resources and ability to compete in our 21st century innovation economy."

The Patrick Administration has lead by example when it comes to advancing women in the workplace and understands that women are a critical force behind continuing economic success for the Commonwealth. In the latest Report on Diversity Outcomes in the Executive Branch, put out by the Office of Access and Opportunity in November 2013, 50 percent of all managers within the executive branch were women, and 49 percent of all senior managers within the executive branch were women. 
The Governor's new initiative, alongside his challenge to private sector employers, will work to create an even playing field for all residents of the Commonwealth to gain access to economic growth and opportunity.