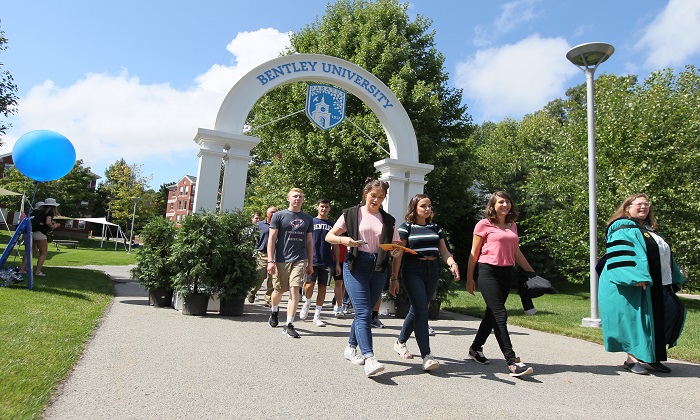 Bentley Welcomes the Class of 2022
More than 1,000 first-year students arrived on the Bentley campus today for "Move-in Day," carting and carrying belongings into dorm rooms, meeting new roommates and friends, and officially kicking off their college experience.
The Class of 2022 began their Bentley journey along with new President Alison Davis-Blake, who took office as the university's eighth president on July 1. Dr. Davis-Blake addressed her inaugural class during a Convocation ceremony held at the new Bentley Arena, where she encouraged students to challenge themselves and be open to exploration.
"In these next four years, I urge you to expand, not narrow, your discovery. Experiment. Ask questions. Intellectual curiosity and inquiry will spark new interests and fuel your passions," she said. "Your path to a rewarding career and life-changing opportunity begins today."
Read President Davis-Blake's Convocation Remarks to the Class of 2022 
The Class of 2022 is a diverse and accomplished group. Its members include a U.S. Figure Skating gold medalist, the inventor of a "smart cane" to help the blind, a snowboarding champion, and a host of entrepreneurs and innovators.
Here are some statistics about the Class of 2022:
They come from 36 states and 35 countries

Their average SAT score is 1321 and average ACT is 29

97 members of the class were varsity athletes in high school

The class includes 18 valedictorians and salutatorians

186 are the first in their family to go to college
First-year students now begin their five-day Orientation Program, learning more about life at Bentley and becoming part of the university community. Fall classes at Bentley begin on Aug. 27.
Bentley will celebrate the inauguration of President Davis-Blake in October with a week of campus events capped by the inauguration ceremony on Oct. 19.