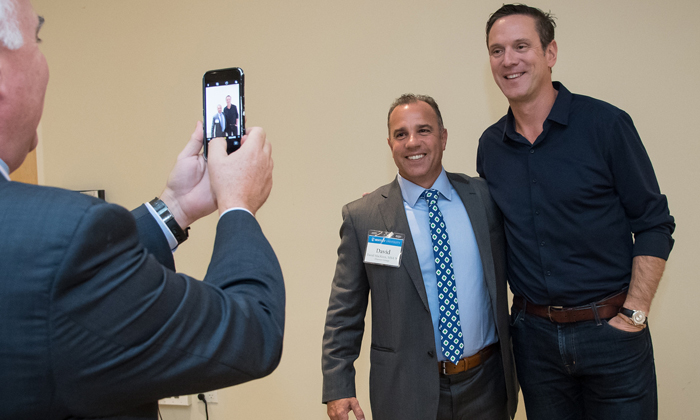 BEC member Dave MacKeen, MSA '99 poses with former Patriots quarterback Drew Bledsoe. Photo by Brian Smith
Drew Bledsoe: From NFL Quarterback to Entrepreneur
Patriots Legend Speaks with Bentley Executive Club
When NFL legend Drew Bledsoe retired from football to open his own winery, he took a lot of lessons from the field to the vineyard, such as the importance of keeping a great team around him and knowing when he should ask for more help.

But the biggest surprise? Game-time decisions that don't have an immediate result. As he told members of the Bentley Executive Club, a group of Boston-area alumni and parents, "A lot of the decisions we make, we won't know how they will work out for a decade."

Such is life in Walla Walla, Washington, Bledsoe's hometown and home to his family's first vineyard, McQueen, and Doubleback Winery. On November 27, the beloved former quarterback of the New England Patriots stopped by Bentley to talk to the Bentley Executive Club about his time as a professional athlete and how he founded this second passion.
See Photos From Drew Bledsoe's Visit With The Bentley Executive Club.

Doubleback was born after Bledsoe reconnected with a former high school classmate-turned-winemaker; the friend helped him get the winery off the ground. Because Doubleback's focus is an exclusive Cabernet Sauvignon, Bledsoe and his wife Maura created a second label, Bledsoe Family Winery, which offers what he calls more experimental vintages. The lower price point has opened the market to more buyers.

Although he no longer lives in Washington, Bledsoe manages both brands by staying in constant communication with his CEO and visiting the vineyards at least twice a month.

And while the pride of Doubleback and Bledsoe Family are wine, Bledsoe says they're not in the business of selling a product. "We're creating an experience." Therefore, quality control and giving customers an experience to remember are paramount.

He also let all of the Patriots fans in the audience know that if he ever looks at expanding his wine business, he will definitely consider bringing it to Boston.