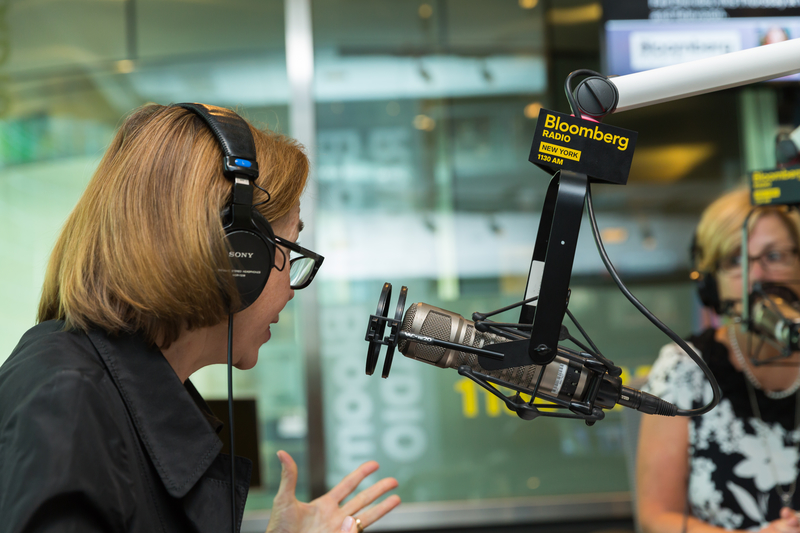 There are many uncertainties about the future of work: what it will look like, what will be expected of employees, the impact of automation and how to manage a convergence of generations.
What is certain is that innovation and disruption are the new normal.
Bentley President Gloria Larson joined Bloomberg Radio's Carol Massar and Cory Johnson, along with guest experts, to talk about workplace trends and how colleges and universities can prepare students for evolving careers. Here are excerpts from the show.
Students need hybrid learning
I believe higher education's traditional separation of left-brain and right-brain domains has left graduates ill-prepared for a career landscape characterized by hybrid jobs that increasingly mix and match skills. It's no longer enough for a data analytics expert to know the numbers. They also have to be able to communicate the story those numbers tell. In my book PreparedU: How Innovative Colleges Drive Student Success I highlight Bentley's hybrid learning approach, essentially a combination of both hard/technical skills and the soft skills employers are demanding such as communication, creativity and collaboration.
-Gloria Larson, president, Bentley University
Tech skills are important for employability
Today, people must be continually learning to keep up with the constant changes in technologies like Artificial Intelligence (AI) and cloud. We're seeing a rise in jobs that require a combination of skills - such as a retail analyst who understand analytics, or a cybersecurity specialist who knows AI. The US Department of Labor says there are more than 500,00 jobs that can't be filled because of lack of tech skills and 71% of corporate recruiters say they cannot find applicants with enough practical experience. We have to rethink how we meet the demand for talent - which means we need to change the way we develop and track skills.
- David Leaser, senior program executive, Innovation and Growth Initiatives at IBM
Implications of workplace trends
We can think of implications of the future of work in terms of four interrelated factors – training, time, technology and teams. It's important to examine generations -- especially when it comes to understanding the workforce, which all of us are trying to do. We look for certain trends that help us design for an entire workforce -- generational differences is another tool to use.
- Tony Buono, management professor, Bentley University
Bring all generations to the table
I think generational convergence in the workplace is something to be really excited about. The projects I've seen be the most successful are ones that had several generations of voices sitting at the table. I've seen projects that have failed because they lacked this collaboration. I can think of a marketing company that tried, unsuccessfully, to market a product to Gen Z and they wanted to know what went wrong. I met the development team and they were all baby boomers. You need to have generations represented.
- David Stillman, generations expert and co-author of "GenZ@Work: How the Next Generation Is Transforming the Workplace"