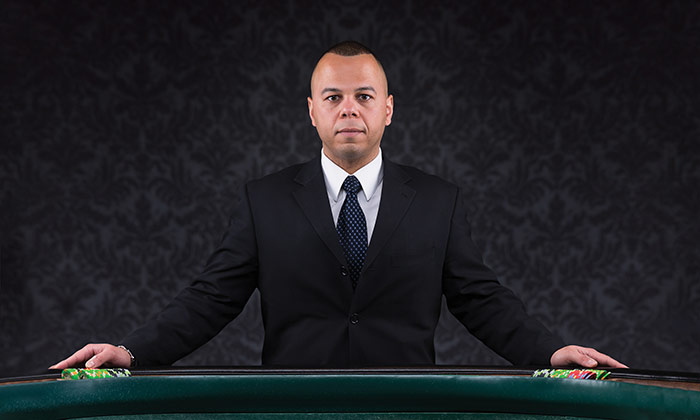 One man's mission to keep criminals out of North America's largest casino
In the 2001 film Ocean's Eleven, a bold crew of con men, led by George Clooney's Danny Ocean, concocts a clever scheme to rob three Las Vegas casinos of $160 million. While audiences might have rooted for these debonair cads to pull off their caper, the real-life criminals who target casinos are far less charming. They range from petty thieves who try to pass bad checks to felons who use white-collar crime to fund terrorism — and Michael Morency '02 is out to spoil their Hollywood ending.
"Our mission is to keep honest people honest," says the special investigator with Foxwoods Resort Casino in Mashantucket, Conn. "If we identify dishonesty, we'll make sure it doesn't happen here." The son of Haitian immigrants who stressed fiscal responsibility, Morency has always been curious about money — where it comes from, where it goes, how people earn it, how they spend it, and the desperate measures some will take to get and keep it. That curiosity is the foundation for a career that led him from pursuing tax cheats for the Internal Revenue Service, to helping Wall Street banks follow the straight and narrow. Most recently, it has brought Morency to the biggest resort casino in the Western Hemisphere.
 
HEIGHTENED SCRUTINY
The 24/7 gambling enterprise at Foxwoods includes some 4,955 slot machines and more than 260 tables games, along with poker, bingo and keno, at six casinos spread across 340,000 square feet of gaming floor. Morency's job isn't about catching card counters, though: As a certified anti-money laundering specialist and certified fraud examiner, as well as an expert on the federal Bank Secrecy Act, he is charged with detecting and preventing higher-level financial crimes.
"The Bank Secrecy Act was established to monitor cash transactions," explains the former Finance major, noting the inherent risk in such exchanges. "What I do is help prevent illegal activity that might occur here, just like at any financial institution."
In addition to investigating suspicious activity, Morency trains the casino's dealers, cashiers, hosts and other employees to detect and prevent fraud and ensure that Foxwoods complies with the law. The job has gained importance and complexity as the casino industry expands across America. In addition to Native American-run casinos like Foxwoods, commercial gambling operations are legal in states such as Iowa, Pennsylvania and New York. Massachusetts is soon to follow suit, with licenses awarded for three Las Vegas-style resort casinos and one slots parlor.
Morency and his team at Foxwoods are not the only ones on high alert. Authorities cracked down on white-collar crime in the wake of the 2008 Wall Street crash and high-profile misdeeds like Bernie Madoff's multibillion-dollar Ponzi scheme. With banks more closely monitored, crooks may see casinos as an easier target; the Treasury Department and FBI have stepped up vigilance accordingly. The industry is working to keep up. In December, the American Gaming Association released its first-ever set of guidelines for anti-money laundering compliance.
Foxwoods was already ahead of the game, following the best practices laid out by the association, Morency says. While unable to elaborate on the types of crimes he has helped to foil, he stresses the importance of maintaining a spotless reputation for one of thetop casinos in the industry. "The government is saying, 'Hey, we're looking at casinos more now,'" he says. "It's on me to make sure we follow and enforce the law."
"Any potential weaknesses or inefficiencies …we have to resolve. We keep making it more difficult for criminals."
UP AND UP
Morency's parents came to Boston from Haiti when they were 20 years old. Like preceding generations of immigrants, his accountant father and teacher mother raised Michael and his younger sister to appreciate education, hard work and fiscal responsibility.
"My parents were concerned about money, to the point that they never spoiled us," Morency says. "They made us work for everything we had."
By age 15, he had a job at his church's day camp, saving up to buy the clothes and shoes favored by teenagers in the 1990s. His were never "the best sneakers," Morency admits, but hard work instilled a keen appreciation for the value of a dollar.
His focus and ambition impressed friends such as Seon Bishop. The two were football teammates at English High School, a public school in Boston's Jamaica Plain neighborhood.
"From a young age, Mike was always a hard worker," says Bishop. "In my experience, not everyone is like that."
Bishop and Morency were in many of the same advanced classes, and Bishop spent a lot of time at the Morency home, getting to know the family well. There was no question that the bright and diligent teen would go on to college, Bishop says, and he seemed poised to follow in his father's footsteps.
At Bentley, Morency positioned himself for a career in banking or accounting, gaining experience as he covered tuition with jobs as a sales associate and portfolio accountant at Boston banks. But he also talked about how thrilling it would be to pursue a career in law enforcement.
As Bishop puts it: "I knew he always wanted to do more than just push papers."
In his junior year, Morency scored a coveted yearlong internship with the Criminal Investigation Division at the IRS. He worked 20 hours a week at the agency's office in Stoneham, Mass.; the job was a successful audition for a full-time position. After graduation and six months' training in Georgia, he joined the IRS office in Boston with the title "special agent."
Despite its stodgy reputation among the general public, the tax collection agency aligned with Morency's investigative ambitions. He demurs when asked for war stories about investigating tax evaders and money launderers, but does cop to having trained in defensive tactics and qualified as a sharpshooter, earning a perfect score during an assessment. He also served as a firearms instructor for colleagues and, for a short time, worked undercover.
In 2010, Morency headed into the private sector. After working with Bank of New York Mellon and JP Morgan Chase on Bank Secrecy Act compliance, he landed at Foxwoods in 2012. The IRS experience made him stand out to John Perry, the casino's vice president of compliance and now Morency's boss.
"He had a strong investigative background," says Perry. "To go undercover, you have to do your research but also be able to connect with people. I've been in this field a long time, and I think Mike has a long, bright future ahead."
 
MAKING SURE CRIME DOESN'T PAY
While Morency's mission — guarding against and investigating financial crime — has changed little since his time at banks and the IRS, daily life is more glamorous since he came to Foxwoods.
"There's a lot of energy and excitement on the floor," he says. "When you work in a bank you spend your days in a little cubicle."
His easy charm and genuine interest in others play well with the "five-star customer service mission" that Morency attributes to every Foxwoods employee.
"Everybody is encouraged to talk to and greet guests and make them feel very comfortable," he says. "They want someone that's friendly and kind, and that's what I try to be. I get an opportunity to speak to the guests and find out more about them. It puts a smile on my face. And I've always been big on eye contact, taking the time with a person."
Though it's not always his intention, informal conversation can lead to information about potential criminal activity. At other times, Morency learns about something suspicious from one of the customer service employees he has trained to spot phony IDs or bad checks, or a security employee who sees something odd in surveillance video.
One red flag is customers who buy chips then cash out without gambling, perhaps as a way to launder ill-gotten money. The practice is on the rise, according to the Treasury Department's Financial Crimes Enforcement Network. Casinos are also on the lookout for customers who get other people to cash in winnings for them in order to break large cash-outs into smaller chunks. Their aim may be to stay under the Bank Secrecy Act's $10,000 threshold for reporting transactions.
"Any potential weaknesses or inefficiencies in the process, we have to resolve," Morency says of monitoring late-breaking trends in financial crime. For example, recent reports of criminals who operate in groups to defraud casinos have put the Foxwoods compliance team on notice. "We keep making it more and more difficult for criminals."
If Morency were to discover suspicious activity, he would follow up by checking a customer's account and analyzing financial transactions over time to see if there's any pattern; the situation might warrant notifying the U.S. Department of the Treasury or the FBI. Law enforcement contacts from his early career can be an additional resource if an investigation ensues.
 
ADDING IT ALL UP
Morency usually works weekdays, but may spend nights and weekends at Foxwoods during an investigation. His schedule also includes study at Utica College in New York, where he's pursuing an MBA with a specialty in economic crime and fraud management. ("He's very ambitious … always working to improve himself," says Perry.)
Morency's downtime does not include gambling at Foxwoods. It's off-limits for casino employees and "I'm not much of a gambler anyway." He does enjoy concerts and comedy shows at the resort; basketball and salsa dancing are also favorite pursuits.
Mostly, though, Morency is dedicated to the work.
"I've stayed in line with my finance accounting law enforcement goals. By the time I got to the IRS, for the internship, I had already done a couple of years with the banks, as a teller and in customer service. All those experiences add up.
"Freshman year my dad told me, 'Let the other people hang out on the weekend. You find a job that leads you toward what you want to do,'" Morency adds. "It was some of the best advice he ever gave me."
He offers that same guidance to young people bent on a similar career, along with the recommendation to "network, network, network."
"The more people you know, the more opportunities you have," he says.
But his most pointed tip is this: Stay out of trouble. Hollywood may glamourize casino crime, but Morency promises that Danny Ocean wannabes at Foxwoods will be caught.