Lessons from Liam
Falcon football gains a small but mighty recruit
Above, Liam Ryan with Falcon teammate Jailen Branch '22
When Bentley's football team huddled around a video at the start of its latest season, players were not analyzing tactics of a future opponent. They were meeting a new teammate.
The parents of 5-year-old Liam Ryan had recorded his reaction to being recruited as a Falcon through Team Impact, a national nonprofit that connects children facing serious and chronic illnesses with local college athletic teams. Liam has a rare autoimmune disease, juvenile myositis.
Later, on FaceTime, the team congratulated its youngest member.  
"Liam was ecstatic," says Frank Damata '20, who plays defensive tackle and serves as team contact for the Ryan family. "We are so privileged and grateful to be teammates with such a tough and inspiring young kid."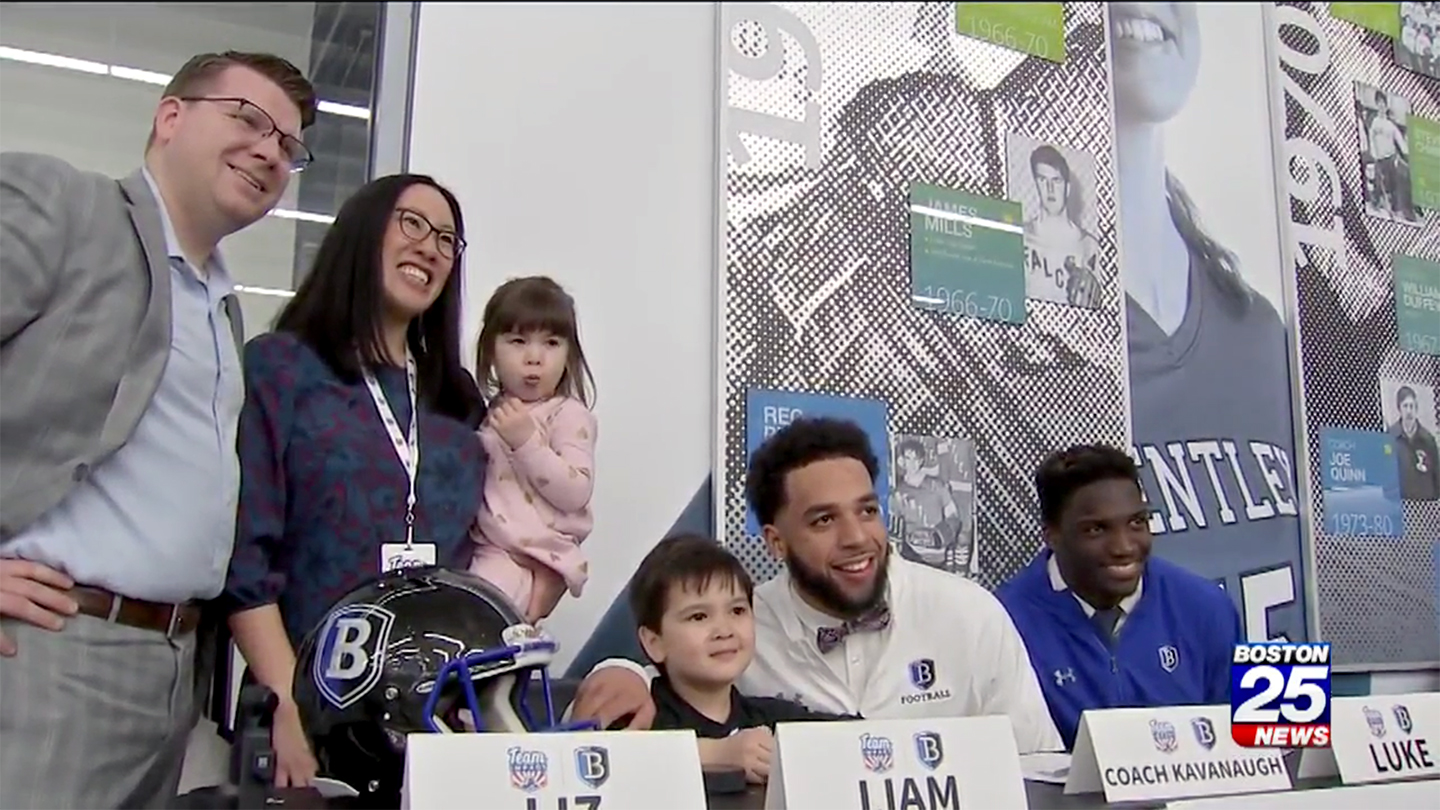 The official draft took place during a hockey game in the Bentley Arena. Liam dropped the ceremonial puck, joined on the ice by his family, Demata and head football coach Bill Kavanaugh. Then the party moved upstairs, where Liam received a Falcon football jersey and helmet.
"He was introduced to the Bentley community as the newest addition to the football team," says Demata. "He committed to helping us and signed a contract issued by Team Impact."
The moment was recorded and broadcast on the arena jumbotron during hockey game intermission as well as being featured on local news.
Liam Gets 'Drafted' by Bentley Football
Liam attended football team practices and games throughout the season. He also spent time with players off the field, for example, bowling or seeing movies. Joining Damata as liaisons for Team Impact are Jailen Branch '22, Stephen Sturm '21, Drew Mahoney '20, Bobby Mylod '21 and Isaiah Collins '22.
"Liam brings new energy to the team," says Collins, the Falcons' slot receiver and kick returner. "He has brought us even closer together, in being like a little brother to everyone."
Kavanaugh agrees: "Adding another personality on the team has built our bond. Getting to know Liam has been a great experience; he lights up any room he's in."
The program hits especially close to home for Collins, whose sister has a rare disease called Sturge-Weber.
"My sister misses me and we use FaceTime because I can't always be home," he explains. "When I am home and surprise her by getting her from the school bus, she gets the happiest look on her face. It's why I jumped at the chance to help someone else who has a rare disease."
Demata and Mahoney often accompanied Liam and the Ryan family to medical treatments. "Liam has taught me more about mental toughness and perseverance than any other person in my entire life," says Demata. "He is such an inspiration to me and to the team as a whole."
He cites the team's guiding philosophy: Forget the past, focus on the next play.
"Liam embodies this, by overcoming his condition every single day with a smile on his face. He also enhances the team's brotherhood by his presence and his ability to make everyone laugh. It is a bond that can never be broken."
Bentley Athletes Own the Country's Highest Graduation Rate