Pulsifer Career Development Center Ranks #1 Nationwide
This year's Princeton Review rankings recognize Bentley with the top spot for career services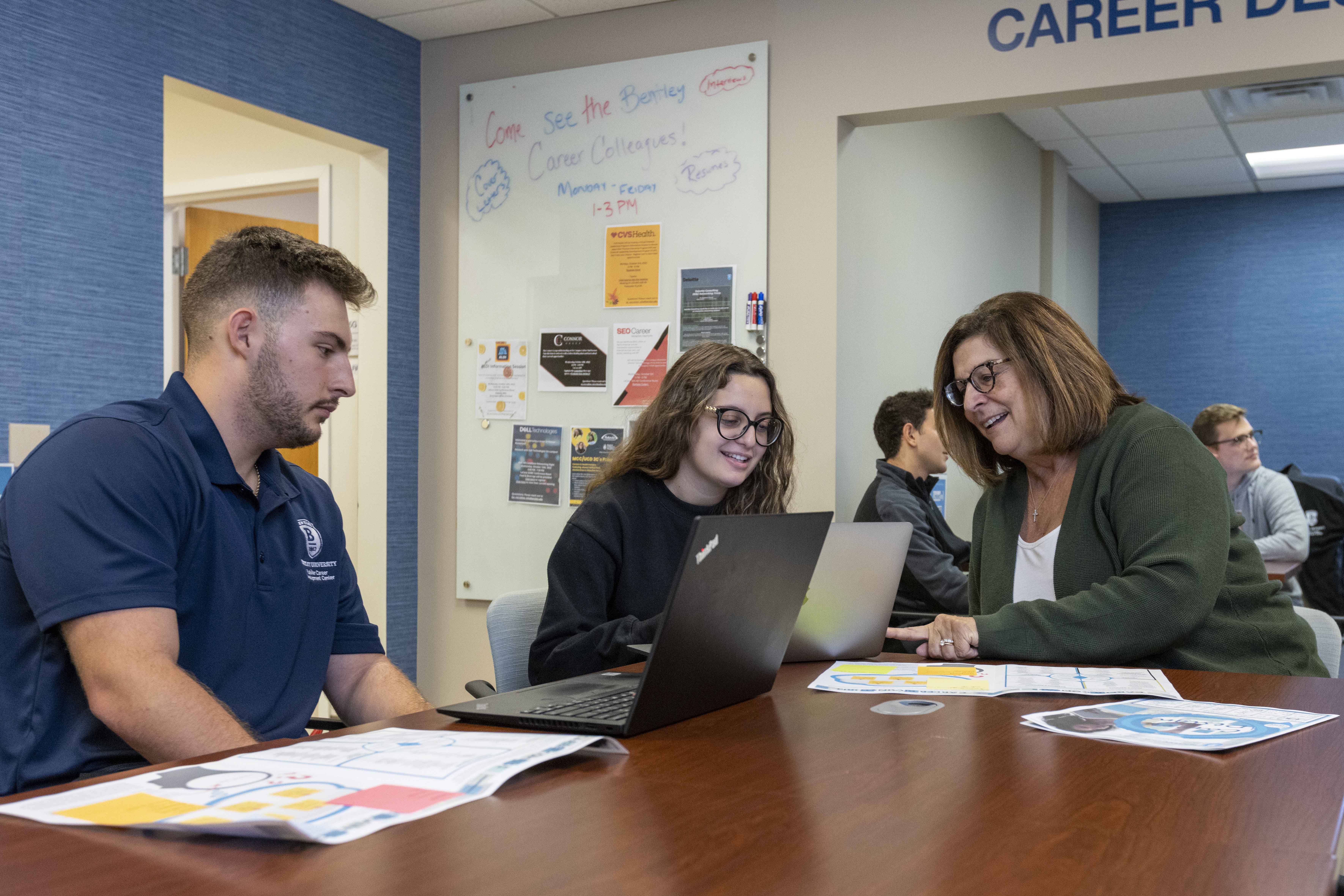 Photo by Kevin Maguire
Bentley University's commitment to fostering career success has once again secured the top spot in the annual Princeton Review rankings. The Pulsifer Career Development Center has clinched the coveted title of Best Career Services in the nation in the 2024 edition of the Princeton Review's guide, which ranked schools across the country on career and job placement services. 
This marks the 10th consecutive year that Bentley University's career development center has been ranked among the top five in the United States, a testament to the institution's commitment to ensuring its graduates secure promising employment opportunities and thrive in their chosen fields. 
"I am thrilled to see both the career team and our amazing Bentley students receive this recognition for their hard work and dedication," says Janet Ehl, Assistant Vice President of the Pulsifer Career Development Center. "Bentley University is a collaborative institution where so many come together to ensure our students thrive, so this honor is a full-campus success."  
The Princeton Review ranking is one of many recognitions the university has received related to career success and the return on investment (ROI) of a Bentley education. A recent New York Times College Ranking tool designated Bentley as #4 in the nation for high earnings (in 2022, Bentley graduates' average starting salary was $67,711).  
In a 2022 study by the Georgetown University Center on Education and the Workforce, Bentley was ranked #8 nationwide for best return on investment, which cited statistics that showed graduates with an average net economic gain of more than $1 million 20 years after graduation, and a net economic gain of $2.25 million 40 years after graduation. 
Bentley offers this strong return on investment by teaching skills that prepare students for jobs of the future and providing myriad opportunities for internships and other hands-on learning. Bentley students have access to career-oriented courses, receive mentorship from seasoned career advisers and are connected with industry leaders through immersive events, cutting-edge programs and innovative technology. This comprehensive approach has led to strong results for students: For more than 15 consecutive years, 97% to 99% of Bentley graduates have been employed or enrolled in graduate school within six months of graduation. 
The Princeton Review accolade is just one among Bentley's array of recognitions this year. The university consistently ranks high in publications such as Money magazine, Bloomberg BusinessWeek and U.S. News & World Report. Bentley's comprehensive commitment to academic rigor, vibrant student life and career preparedness provides students with an unparalleled return on investment.