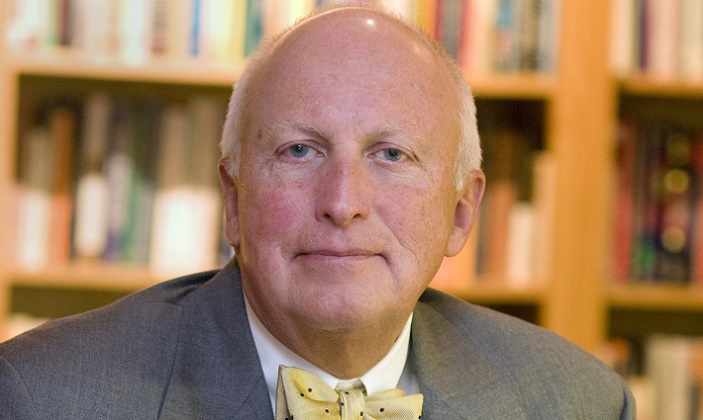 Michael Hoffman was a pioneer in the field of business ethics in the United States.
Remembering Michael Hoffman
President Davis-Blake's Message to the Community After the Death of the Founder of Bentley's W. Michael Hoffman Center for Business Ethics
Dear Bentley Community,
I'm saddened to tell you that Dr. W. Michael Hoffman, the founder of Bentley's Center for Business Ethics (now the W. Michael Hoffman Center for Business Ethics), a national pioneer in the field of business ethics, and a beloved member of the Bentley community for 44 years, has died. Our condolences and prayers go out to Mike's wife, Bliss Hoffman, their daughters, Elizabeth O'Neil and Alison Libuda, both Bentley alumnae, and their three grandchildren.
Mike began working at Bentley in 1974 as the chair of the Philosophy Department. At the time, the United States was reeling from the Watergate crisis and an erosion of trust in public institutions. Mike recognized that at a business college, he was in the right place to teach future leaders about moral leadership, so he introduced to the Bentley curriculum a course on business ethics. Not long afterward, he opened at Bentley the first center dedicated to all aspects of business ethics and became an evangelist for business ethics through a series of national conferences.
As more universities around the country began to offer business ethics courses, Mike joined with other scholars to establish the Society for Business Ethics and the Business Ethics Quarterly. He also joined with leaders from the private sector to found the Ethics Officer Association, the first professional association for ethics professionals working in corporate settings. Mike was the association's founding executive director, with Bentley serving as the facilitating institution. Today, virtually every publicly listed company and countless private companies in the United States and around the world have an ethics and compliance officer.
Harry Bentley laid the groundwork for this university's commitment to ethics in 1917, and no one has done more to promote that vision than Mike Hoffman. In 2016, in honor of the 40th anniversary of the center that he founded, the trustees announced that it would be renamed the W. Michael Hoffman Center for Business Ethics.   
The need for an ethical approach to business has never been greater than it is today. Surely, Mike Hoffman's pioneering leadership in business ethics will be missed. But his career-long dedication to the field ensures that generations of scholars and practitioners will carry on his life's work toward a more ethical business world.
Mary Chiasson, Bob McNulty and Gail Sands have been in close contact with Mike's family throughout this difficult time. They have relayed that there will be no funeral or burial service, but there will be a memorial service celebrating Mike's life announced for Spring 2019. Condolence notes for the Hoffman family should be directed to the Hoffman Center for Business Ethics, where Gail, Mary and Bob will collect and share these notes at the appropriate time. We do not have any information about how family would like memorial gifts directed, but we will share that information from the family when we hear more.
Alison
Alison Davis-Blake
President