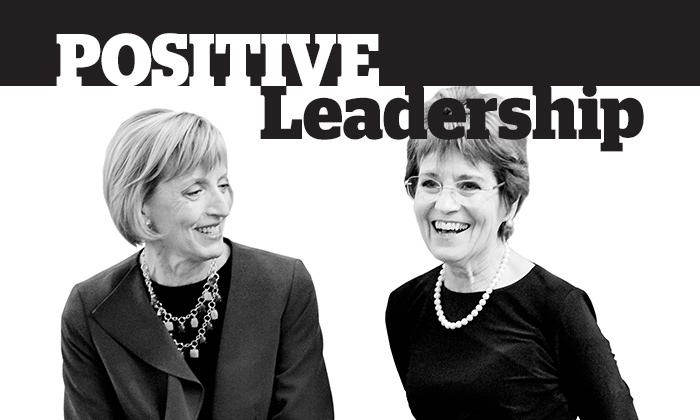 The ROI of Higher Education
A conversation with Alison Davis-Blake and Mary Sue Coleman
How did you two meet?
Mary Sue Coleman, President, American Association of Universities: I first heard about Alison during the search for the dean of the University of Michigan's Ross Business School. The search committee was very enthusiastic about her experience and track record at both the University of Texas — Austin and the University of Minnesota. I met Alison as part of the interview process, and she was very impressive in person. She was passionate about business school education, and really had done great work as dean at Minnesota. I remember thinking that our next dean would have challenges, but Alison was more than ready for them.
Alison Davis-Blake, President, Bentley University: Yes, I certainly remember meeting Mary Sue that day. Of course, I had already heard so much about her! I knew she had an impressive higher ed leadership background, and her work at Michigan was quite well known around the country. What I didn't expect was how down-to-earth she was. She was obviously very smart, but I could tell from the beginning she was also a person of great warmth, great character and great integrity. And all those things proved true in the time we worked together.
We have to ensure we are delivering what families expect, what employers value most, and what students will need for lifelong success.

Alison Davis-Blake
How did you fasten on a career in higher education?
MSC: Well, my first love was science. I grew up in the Sputnik era, and more than anything I wanted to be a part of the science that was fueling such remarkable advances across many fields. I have my parents to thank for giving me a love of education and supporting my aspirations — especially at a time when it wasn't so common for a girl to be interested in science. I loved teaching and cancer research. However, developing programs and working in campus communities as an administrator was also fascinating. I'm grateful to have had both experiences in my academic life.
Higher education has been experiencing some tough challenges, and a recent Gallup Poll shows public confidence is declining. Why is that and what can be done to rebuild trust?
The research discoveries that happen at universities turn into new technologies, new entrepreneurial ventures and new industries.

Mary Sue Coleman
MSC: There is no doubt that higher education is facing some very turbulent times. The cost of a college degree, and the average debt some students may have to take on to achieve their educational goals, are challenges that all higher education leaders must address. However, I see so much evidence that our institutions are working on affordability with great focus. We have to ensure that our colleges are providing access to education for all students and, further, that student bodies reflect our society.
ADB: This is so important on the educational front as well. A college education is transformational. It enables social mobility, and provides opportunities people otherwise would not have. Those of us in higher education leadership have to keep working hard at connecting the dots for students and families, so the return on their investment is clear and concrete.We also must continue helping people understand how important the American system of higher education is to our economy, our quality of life and our democracy. My organization, the Association of American Universities, works to communicate the value of university-based research to policymakers and the public. The research discoveries that happen at universities across the country turn into new technologies, new entrepreneurial ventures and new industries.
Also, as I said in my inaugural, now is the time for all of higher education to engage in a critical self-assessment. We have to ensure we are delivering what families expect, what employers value most, and what students will need for lifelong success. Mary Sue talks about higher education as a public good. That is so true, and it is up to us to earn the public's trust.
President Coleman, you have been a national voice for the value of diversity and inclusion in higher education. Why is that important on college campuses?
MSC: Because we know that every student benefits from a diverse learning environment: Discussion is more multidimensional and robust when the widest possible spectrum of viewpoints and perspectives is included. Simply put, I believe we cannot have true educational excellence without diversity.
ADB: I have admired Mary Sue's commitment to a truly inclusive campus climate for many years. As dean both at Minnesota and Michigan, I made diversity a school-wide priority. Here's what I know: When we open the doors as widely as possible, and value each person's contributions and perspective, we create a sense of true belonging where all can thrive. From a business perspective, I believe that diversity is a bottom-line imperative. Research has shown, time and again, that diverse teams and diverse workforces are more effective.
President Davis-Blake, your inaugural address noted that "the future doesn't come with a manual." How does a college education prepare students for what President Coleman has described as "a chaotic world"?
ADB: We have to provide a learning experience that develops both practical skills and interpretive skills. Change is rapid and ever-present. We need to be able to adapt, assess complex landscapes, and synthesize increasingly vast amounts of information. This is what drew me to Bentley, in fact. Here students are steeped in an excellent business education, but one that is integrally linked with the study of science, arts and humanities, and technology. This well-rounded education is what today's students need and the future will demand.
MSC: Alison is absolutely right. The best educational environment is one that prepares students not only for their fi rst job, but for their entire life. I've heard Alison say that "Bentley is on the rise," and I think this is precisely why a Bentley education is in such demand.
What characteristics do you value in each other?
MSC: Alison's smart, strategic thinking; her hard work; her straightforward approach and her integrity.
ADB: Mary Sue's intelligence, her warmth, the strength of her leadership and — you guessed it — her integrity. Integrity matters so much to both of us.