Shining a Light on Hillel
Thanks to a generous investment, the spirit of tzedakah is thriving at Bentley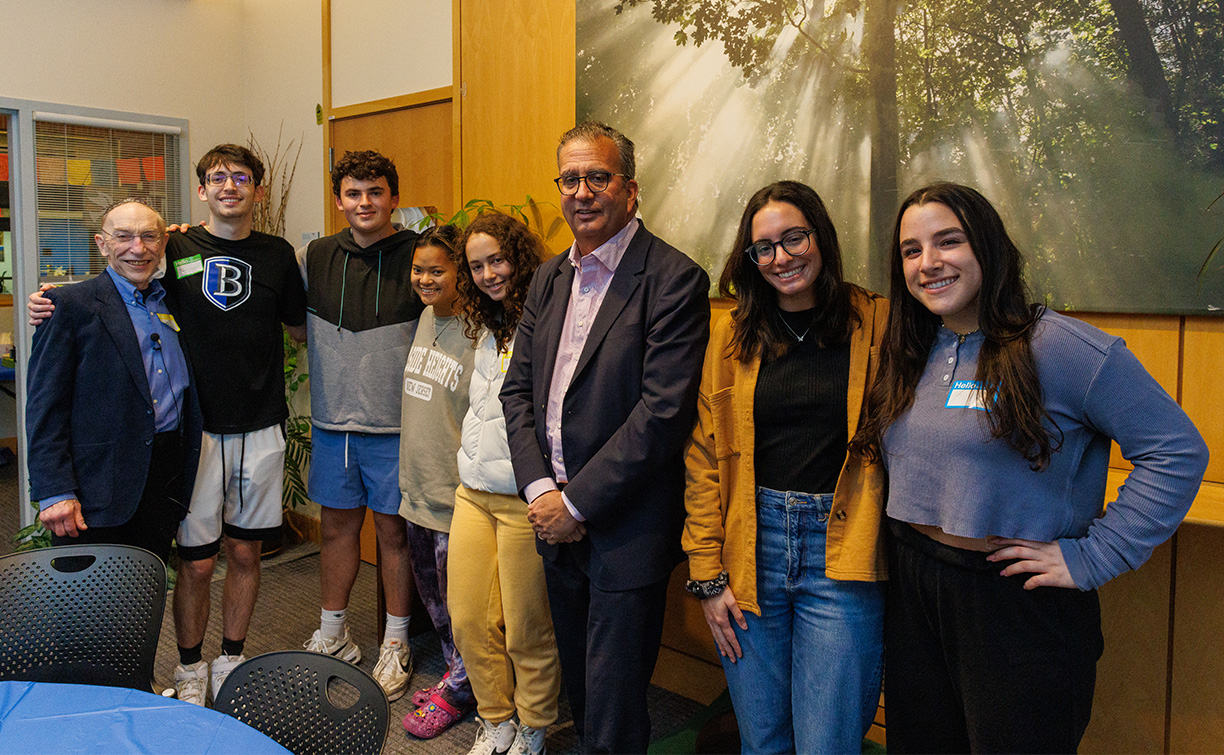 "A warm hug." That's how one student described Bentley Shabbat dinners to Julia Barron.
Overseeing seven Greater Boston-area universities as director of engagement and leadership for the Hillel Council of New England, Barron has served as Bentley's Jewish Life Coordinator since last November — ramping up activity and participation in what historically has been a modest campus group.
"Before Julia arrived, we felt like just another club," says Abby Kirsch '24, president of Bentley Hillel.
In just a year, the Friday tradition has gone from little more than a handful of engaged Falcons to 100+ students at some events, like the Greek Life Shabbat night, she says. "Bentley has quickly become Hillel Council's most engaged student population."
That's thanks in no small part to longtime donors Steven C. '83 and Beth Millner. Their substantial investment gave Bentley the needed funds to hire Barron and put deserved support in place for Jewish student life — something that was virtually invisible when Steven was an undergraduate. An important cornerstone of the gift: ensuring an interfaith Shabbat is held every month of the academic year.
Regardless of your religious orientation, it's important that people have a place to go to be comfortable and to feel safe for their mental wellness.
"Beth and I decided to make this gift to help Hillel become a more prominent and beneficial part of the Bentley community, and a welcoming resource for any student who needs it," said Steven, who has served as a university trustee since 2019.
He appreciates how quickly and strategically the university made use of his investment. Within months, he was attending a Diwali-Shabbat celebration, learning about the Hindu holiday and watching students share their cultures and traditions. However, the group's Purim party may have been Bentley Hillel's biggest event of the year, with dance, comedy and singing performances — "a great way to get Hillel known in the Bentley community," says Kirsch.
Rabbi Jeffrey Faust adds that the extra funding opened up more meaningful Jewish programming, including a visit from Rabbi Pam Frydman, one of the world's first female rabbis and co-chair of Rabbis for Women of the Wall. The Israeli-based organization aims to secure the rights of women who wish to pray at the Western Wall, one of the holiest Judaic sites in the world.
Students also met with Sami Steigmann, one of the last Holocaust survivors, and celebrated Israel Independence Day with the Arava Institute for Environmental Research, a leading Middle East research organization.
A study abroad program at Arava for Bentley students is in the works. In the meantime, five Falcons are journeying through Israel this summer with Barron on a birthright trip, with three more spending eight weeks in Tel Aviv as interns with Onward Israel Boston. And the academic year calendar is already packed with programming, she says. "This e-board is so organized. I am really lucky to work with such amazing students who can feel Jewish and proud on campus."
That the group now has the budget to thrive will only strengthen this enthusiastic community.
Says Millner, "Bentley is a great university and great universities with big aspirations need capital. I would encourage anyone who is thinking of giving to invest in what's important to you."