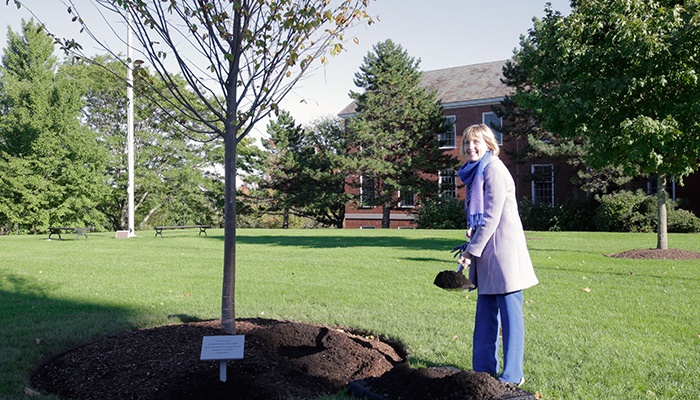 President Davis-Blake plants a tree symbolizing the inauguration theme
Tree Planting Symbolizes "A Century of Growth, A Future of Leadership" Inauguration Theme
A tree planting ceremony marked the second day of a week-long series of community events celebrating the inauguration of Alison Davis-Blake as the eighth president of Bentley. The tree, an American elm planted in the grassy area on the Bentley campus between the LaCava Conference Center and Morison Hall, complements the inauguration theme and symbolizes the broad foundation of Bentley's proud heritage combined with the promise of a bright future as the university continues to grow in academic strength and reputation, like a well-rooted tree spreading its limbs and leaves upward and outward.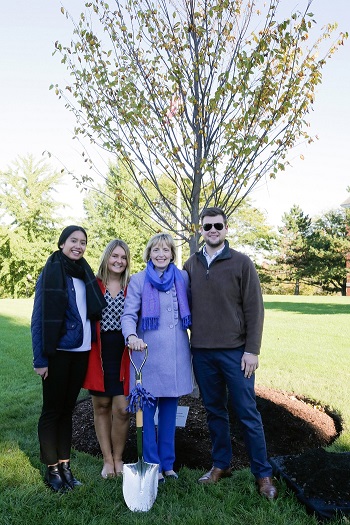 Founded in 1917, Bentley has grown from a local accounting school to one of the nation's top business schools. Moving into its second century, 2018 marks a time for Bentley to build on its role in preparing students for rewarding careers and lives. The Inauguration Committee chose the theme to recognize this exciting time of transition between two eras.
"This tree is a symbol of our inauguration theme, which is, 'A Century of Growth, a Future of Leadership,'" President Davis-Blake said. "The trunk represents all that we have accomplished and the leaves reaching toward the sky represent our hopes and dreams for the future."
The entire Bentley community is participating in inauguration activities leading up to the installation of President Davis-Blake on Friday, Oct. 19. The events include staff and student workshops focused on positivity in the workplace and positive leadership led by organizational experts Shawn Quinn (University of Michigan) and Ryan Quinn (University of Louisville), as well as an academic symposium on the future of work with panels on "Human Sustainability and the Future of Work" and "How Artificial Intelligence and Technology are Changing the Future of Work." Management expert and author Jeffrey Pfeffer, Thomas D. Dee II Professor of Organizational Behavior at Stanford University's Graduate School of Business, will give the keynote address at the symposium.