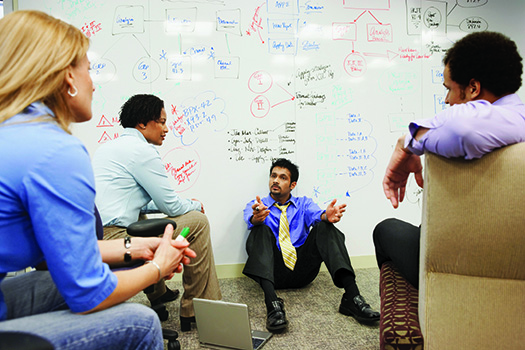 What Type Of MBA Program Is Best For You?
If you've been investigating MBA programs, you've probably already discovered there's no shortage of options to choose from. There are part-time vs. full-time MBA programs, and opportunities to pursue an MBA online. How do you choose? Is one type of program really that much different than another?
While the end result is the same—an MBA degree in hand—the journey itself is equally significant and could make your MBA even more meaningful. Let's take a closer look at the available options and the benefits and downsides associated with each.
The Wide World Of MBA Programs
Full-Time MBA Programs
Glisery Colon, associate director of graduate admissions at Bentley, says that many full-time MBA programs are an extension of the learning experience students began as an undergrad. Since they typically take two years to complete, programs like these are primarily attractive to recent college graduates who are looking to continue their education. That's a good thing, because some full-time programs, like the one at Bentley, seek to incorporate real-world learning, emphasize on-site activities, and deliberately work to help students build the relationships they'll need later to help them be successful. It is designed to give graduates a broad range of business knowledge as well as relevant technical and human management skills, giving students a chance to explore their options.
Full-time MBA programs are perfect for people who have the resources and time, but there are also many prospective MBA students who would prefer to start their career as soon as possible. In that case, another option might be a better fit.
Part-Time MBA Programs  
By nature, the idea of getting an MBA holds the most appeal for working professionals. They have enough work experience to know what they want and the resources with which to do it. But they also have a life—a job and sometimes a family. In that case, Colon says, "Flexibility is huge." Part-time programs are attractive because they allow students to continue to work and spend time with their families while still achieving their MBA goal.
A downside of part-time programs is that they may take longer to complete. If you're hoping to see a return on investment quickly—like a career change or a promotion—you may be waiting longer than you'd like. (Much of that depends on you and how much you're willing to take on each semester.) 
Online MBA Programs
Traditional online MBA programs offer the ultimate in terms of flexibility. You can complete classes on your own schedule, enabling you to keep your job and support your family. And with geographic constraints removed, it also widens the net of available programs. If you live in California you can get your MBA from a school in Illinois, as long as the school has a traditional online program available.
But everyone is a different learner, and your personality and learning style might not be suited for online-only courses. Self-guided tutorials are a good match for self-motivators who are skilled at independent learning, but they may not be best for those who prefer an interactive approach. (Many of Bentley's in-person courses offer students the option to attend classes in person or in real time via the internet, in which case they participate in the class just as they would if they were in the room physically.)
Specialized MBA Programs
If you've been working in a particular industry for a long time and you want to acquire in-depth knowledge specific to that field, you might consider a specialized MBA program. Some graduate schools offer MBA programs specifically for health care, education, or a combination law-and-business degree, for example. Industry-specific courses like these are good for people who know exactly what they want and don't plan on looking for jobs outside of one specific field.
But if a job opportunity arises outside that specialty, the degree you've worked so hard for will be of little use. Often, students who think they want a specialized degree can achieve the same career goals with a traditional MBA simply by customizing their curriculum—i.e., taking a concentration in marketing or choosing electives like Leading Technology-Based Organizations or Global IT Project Management. Talk with an admissions counselor at the school if you're unsure about how to tailor your curriculum appropriately.