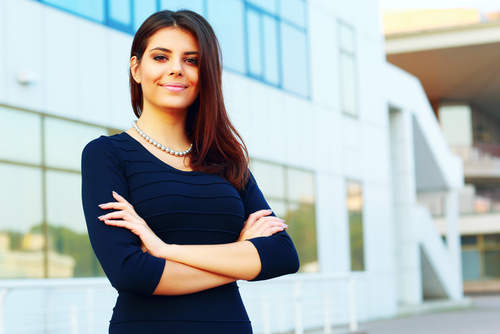 Faculty/Industry Roundtable Focuses on the Gender Gap in VC and Angel Funding
Launching a business is hard work. And for women, it's even harder. But if ever there was a good time for women—and men—to invest in women-led startups and launch their own, it's now. With the #MeToo movement focusing the conversation on women and the workplace, society's eyes are now on the power of women. Harvard Business Review reported that women-led firms may actually have a higher rate of return on average than male-led firms. Kevin O'Leary, aka "Mr. Wonderful" from the ABC TV series Shark Tank, went so far as to say that women-run businesses make him the most money.
"Women tend to create very capital-efficient companies because they know how hard it is for them to raise that capital," says investor Barbara Clarke, who has funded 33 women-founded startups and is a partner in six venture capital funds. And she's right.
According to industry research reviewed by Bentley professors Linda Edelman and Tatiana Manolova in their book Angel Investing: A Literature Review (Foundations and Trends in Entrepreneurship), women-led businesses have grown from 26 to 36 percent in the U.S. during the past 20 years; but women CEOs, white women to be specific, attract a mere three percent of venture capital funding. (Black women attract statistically zero percent of venture capital funding.) And because of that, women typically get funding when their company is more mature and has more traction.
The dire number of women who are investing and receiving funding doesn't deter Clarke, though. She believes that in the past two years, President Donald Trump's candidacy and subsequent election may have motivated many women investors and entrepreneurs.
"There has been an awakening about the urgency for people to be active and engage in change, whether that's politics or the economy," says Clarke, who spoke at Bentley University's annual Faculty/Industry Roundtable, which focused on women's entrepreneurship and the gender gap in venture capital and angel funding. "There has also been a widening of the circle of investors. For decades, venture capitalists have been very exclusive and male-dominated, but the growth of angel investing has opened up doors for women who want to invest."
Angel investors use their own money to invest directly in unquoted or non-traded companies in which they have no family connection, according to Edelman. They fund mostly early-stage businesses and usually involve a smaller investment. Clarke believes this is a more appealing platform for women who want to understand what they're investing in, influence products that hit the market, and use their capital for good.
"Angel investors are in retirement or working professionals with a particular expertise," Clarke explains. "What better way to flex your muscles than to invest in a startup in your industry. It keeps your skills fresh and allows you to leverage what you know."
Moving the Needle
Clarke practices what she preaches: She is both a venture capitalist and an angel investor who invests only in women-founded companies. She is founding principal of The Impact Seat, consultants for inclusive innovation, and a founding member of Astia Angels, an organization comprised of both men and women who invest in women-founded startups. 
But even though there are people like Clarke, women entrepreneurs and investors still have a long way to go. Of entrepreneurs seeking angel investment in 2016, according to analysis from the Center for Venture Research, only 30 percent were women. Manolova cites a Columbia University study that found that women who are looking for funding get asked tougher questions than men during the pitching process. "Men get asked promotional questions about growth and market potential," she says, "while women are asked about prevention, how to ensure that they won't lose key team members or what will happen if they suddenly run out of money."
Women do have credibility when they start socially responsible ventures, and are strong performers in stereotypically female industries like fashion—think the Stitch Fix personal shopping service and Rent the Runway designer clothing rentals. But Edelman also wants to see disruptive technologies perform just as well. "It would be much more exciting to see women entrepreneurs in high tech, for example," she says.
With role models like investor Lori Greiner from the TV show Shark Tank, along with education that spotlights successful women executives, Edelman is confident that some of her women students will become investors and entrepreneurs. "Millennials and Gen Z are going to change the landscape of venture capital and angel investing," she says. "The more we graduate financially literate women, the more we are preparing them for careers so they will have assets to become investors and the confidence to become entrepreneurs."
Clarke agrees. "I want to live in a world that has all kinds of people being successful, not a narrow definition of who gets to be successful. And if it's the world I want to live in, then I will continue to use the tools I have—capital, time and connections—to create that world."
About Bentley University
Bentley University is one of the nation's leading business schools, dedicated to preparing a new kind of business leader with the technical skills, global perspective and ethical standards required to make a difference in an ever-changing world. Bentley's diverse arts and sciences program combined with an advanced business curriculum prepares graduates to make an impact in their chosen fields. The university enrolls approximately 4,000 undergraduate and 1,000 graduate students. For more information, visit www.bentley.edu.