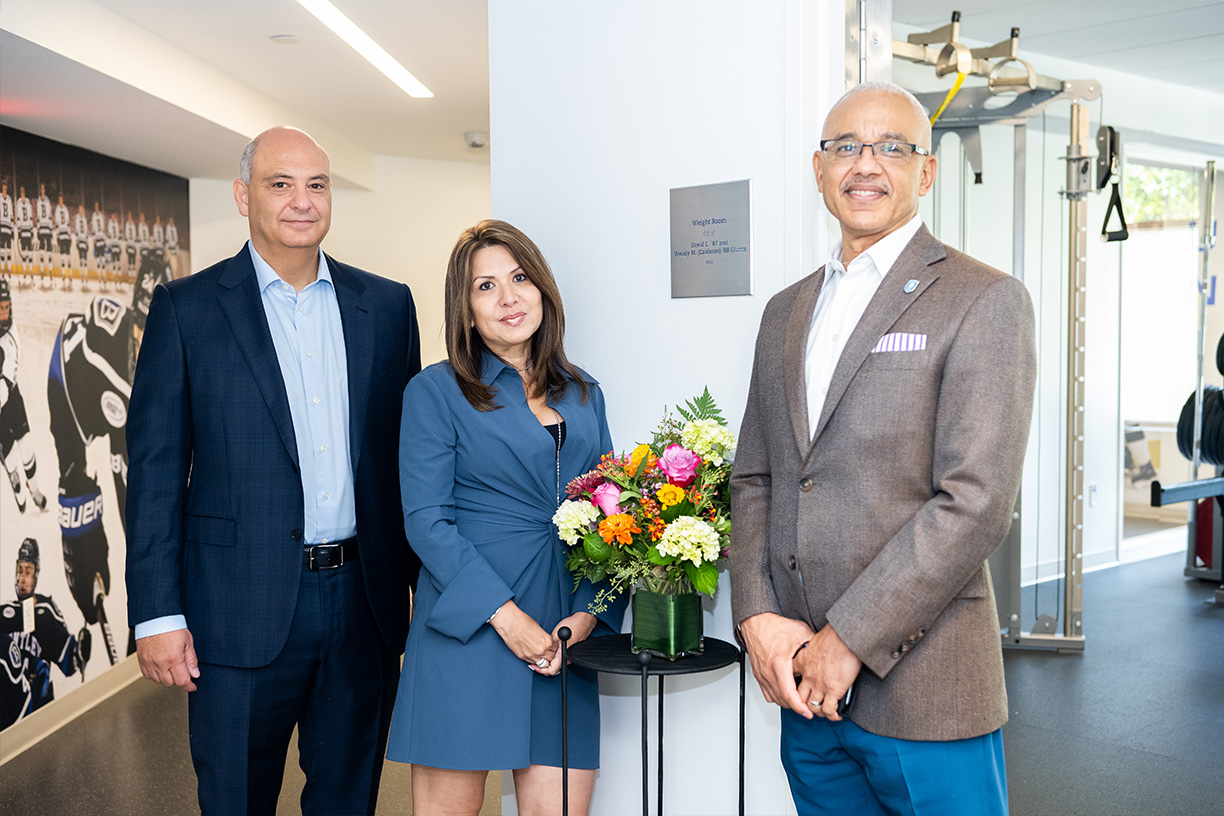 Success on the ice doesn't begin when the puck drops. It starts with focus, nutrition and weight training. Thanks to the generous support of David L. '87 and Wendy M. (Calderon) '88 Giunta, Bentley's Division I ice hockey team has a dedicated home for weight training at the Giunta Weight Room.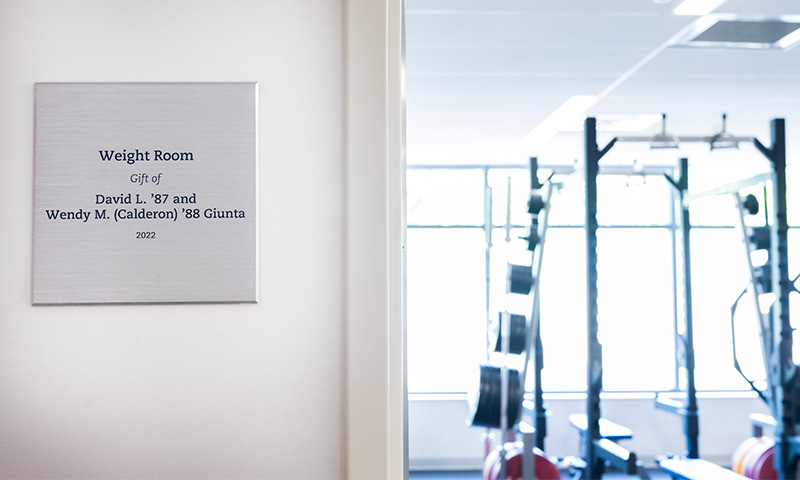 David, a Bentley trustee, and his wife Wendy made a commitment totaling $250,000, of which $125,000 was dedicated to the weight room and $125,000 in support of the Bentley Fund. "We love seeing the journey these players have had, and the hard work they put in to get to that Division I level. Getting in that mental state of learning how to prepare correctly for a game is so beneficial — you can learn a lot of lessons from sports," David said. Noting what an important addition the arena has been not just for athletes, but for the entire community, he added, "It's a place to gather and be together on campus. We were happy to have a small part in it." 
At an event celebrating the generous gift, Coach Ryan Soderquist '00, P '26 shared how much the team is looking forward to the 2022-23 season. 
The weight room is an integral part of our rigorous training program. It gives players what they need to succeed year-round and we're so grateful to the Giuntas for their investment.
Coach Ryan Soderquist '00, P '26
Housed in the Bentley Arena, the Giunta Weight Room boasts eight squat racks, barbells, a power lift cable machine, medicine balls, turf, push sleds, a hot tub, cold tub, training tables and more. There are team lifts twice a week during the season, and players can be seen training before and after practice.
"It's awesome to have a place we can come together as a team and put in work to be our best. I'm grateful to have another year to play in the Bentley Arena and work out in the Giunta Weight Room," said team captain Dylan Pitera '22. The graduate student, who is pursuing an MBA after earning his undergraduate degree in finance, was a leading scorer last season with seven goals and 13 assists.
Before leading a tour of the Giunta Weight Room during the celebration event, Athletics Director Vaughn Williams noted the opportunities that the facility will offer: "A state-of-the-art weight room gives us the ability to train to be the best we can be at the Division I level, so we can attract talented players and continue to strive for excellence."