Longtime Women's Basketball Coach Barbara Stevens inducted into Hall of Fame 
Bentley women's basketball coaching legend Barbara Stevens was inducted into the Naismith Memorial Basketball Hall of Fame on Saturday, May 15, 2021, capping an extraordinary 44-year coaching career that included an undefeated national championship season and five Division II National Coach of the Year awards. Stevens coached at Bentley for 34 seasons in which she led the Falcons to an incredible 901-200 record. 
Overall, Stevens finished her career with a record of 1058-291, a victory total exceeded only by fellow Hall of Fame coaches Pat Summitt, Tara VanDerveer and Geno Auriemma. She is one of six NCAA women's basketball coaches with at least 1,000 wins.  
Stevens was inducted during an enshrinement ceremony at Mohegan Sun Resort in Connecticut that was televised live on ESPN. 
"To be honored tonight for my life's work is overwhelming," said Stevens. "Growing up in Southbridge, Massachusetts, 35 miles from the Hall of Fame, I never envisioned I would be standing here. The game of basketball has taken me on an incredible journey. Tonight, I want to thank those who helped to make this possible." 
Stevens reflected on the start of her illustrious career, which included coaching stops at Clark University and the University of Massachusetts Amherst before Bentley. "In 1976, the women's athletic director at Division III Clark University, Pat Hassett, took a chance on a 22-year-old recent college grad, hiring me to coach the women's basketball team, thus launching my coaching career. Thank you, Pat, for having faith in me! Though flung headlong into a job coaching women nearly my own age and learning as I went along, those early years shaped my future as a coach." 
Coach Stevens' Hall of Fame Speech
Along with Stevens, the Class of 2020 Hall of Fame inductees included NBA legends Kevin Garnett, Kobe Bryant and Tim Duncan; former NBA player and coach Rudy Tomjanovich; NCAA men's coach Eddie Sutton; LSU women's basketball coach Kim Mulkey; former WNBA star Tamika Catchings; and Patrick Baumann, a former secretary general of the International Basketball Federation. 
In addition to being honored as the Division II National Coach of the Year in 1992, 1999, 2001, 2013 and 2014, Stevens was recognized as the Northeast-10 Coach of the Year 16 times.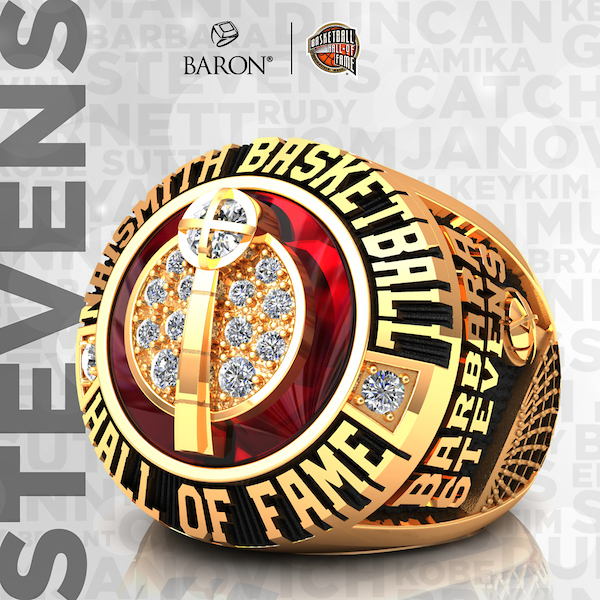 She was inducted into the Women's Basketball Hall of Fame in 2006 and is also a member of the Bentley, Clark, Bridgewater State and New England Basketball halls of fame. 
At her induction ceremony, Stevens spoke emotionally to the student-athletes who had played for her and followed her lead for more than four decades.     
"To my former players, many of whom are present: simply put, you are the reason I stand here tonight," she said. "My greatest honor was to be called your coach. You excelled on the court, in the classroom and in the community. I was always proud of you and continue to be proud of the strong, confident women you have become. You have given me the most treasured memories I could ever have wished for." 
My greatest honor was to be called your coach.
Bentley Creates Coach Stevens Digital Collectibles