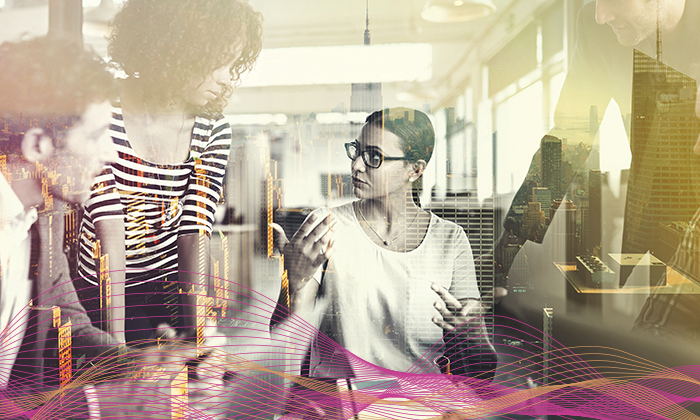 When business leadership expert Rick Miller '80 imagines employees of the future, he sees an orchestra. That is, musicians with very specific talents: playing multiple instruments, harmonizing in a diverse group, and being able to work with sheet music and improvisation at the same time. The key, he says, is depth and breadth of skill sets, ability to connect into teams and adaptability to constant change.
Experts of every kind are making predictions about workplace trends in the next decade. Navigating issues related to technology, gender and age comes down to how well people can prepare for change, adapt to change and be the change that is needed.
Miller's company, Being Chief LLC, helps senior executives develop their potential to lead. His three decades at Fortune 10 and 30 companies, nonprofits and startups have offered a front row seat to the forces of change. These days, that seat is typically not around a board table. An afternoon meeting might involve Miller's avatar in a cloud campus, interacting with top managers and board members, half of them women, from around the country.
"That would have been unthinkable 20 years ago," he says. "Today, diversity of all types matters; leveraging technology matters. Companies who get that are already outperforming those who do not."
Miller's musical analogy about tomorrow's workforce resonates with Bentley management professor Tony Buono, who chaired the university's 2017 faculty research colloquium on the future of work.
"In the past, if you had significant expertise and depth in a particular area, that was sufficient," he says. "Today, industry is also looking for a broad understanding of the cross-functional realities of an organization."
A ROBOT CHORUS?
The rise of artificial intelligence (AI) has sparked debate on whether humans will be replaced by robots on the job. Research by global management consulting firm McKinsey & Company suggests it is misleading to focus on how AI will impact specific jobs.
"Very few occupations will be automated in their entirety in the near or medium term," according to the report, Four Fundamentals of Workplace Automation. "Rather, certain activities are more likely to be automated, requiring entire business processes to be transformed, and jobs performed by people to be redefined."
Susan Brennan, associate vice president for university career services at Bentley, sees promise in leveraging human traits to work alongside robots. "Computers will never have the heart, courage and brain for future-based thinking."
Brennan's must-have skills: empathy, critical thinking, humility, judgment and collaboration. 
Otherwise, she says frankly: "You will not survive the artificial intelligence revolution. Those competencies are what will allow humans to take technology to a higher level through decision-making and risk-taking."
PLAYING IN PARITY
Melanie Foley, MBA '02 remembers starting work at Liberty Mutual in 1996. The Internet and World Wide Web were growing but not omnipresent. Cellphones were expensive and anything but mobile. According to the U.S. Census Bureau, only 19 percent of women in the U.S. had four or more years of college.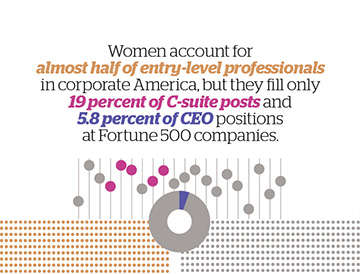 Foley is still at Liberty Mutual, but points to changes such as "the speed and ease of global communication and an increasing number of women not just in the workforce, but who hold leadership positions."
Over much of her career at Liberty, Foley took on sales and marketing roles of increasing responsibility within its U.S. personal insurance business. Her current work, as executive vice president and chief talent and enterprise services officer for Liberty Mutual's 55,000-plus employees worldwide, focuses on talent, procurement, communications, real estate, and workplace services and strategies.
One constant: her support for gender equality in the workplace. Liberty itself has strong female representation overall (55% of all employees), on the board (30%) and across management (50% front-line managers; 35% midlevel; 30% executive/C-suite).
But that isn't typically the case. According to a study by McKinsey and LeanIn.org (Women in the Workplace 2016), while women account for almost half of entry-level professionals in corporate America, they fill only 19 percent of C-suite posts and 5.8 percent of CEO positions at Fortune 500 companies.
"That's a lot of talent not being fully utilized at many companies," Foley says. "By revisiting and revising their approach to recruiting, hiring, development and promotion, companies can affect the changes needed to bring more women into senior executive positions."
Leadership development early in a woman's career is a key factor in later success, according to Deborah Pine, executive director of the Gloria Cordes Larson Center for Women and Business (CWB) at Bentley. Research by McKinsey finds that, among young professionals in the initial step up to management, men are promoted at a 30 percent higher rate than women.
"Women are not only significantly underrepresented in the C-suite, they are also primarily in staff roles and not senior vice president line roles," says Pine, noting that, in 2015, men accounted for 90 percent of CEOs promoted from line roles.
Training and development must cross genders and generations. Ernst & Young LLP, for example, is "constantly training and retraining employees," according to Ellen Glazerman, executive director of the EY Foundation.
The organization aims to develop three mindsets it considers essential for the modern workplace. First, she says, is the embrace of analytics to manage data that "everyone is going to confront regardless of their job and location"; next is the adoption of innovation to "fail forward and fail quickly, then get up and keep going — but not without a risk assessment to ensure that your failure is never big and brings you closer to a better answer"; and finally is a global approach to "work with people from different backgrounds and abilities in a way that will find the best answers."
GIVING DIVERSITY A VOICE
As workplaces become more diverse — by age, gender, race, ethnicity, lifestyle and more — Buono says that people will have to get comfortable with change.
"It's going to be very different, for example, as people in their 20s work with people in their 70s. There will be different expectations, learning styles and work styles."
Reverse mentoring, through which younger people help older colleagues work with the technology that is changing organizational practices, will require some senior managers to put ego aside. Conversely, millennials and Gen Z will need to develop confidence to make suggestions — which may include taking advice from more seasoned coworkers.
"There will be much more decentralization and egalitarian relationships in organizations," says Buono. "The ability to manage interpersonal relationships, understand our own feelings and exhibit self-control is going to be crucial."
Foley sees many organizations starting to fully embrace diversity, which includes not only demographic factors but also backgrounds and experience.
"A different perspective is a fresh perspective, which can often generate innovation for a team, particularly if current members have overlapping skill sets and perspectives," she says. "Embrace diversity, and you'll usually end up with a high-performance ceiling for a team."
CREATING HARMONY
Managing diverse teams poses special challenges for leaders, according to Miller. "There is an art to bringing talented people together, helping them feel good about what they do, giving them input into what happens, recognizing them and retaining them."
Succeeding in the innovation economy also requires some soul searching. "As people learn more about industries and their skill sets, they will also need to focus more on learning about themselves," he says. "Power comes when you develop and listen to your own voice, not the voice of a spouse or a well-intentioned friend or advertising. In a very left-brain dominant culture, the ability to better understand ourselves can really unlock a power that will accelerate great things.
Learn more: The university's annual research colloquium for 2017 — "The Future of Work" — showcased insights by 30 Bentley experts. Download presentations and watch videos of the sessions at bentley.edu/brc.