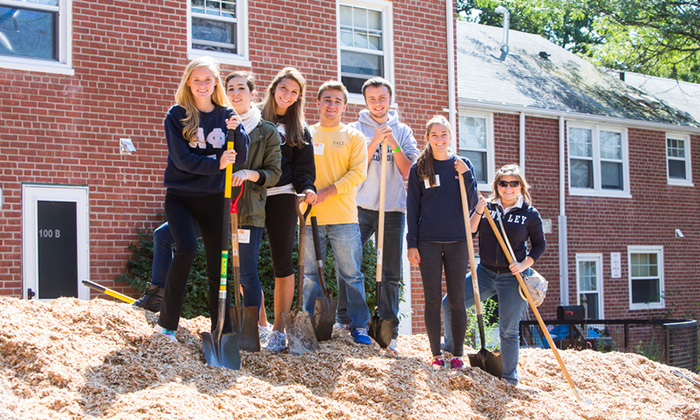 Yawkey Foundations Award Bentley $500,000 to Boost Service-Learning and Civic Engagement
The Yawkey Foundations have recognized Bentley University's longstanding commitment to service-learning and awarded the university $500,000 to educate students to effectively lead nonprofit organizations and expand student efforts to help community groups.
For 25 years, the Bentley Service-Learning and Civic Engagement Center (BSLCE) has sent thousands of students into the greater-Boston community and beyond to help more than 50 non-profits at 80 different sites. The center helps students to apply the practical, real-world business skills in accounting, management, marketing, liberal studies, and strategic planning for which Bentley has become nationally recognized to help community partners succeed and flourish.
"Our mission is to continue working with Bentley students to help them become the civic and nonprofit leaders of today and tomorrow," said Jonathan White, director of Bentley's Service-Learning and Civic Engagement Center. "The Yawkey Foundations' generous donation will enable us to build deeper connections between Bentley students and the nonprofit world, putting their tremendous fusion of business and liberal studies skills and knowledge to work to improve the lives of others."
The award will help Bentley to strengthen students' service-learning and civic engagement in three ways:
Civic Engagement Leadership Seminar: This new course will teach students how nonprofits and social enterprises operate as well as how to maximize the impact of their boards of directors.
 
Nonprofit Internships: The award will expand Bentley's nonprofit internship opportunities with more funding to pay students and allow them to take unpaid positions, inspiring them to think more broadly about how a business education can lead to careers in nonprofits and social entrepreneurship.
 
Nonprofit Career Fair: BSLCE and Bentley University Career Services will launch an annual career fair for the social good, dedicated to nonprofit and social enterprise organizations, while offering deepened advising to students seeking nonprofit sector careers. 
Each year, approximately 1,000 Bentley students work with the university's Service-Learning and Civic Engagement Center, including 130 who are selected as program managers. James Purdy '17, a student director of service-learning at the center, said the Yawkey grant will create more opportunities for Bentley students to expand their leadership skills.
"Bentley students are known for our business skills and training, and service-learning and civic engagement helps us think about how to use those skills in a wider range of areas," said Purdy. "It lets us prepare for, and pursue, a career in fields that provide meaningful social change."