Dear Bentley Community,

We're now in the final stretch of the fall semester, and there are some important steps we should all be taking to ensure we get through finals and to the end of the semester healthy and safe. In recent weeks, COVID-19 cases have risen sharply throughout Massachusetts and in Middlesex County, making it critically important that we continue to do what we know works best against the spread of the virus: wearing a face covering indoors, keeping your testing appointment and avoiding crowded indoor spaces. Without these layers of protection and best practices, our campus risks following a similar trend line we are seeing at the state and county level: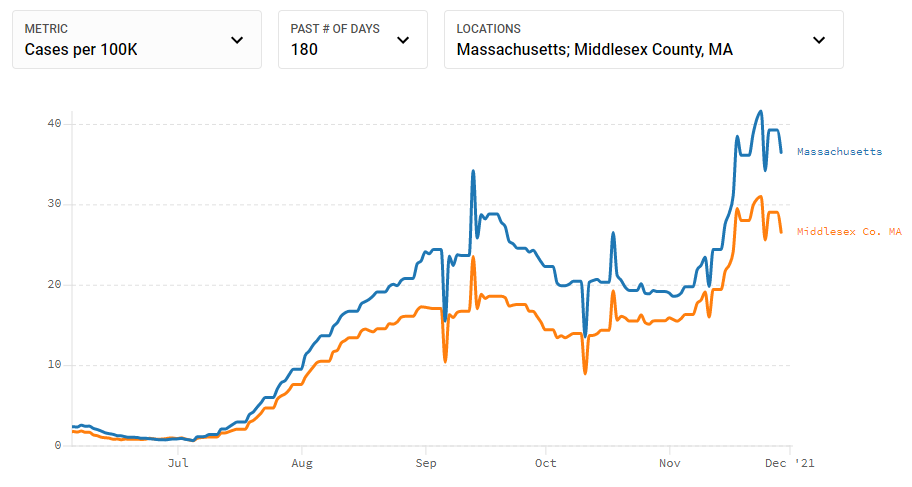 Keeping up with our best practices
In this final stretch of the semester, it is extremely important that you maintain the following best practices, which have proven to be effective in the fight against COVID-19:
Wear a face covering indoors at all times when not in your residence hall.
Keep your weekly screening test appointment through the end of final exams so that we can continue to quickly identify positive cases on campus, or get tested if you are feeling ill.
Avoid large indoor gatherings where face coverings aren't worn, especially those with people outside of your immediate social circles. 
Get your booster shot if you are eligible to do so (see eligibility details below).
Getting all of our students to finals and the end of the semester as healthy and safe as possible is our top priority. Keeping up with the above practices can help you avoid an interruption from a COVID-related illness and/or an isolation period.
Get your booster shot
On Monday, the CDC updated their guidance to recommend that all eligible people ages 18 and over should get a booster shot. As a reminder, you are eligible to receive a COVID booster shot if:
You received your second dose of the Pfizer-BioNTech or Moderna vaccine or a two-dose vaccine that is listed by the World Health Organization at least six months ago, or

You received the single-dose Janssen/Johnson & Johnson vaccine at least two months ago.
Shots are available at local pharmacies and should be actively sought out. You can also search for a booster shot at a public vaccination location at vaxfinder.mass.gov. 

Omicron: What to know about the new variant
Last week, the World Health Organization designated a new COVID variant as a "variant of concern." Since then, scientists and public health officials around the world have been studying the transmissibility and severity of the omicron variant to determine its associated risks. It's important to note that being labeled as a "variant of concern" does not necessarily mean that there is an immediate increased risk to public health, but instead that the world should be alert as more is discovered about the variant's traits. Currently, 99.7% of cases in Massachusetts (and 99.9% across the country) are caused by the delta variant, which has proven to be more transmissible than earlier COVID variants. Being vaccinated and getting your booster shot can reduce your risk of severe infection.

As always, we continue to monitor the public health situation and guidance. We will be updating the community on approaches to the reopening of campus in January before the conclusion of the semester and over the break. Please check your email regularly.

COVID-19 Testing Dashboard
This week, 12 new positive cases were identified by our on-campus screening testing program. With this rise in on-campus cases, it is critically important that we all continue to follow the best practices listed above to make sure we finish the semester as healthy as possible. Since ­August 22­­, 185 positive cases have been reported on the dashboard. With 40,973 total tests administered, that leaves us at a 0.46% positivity rate.

It's been great to see campus full with students, faculty and staff all fall. Please continue to do your part to make sure this semester ends on a good note.

Until next time,

Geoffrey C. Bartlett, CEM
Director, Emergency Management