From the President
What a semester it's been. As I continue to meet more members of our great community in this, my first fall at Bentley, I'm reminded time and time again why I was drawn to this extraordinary university. From day one, I've seen firsthand how my own belief in the power of business to change the world for the better is affirmed every day by the students, faculty, staff and alumni of Bentley University.
I've always believed in the power of business education. I've been fortunate in my career to work on issues of economic development across many countries, and I've seen how the dynamism and impact of business and entrepreneurship can create solutions to so many human problems. For over a century, a Bentley education has prepared leaders to do just that, while meeting the demands of an increasingly discerning and evolving marketplace. That's been true since Harry Bentley first enrolled a class of prospective accountants in 1917. And it's certainly true today. 
At its core, business can — and should — address the needs of our society. At Bentley, the academic journey is based on that very idea. The connection between the classroom and our commitment to practice and engagement in the "real world" is clear. I see it in the way that our students apply their lessons and ideas to today's business world. I see it in the timely, consequential research of our world-class faculty and the way they inspire in the classroom. And I see it in the alumni who are creating exciting new ventures and leading in industries around the world. 
In my career in higher education, I've always had a deep appreciation for the role that alumni assume in a community. Alumni are the living proof of the success of a university's mission — they embody and affirm the most important institutional characteristics. There are no stronger ambassadors, no bigger champions, for a university than those who have passed through its doors on their paths to success. I'm looking forward to meeting more of the Falcons who have proudly carried Bentley's name into the world and helped strengthen the very reputation that drew me and so many others to this great university. 
President Chrite welcomes first-year students at Convocation
As we look to Bentley's future, we know there will be hurdles to our continued success. The COVID-19 pandemic has fundamentally altered a business landscape already transformed by increasing internationalization and technological advances. But adapting to change — excelling at the intersection of intellectual rigor and market relevance — is exactly what Bentley does best.
So much has changed since that first group of accountants-in-training came together in a classroom on Huntington Avenue in Boston. But what has remained central to this university is that our students leave Bentley equipped with the skills to succeed and meet the demands of an increasingly competitive and connected economic marketplace. To continue that mission and to sustain and strengthen our competitiveness, we must be willing to innovate and adapt once again as the global economy requires.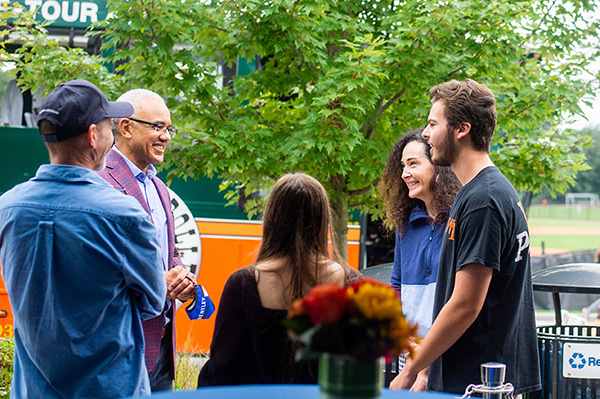 Alumni and friends of the university will play an important role in that success. So far, generous alumni have established scholarships, served as mentors and networkers, and launched our Badavas Center for Innovation in Teaching and Learning and Pulsifer Career Development Center, to name just a few examples. We are a stronger university thanks to your collaboration and partnership.
Today, higher education is at a crossroads. The landscape is now defined by new and emerging platforms of engagement, low-cost market entrants, and an emerging focus on competencies over credentials as well as increased price-point sensitivities.     
I have no doubt that we are up to the challenge. I believe in Bentley, and we are uniquely well-positioned to emerge from this period stronger and more agile. I'm excited for what will come next. Together with our Falcon community, I'm looking forward to continuing to empower students to use business as a force for the positive change our world so deeply needs — changing the world for the better, just as Harry Bentley envisioned more than a century ago. Let's get to work. 
The president's office speaks volumes about his path and passions.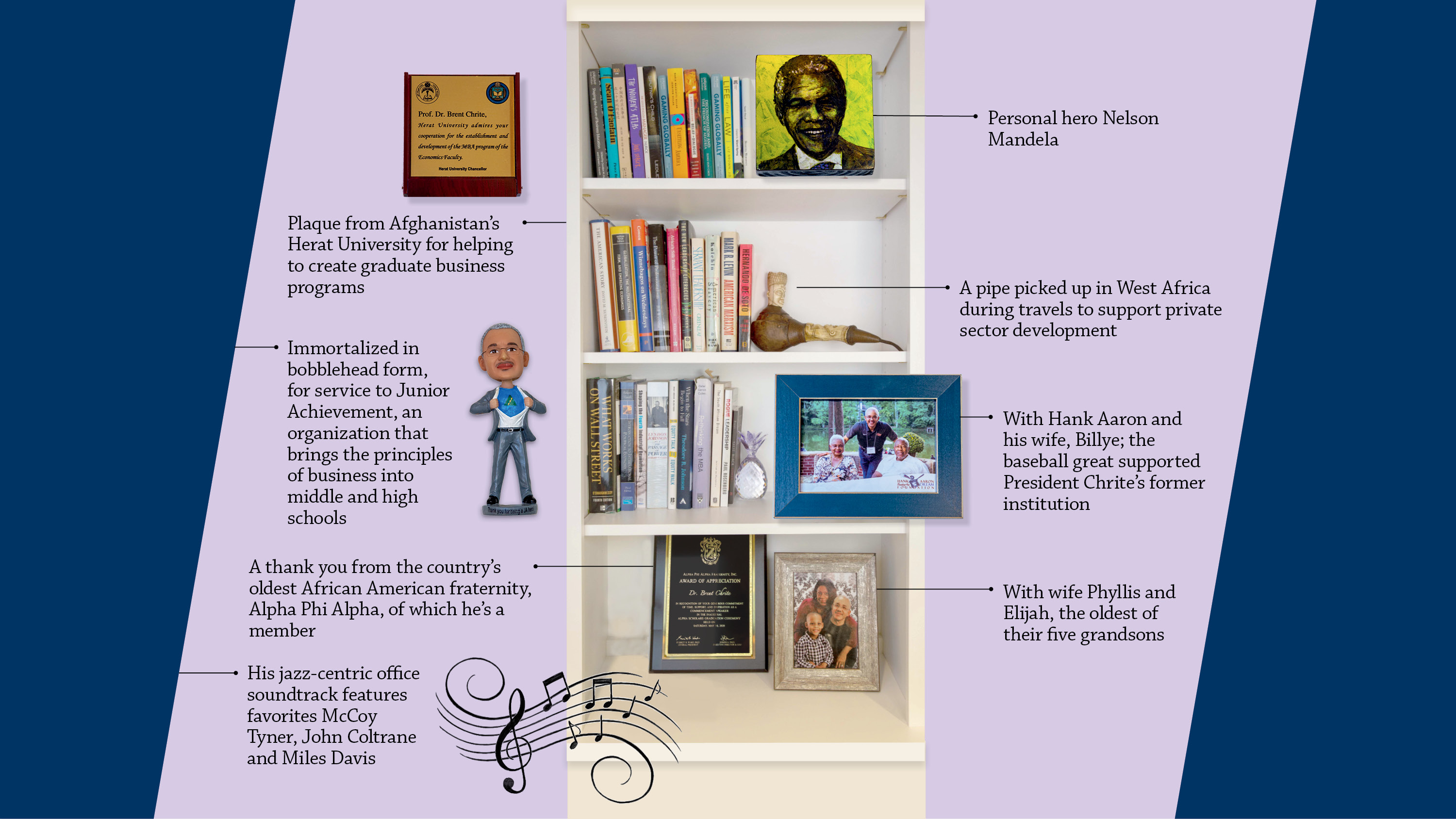 "Dr. Chrite is an inspirational leader. I feel like he can inspire us all and make lasting change at Bentley. He has been the first president in my tenure here to walk through the academic buildings meeting faculty in their offices. To me that shows he is invested in all of us."
— Kiana Pierre-Louis '99, Senior Lecturer, Law and Taxation
"Since President Chrite's first day here, he's been willing to intentionally interact with students. It's not uncommon to see him walking around campus, and he makes it a point to have conversations with anybody who will speak with him. This is refreshing to see, and Bentley has a strong future under his leadership."
— Aman Ailiani '20, MSBA '23
"Having participated on the Presidential Search Committee representing the GAB, I was most struck by President Chrite's track record as a strong 'relationship builder' on multiple levels. I welcome his leadership to help engage with our nearly 65,000-strong alumni community in meaningful and lasting ways."
— Chuck Coppa '85, Chair, Global Alumni Board
"President Chrite is thoughtful, caring and a true leader. His depth of experience will no doubt help Bentley grow and evolve. In the few months he has been with us, community members have already noticed a shift in momentum, and it is clear he will lead us in a positive direction."
— Christine Lookner, Associate Dean of Student Equity and Inclusion
"President Chrite is a well-accomplished but humble leader. His vision for Bentley — that a true integration of arts an sciences with business can produce knowledge that will change the world — resonates with many. I am very excited to have him here with us."
— Christian Rubio, Chair, Modern Languages Department
Want to read more from this issue?