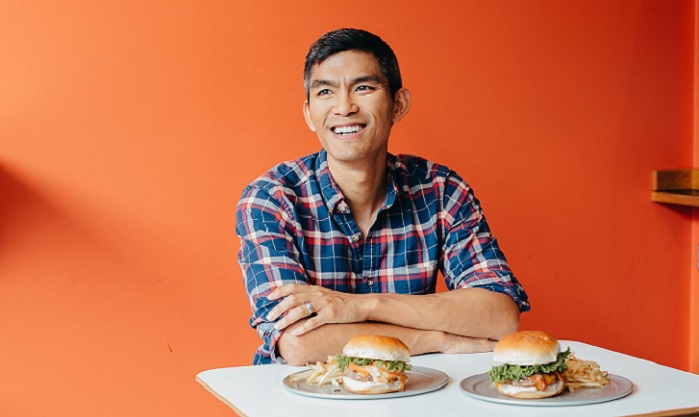 Adrian Wong '08. Photo by Joy LeDuc.
The Beta Burger Founder on Company Culture and the Pursuit of the Perfect Burger
Adrian Wong '08 worked as a wealth management associate at Morgan Stanley but dreamed of finding an industry he could disrupt with new technology to improve a product. His search ended at the local burger joint. Using a revolutionary cooking technique, Wong hit on the Holy Grail of fast food: a patty that is both low cost and high taste. After working a night job at Chipotle for an employee's view of the industry, Wong founded Beta Burger. Today, the restaurant in the Mission Hill neighborhood of Boston wins raves for exceptionally juicy burgers, customizable with two dozen toppings. Below, Wong shares his thoughts on everything from business expansion plans to the importance of employee empowerment.
Slow to Go Fast
We were trying to solve a simple dilemma: How do you cook a burger fast but also maintain high quality? Oddly enough, we ended up going with something slower in order to create speed — a technique called sous-vide, which cooks food for long periods at low temperature in a water bath. Then we do a quick sear before serving.
Culture Club
When people talked about "culture" at a business, I thought it was a fantasy concept. But at Chipotle I worked with people making minimum wage, and they were happier than many people I saw working in finance — that's because of company culture. At Chipotle, we worked hard but we were rewarded for it with small perks, like paid breaks and free food. It said to people, "This company values my energy."
Creating Buy-in
Every single decision, from toasting the bun to saucing the burger at the end, has to serve a dual purpose, benefiting customers and employees. We have a very specific process in how the burger is created. Each step was modified by an employee over time, and eventually created the most efficient process for making the burger. Each task has a purpose and a mission, so employees can buy in and feel attached to what they're doing.
Pursuit of Perfection
The mission of Beta Burger is in the name: "to test." We are all in pursuit of the perfect burger, and I'm not here to judge what you think is the right one. When we go about creating a burger, we go by three taste-bud factors: sweet, salt and sour. We've offered some unexpected combinations, for example, putting marshmallow on a burger. There was a lot of skepticism, but the marshmallow provided a subtle sweetness, while the beef and the sauces added the salt and the sour. When people tried it, they were impressed.
A Recipe for Growth
I want to open two more stores in Boston within two years' time. To me, it is essential to make the Boston region our home base and for outsiders to recognize us as the Boston burger that is making waves in the area. From there, I plan to target other areas with a very focused urban population, such as Providence.
Getting Saucy
Burger places today are all about the sauce. But if you compare them, at the end of the day, everybody's secret sauce tastes the same. That's why we call ours "not-so-secret sauce." I will tell you right now, it is chipotle mayo. We differentiate ourselves by how we cook the burger. And also by our homemade steak sauce — I can't tell you what's in that.