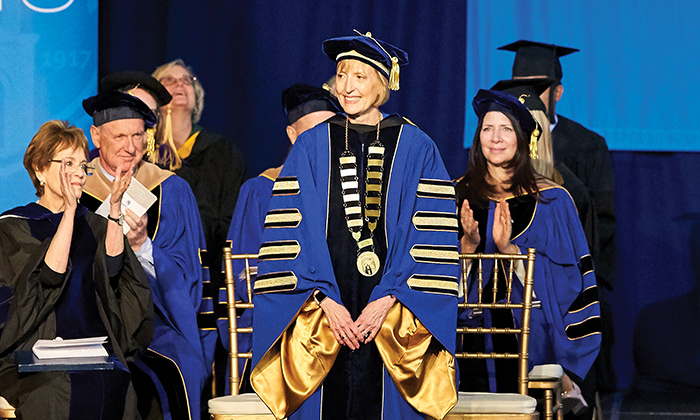 Alison Davis-Blake: Eighth President of Bentley University
Inauguration Week draws faculty, students, staff and alumni
The inauguration of Bentley's eighth president featured a week of activities for the campus community. Staff members discussed skills for building positive organizations, and students explored strategies for finding importance and meaning in work. A symposium engaged faculty from Bentley, Harvard, MIT and Stanford to share research and insights on the future of work. The final flourish was the installation ceremony, held in the Bentley Arena. Here are highlights from this special week in our history.
Alison Davis-Blake was formally installed as the eighth president of Bentley University on October 19, 2018, at a ceremony that brought together faculty, students, staff and alumni. The crowd also included delegates from more than 50 other academic institutions nationwide.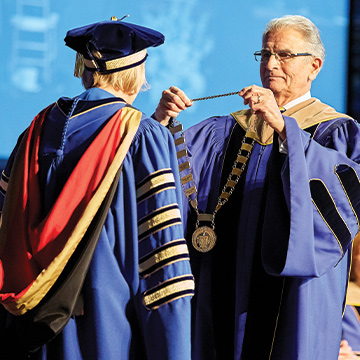 "Yours will be the great privilege and responsibility of leading this school in its work to educate creative, ethical and socially responsible organizational leaders," said Trustee Chair Robert Badavas '74, who presented Davis-Blake with the university charter and presidential medallion. Both symbolize the authority and responsibility vested in the president as the school's leader.
The keynote speaker for the occasion was Mary Sue Coleman, president of the Association of American Universities and a national leader in higher education.
"This is a marvelous day for Bentley and for higher education," said Coleman, who, as president of the University of Michigan, helped recruit Davis-Blake as the school's first female dean of business. Coleman praised her former colleague as "a new leader perfect for the opportunities that await Bentley."
"To be an effective university president, you must look beyond the borders of the campus," she continued. "Alison believes in building bridges. This is so important, both for students and the communities and companies they will join after graduating. Universities that connect with their communities are more effective, more respected and better positioned to make a genuine difference in people's lives."
Other speakers brought greetings and good wishes from different corners of the Bentley community. Charles Hadlock, Trustee Professor for Technology, Policy and Decision-Making, represented faculty members.
"When you were announced as our new president, one of your first acts was to come to our general faculty meeting — and to introduce yourself as a person whose career is deeply rooted in being a faculty member," he said. "You embrace as your own our common calling to develop and share knowledge with others, whether students, colleagues, the scholarly world or general society. We welcome you warmly as you help us to do our very best in this special profession at this special institution."
Dan Sheehan, director of client services, spoke not only for fellow staff members but also as the parent of a Bentley sophomore.
"I sat in the audience and listened to your first Convocation address. It was memorable," he said. "You encouraged the students to challenge themselves, to not fear failure. This challenge aptly applies to us as well."
Representing alumni, Vicki Vassalotti Semanie '86 highlighted the diversity of the school's 60,000 graduates.
"As the quality of our diplomas has been recognized, alumni stand proud of our school," said Semanie, who chairs the Global Alumni Board. "The alumni community is at your service to help and support you in the commitment to make Bentley a world-class business university." Speaking on behalf of current students were Hannah McDonnell '19 and Hsin-Wei Lu, MBA '22, respective presidents of the Undergraduate and Graduate Student associations. McDonnell recalled an observation by Davis-Blake at a meeting with student leaders.
"She said, if a door opens and you feel like you can make a contribution, you need to take the opportunity." McDonnell then turned toward the president. "We are so excited that Bentley was an open door for you."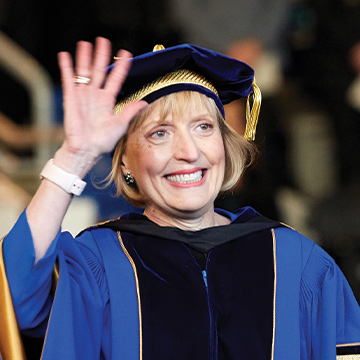 Lu praised Davis-Blake's "passion and extensive experience leading a business school. I am confident that Bentley will keep strengthening its ties to the community, to business and to the world."
The newly installed president characterized this as a transformative time for colleges and universities.
"Higher education has never been more important," said Davis-Blake. "Here at Bentley, right here and right now, we have the exciting chance to imagine what the future of leadership in business and in society can be, and to create business-focused education for the next generation of leaders."
She urged students, faculty and others to foster a positive environment that thrives on diversity, focuses on the university's strengths, and operates with integrity — and to carry that over to their careers.
"We have choices about how we structure our organizations, how we motivate and sustain employees, how we inspire students to make a difference in their companies and their communities, and how we support businesses so they can do well and also serve the greater good.
"The world is not getting any simpler," she concluded. "But that's just fine. Bentley is up to it. We are up to it, as we work together to define the future of business leadership in this country and for the world."
Read the addresses by Alison Davis-Blake and Mary Sue Coleman.
---
Symposium Charts the Future of Work
By Mary K. Pratt
A​​​​​​utomation, artificial intelligence and other technologies are transforming the workplace and, by implication, relationships between organizations and their employees. The trend and its impact took center stage at an academic symposium that was part of Inauguration Week activities.
The Future of Work symposium engaged scholars from Bentley, the Harvard Business School, MIT and Stanford University. It opened with a keynote address by Jeffrey Pfeffer, Thomas D. Dee II Professor of Organizational Behavior at the Stanford University Graduate School of Business. Two panel discussions followed, moderated by Associate Provost Patrick Scholten and Dean of Arts and Sciences Rick Oches.
TRUST AS AN ASSET
In the first panel, Human Sustainability and the Future of Work, Bentley's Rani Hoitash focused on trust in the workplace. Trust supports creativity, collaboration, communication, innovation and other functions essential for organizations to compete and succeed.
"Trust means that employees will be willing to take risks and be vulnerable," explains Hoitash, the John E. Rhodes Professor of Accountancy. "This is the way trust can influence corporate outcomes, so it becomes an asset within companies."
Panelist Sandeep Purao focused on the gig economy, where an estimated one-third of U.S. workers already toil. The Trustee Professor of Information and Process Management notes that regular hours, long-term employment and company-funded benefits have in many cases fallen by the wayside.
"There is an existential threat to the traditional employment contract; it might simply disappear for a large segment of the population," says Purao, whose research and teaching highlight how enlightened companies are bridging the gap between the gig economy and traditional employment.
Associate Professor of Management Effie Stavrulaki examined whether operational efficiencies can co-exist with employee well-being.
"The traditional view is that it's very difficult — even impossible — especially for low-margin companies like retail," she says. "We often hear, 'We can't afford to pay our employees well or give them benefits.' But there are ways to combine smart operations and investments in employees and be very successful."
IMPACT OF TECHNOLOGY
The symposium's second panel — How Artificial Intelligence (AI) and Technology are Changing the Future of Work — included Jason Jackson of MIT. The assistant professor of political economy and urban planning discussed how technology has changed the power relationships between managers and employees.
It was the relationship between humans and computers that engaged panelist Tamara Babaian, an associate professor in Bentley's Computer Information Systems department.
"There are many physical tasks that can be done by robots or software agents. But a lot more tasks, especially those that involve decision-making, require high-level cognitive skills," she says. "Organizations will be challenged to create systems where people and computers work seamlessly in a way that complements each other's strengths."
Research by Prithwiraj Choudhury of the Harvard Business School shed light on machine learning and AI. Will these technologies displace humans or complement their skills to improve people's productivity? He says that the former is certainly possible for routine tasks where all required information is available. But for the many other tasks that cannot be routinized or lack complete information, computers can play an assisting role.
"All these fears about machine learning and AI replacing jobs is at best overblown," he says. "You will need humans for deep domain expertise in the future."
Symposium attendees included David Szymanski, associate professor of natural and applied sciences.
"An academic event like this, focused on technology and how that's changing what 'work' means, sets the perfect tone for our students and the university. Our new president is involved in the conversation, and our faculty members do cutting-edge work on the topic. That is the right message for the next generation of business leaders.
Learn more and watch videos of the symposium keynote address and faculty panels. 
---
Students and Staff Learn the Power of Positivity
By Kristen Walsh
Everyone has the power to energize others and create a more positive workplace. So say organizational experts Shawn Quinn of the University of Michigan and Ryan Quinn of the University of Louisville, who led sessions for staff members and students during Inauguration Week.
Workshops for staff focused on why building a positive organization matters and how such environments increase employees' productivity and satisfaction in the workplace. During breakout sessions, colleagues asked guided questions to learn more about each other on a personal and professional level; they also identified specific ways that 1) their work benefits others and 2) they benefit from others' work. The energy in the room ramped up almost immediately as staff members connected.
"I know that people can bring down colleagues with a negative attitude, but this made me think about the converse: If you're energizing others, it lifts up everyone," observed David Hatch, a senior business partner in the Human Resources department. "I'm going to be thinking about how I can do that in my work."
In a separate program, students learned how to make a positive impact on those around them, including their peers and future colleagues. In addition to Shawn and Ryan Quinn, the symposium tapped President Alison Davis-Blake as a speaker and Vice President and Dean of Students J. Andrew Shepardson to moderate the discussion. He encouraged students to recognize the value they can bring to the workplace by energizing themselves, promoting a sense of belonging among co-workers and practicing gratitude in ways that can be as simple as saying "thank you."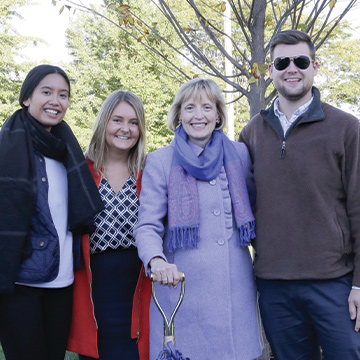 "All of you hold more power than you may believe, in the way you impact people's lives around you," said Shawn Quinn, whose message resonated among the students who packed Bentley's Wilder Auditorium.
Krysten Arnold '20 called the symposium eye-opening. "In the business world, it sometimes seems like money is central," she said. "While that's important, Shawn and Ryan Quinn and President Davis-Blake reminded us of the power of positivity and wanting to make a difference in the world. Do what you love, energize people and make a positive impact on others' lives — and the money will follow."
After the symposium, students gathered with faculty, staff and other members of the campus community to plant a tree, symbolizing the "Century of Growth, Future of Leadership" theme of Inauguration Week. Pictured, from left, with President Davis-Blake are Student Government Association leaders Patricia Magistrado '19, Hannah McDonnell '19 and Matt Stead '19. 
---
Build a Workplace Where People Thrive
Compiled by Kristen Walsh
"We ought to be concerned about human sustainability, not just environmental sustainability," urged symposium speaker Jeffrey Pfeffer. His research identifies factors to pay attention to.
JOB DESIGN
Beware of positions with high demands but low control over work. The lower an employee's rank, the higher the risk for cardiovascular disease.
WORK HOURS
Resist thinking that a long workday confers status. The number of hours worked correlates with higher blood pressure and lower productivity.
SOCIAL SUPPORT
Develop practices that contribute to employees' emotional and financial well-being, e.g., avenues for teamwork to build cohesiveness and reduce isolation.
WORK-FAMILY BALANCE
Support strategies that minimize conflict between job and family. The fallout of conflict can be absence from work, mood and anxiety disorders, poor health and substance abuse.
PERCEIVED FAIRNESS AND JUSTICE
Create a culture that rejects discrimination in all its forms. Unfair treatment based on race, age or gender creates stress that undermines physical and mental health.