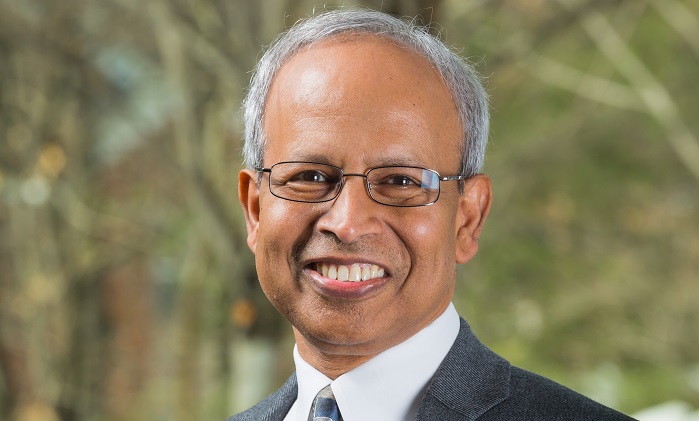 Mahendra Gujarathi Named the 2018 Outstanding Accounting Educator by the American Accounting Association
Mahendra Gujarathi, the Rae D. Anderson Professor of Accountancy at Bentley, has earned the Outstanding Accounting Educator Award for 2018, the first Bentley professor to be so honored. The American Accounting Association presented the honor, which recognizes exceptional career contributions in educational innovation; excellence in teaching, publications and research guidance to graduate students; and significant involvement in professional and academic societies and activities.
Learn about his path and why accounting is still a passion after four decades.
What sparked your interest in the field of accounting and in teaching?
My father — known as RR, which are the first letters of his first and middle names — was my first and best accounting teacher at BYK College of Commerce in Nashik, India. His art of making a difficult subject like accounting easy for students to understand inspired me to study and teach accounting. My journey as an educator began at the age of 21, when the principal of my alma mater, the University of Pune, asked me to teach the introductory financial accounting class in the MBA program.
How have you stayed so passionate about teaching accounting over four decades?
Seeing the light bulb in a student's head go on has always been an exhilarating experience for me. When students start seeing connections between topics in a given course, and between different courses in their curriculum, I get a sense of fulfillment and joy. Also, while the basics of bookkeeping have remained the same, economic transactions keep evolving and so do accounting standards. I enjoy keeping abreast of these developments.
What professional experience do you bring to the classroom?
I worked for three years as an audit associate with a chartered accountancy firm. In addition, I have done several consulting projects and delivered many executive education courses for corporate managers in several countries. This helps me enhance the educational experience of my students by connecting my classroom teaching to the corporate world.
What are your research interests and how do they connect to your teaching?
The areas of research have evolved over time, although the goal — doing research that has implications for practice — has remained the same. I am currently researching capital market reactions to accounting information, ethical considerations in business decisions, comparative international financial reporting, and real-world cases.
I constantly experiment and adapt my courses to contemporary developments in the global business environment. This includes making use of technology, such as financial modeling applications in accounting, and different modes of teaching such as service learning and online education.
Read How The Teaching Of Accounting Has Changed Through the Years
Experiential learning tools like case studies are imperative to teaching. Cases demonstrate that there often is no single "right answer" in the real world. They also allow me to emphasize that in accounting, as compared to bookkeeping, there is more room for professional judgment. In making the transition from bookkeeping to accounting, the room for professional judgment expands so does the need to make responsible judgments with professional integrity.
Recently, I undertook a challenging project to develop a series of three teaching cases on one company. Although the cases all focus on Diamond Foods Inc. in the context of its real- and accruals-based earnings management, each case presents different issues, perspectives and student requirements. By putting students in different roles — financial accountant, external auditor, financial analyst — the cases provide a deeper understanding of accounting and demonstrate the connections between different topics in a course and different courses in the accounting curriculum.
How would you describe your teaching style?
Socratic questioning is my preferred mode of instruction. I see my classes as a lotus bud, with discussions opening up the bud, petal by petal, until the lotus blooms fully. I strive to demonstrate that critical thinking and the ability to connect theory to practice, albeit challenging, are the rewarding and lasting benefits of higher education. My role as an educator is to help students understand that these skills can be honed, and help them continuously improve. When students know that I am genuinely interested in their professional development and understand the benefits of critical thinking for their long-term success, their learning experience becomes more fulfilling. This creates an educational environment that helps everyone grow, myself included. 
What signals that you've been successful in helping students 'blossom' and reach their potential?
William Yeats once said, "Education is not the filling of a pail but the lighting of a fire." Although this quotation was in the context of general education, it applies equally to accounting education. As an educator, I have the honor and responsibility to light these "fires."
Students in my classes discover that accounting is not a disparate cluster of complex rules. Rather, it is a logical and elegant system of communication that facilitates the understanding and shaping of business.
What do you learn from your students?
A lot. Students have different learning styles and adapting to them makes me achieve my teaching mission better. At a broad level, their aspirations and apprehensions are similar to mine or anyone else's. It is just a matter of degree that they are different, and they need a little more cajoling and convincing to believe that they can achieve more than they believe.
Mahendra Gujarathi was presented with Bentley's Mee Family Prize for lifetime research excellence in 2018. His other teaching awards include the Innovation in Financial Education Award, Financial Accounting and Reporting Section, American Accounting Association (2018); the Teaching Innovation Award, Forensic Accounting Section, American Accounting Association (2017 and 2018); the Innovation in Audit and Assurance Education Award, Auditing Section, American Accounting Association (2017); the George Krull/Grant Thornton Innovation in Teaching Award, American Institute of Certified Public Accountants (2015); the Innovation in Teaching Award at Bentley (2008 and 2014); the Excellence in MBA Teaching Award at Bentley (2010); and the Gregory H. Adamian Award for Teaching Excellence at Bentley (2006).