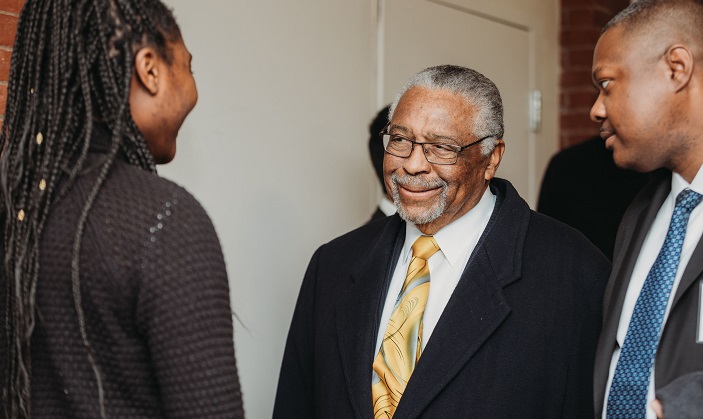 Earl Avery's positive impact will be carried on by a scholarship in his name. Photo by Joy LeDuc.
Bentley Announces Dr. Earl L. Avery Scholarship For Talented Students of Color
Bentley University President Alison Davis-Blake has announced a new scholarship in honor of Earl Avery, a champion of diversity and inclusion who is retiring after more than 30 years at the university. The scholarship will be awarded annually to academically talented students of color who demonstrate financial need, and recipients will be known as Dr. Earl L. Avery Scholars.
Avery began at Bentley in 1986 as the university's ethics officer and later served as ombuds, special assistant to the president, and as a mentor and counselor to students, faculty and staff. His accomplishments at Bentley include the annual Martin Luther King, Jr. Celebration; creation of the university's gospel choir and chapter of the National Association of Black Accountants; and the Summer Transition Education Program, which supports students from urban schools who may not meet Bentley's traditional admission requirements.
"Dr. Avery has been an integral member of the Bentley community for more than three decades," said President Davis-Blake. "His lifetime commitment to access and inclusion for all has guided his work, and because of that commitment, Bentley is far better and stronger today. The Dr. Earl L. Avery Scholarship will ensure that his incredible impact on the lives of so many students, especially students of color, will continue even as he retires from Bentley."
Initial funding for the Dr. Earl L. Avery Endowed Scholarship came from two generous alumni, Trustee Robert E. Alan '91 and Lebone Moses '02, both of whom credited Avery with their educational and professional success. Recipients will be known as Dr. Earl L. Avery Scholars, and their active participation in the Bentley community will honor in perpetuity the impact Avery has had at the university.