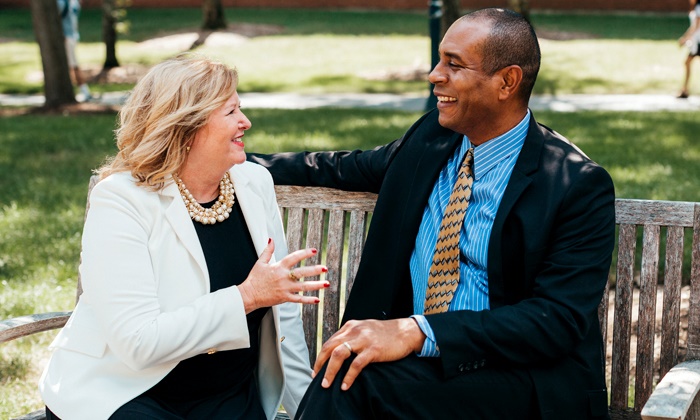 Suzanne Cuccurullo and Mario Silva-Rosa host the Admission 101 podcast.
Bentley Launches Second Season of Podcast to Help Students and Parents With Their College Search
Whether you're starting to explore colleges or ready to make a decision, finding a school that is right for you can be overwhelming. Bentley University's Admission 101 podcast offers advice to high school students and their parents who are navigating the college search and application process. Hosted by Dean of Undergraduate Admission Suzanne Cuccurullo and Director of Undergraduate Admission Mario Silva-Rosa, the second season of the podcast will cover topics such as building your list of schools, standardized testing, applying as an athletic recruit, being wait-listed and the final decision.
Episodes of the podcast are available at www.Bentley.edu/undergraduate/admission101. With informative discussions and interviews with Bentley students, Admission 101 offers tips to help high school juniors and seniors and their parents get a jumpstart on the college admission process, stay on target with applications and make informed decisions. It also serves as an important resource for high school guidance counselors.
The show's topics include:
Episode 1: How to build a list of schools and begin your search
Episode 2: Standardized testing
Episode 3: Financial aid
Episode 4: How to apply as a recruited athlete
Episode 5: What to do if you are wait-listed
Episode 6: Accepted – Things to consider to help you make up your mind
See All of the Episodes of the Admission 101 Podcast
Season one launched in fall 2018 and covers topics such as key application deadlines, the importance of college visits, college interviews, and writing an essay that will stand out.