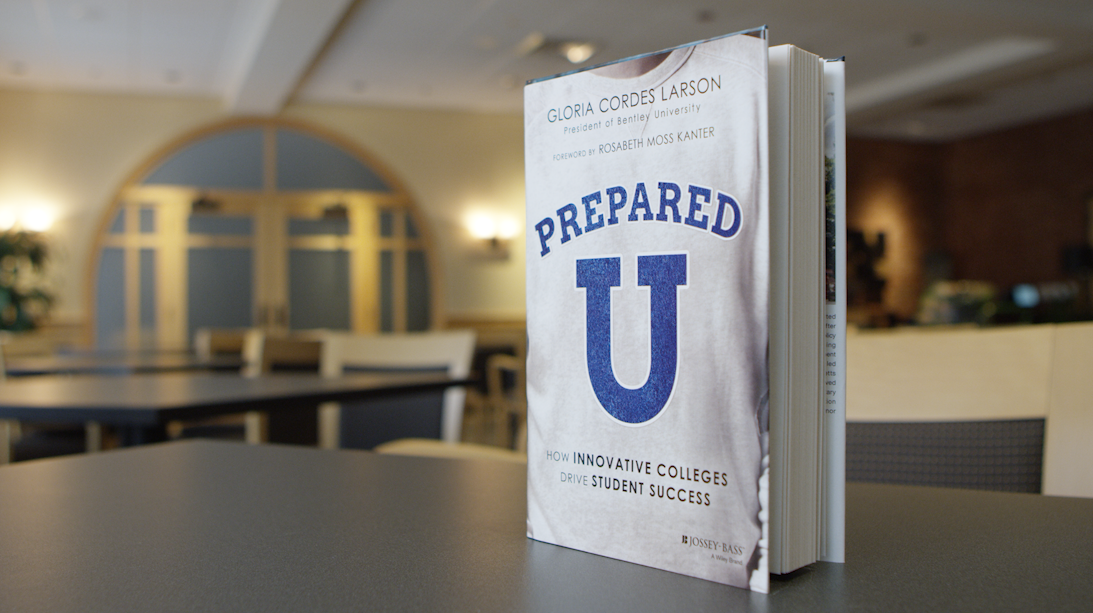 A new book by Bentley University President Gloria Cordes Larson helps parents, employers and educators to rethink how students should attend college to help them achieve happier, more rewarding careers and lives. The book, PreparedU: How Innovative Colleges Drive Student Success, lays out concrete ways to reshape the U.S. college experience, drawing from lessons learned during Larson's decade as president of Bentley.
PreparedU is an important book for families who are facing one of the biggest investments of their lives – their child's college education – at an uncertain time when the fast-changing global and digital economy is forcing students now entering college to prepare for jobs after graduation that may not even exist yet. Larson is uniquely qualified to provide guidance. Under her leadership, Bentley University has been ranked #1 in the United States in both career services and internships by The Princeton Review.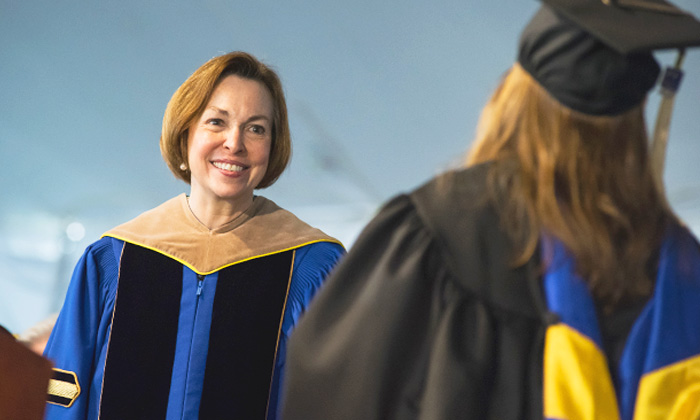 "Today's employers demand a new kind of hybrid graduate who combines both hard and soft skills with the courage to take risks, the creativity to innovate, a strong moral compass and the savvy to excel in a highly competitive climate," Larson said. "We need to continue listening to students, parents, employers and forward-looking educators to identify what's working in higher education – and sometimes, what isn't – to create an education system that prepares young people to succeed in the global economy."
In PreparedU, published by Jossey-Bass, Larson draws upon interviews with educators at other universities, successful graduates, and company recruiters and executives. The book also describes the successes Bentley has experienced combining business education with the liberal arts.
"If you're making the investment of a lifetime, you'd better know what you're paying for and how to get the most out of it," said Suze Orman, the personal finance expert and best-selling author. "PreparedU explains how the opportunity for success is driven by how you go to school, not where, and anyone planning for college should understand the difference."
Read Orman's blog post about the book. 
Larson joined Bentley after a diverse career in law, government and business. She was drawn to Bentley's inventive approach to redefining business education by integrating its business curriculum with the arts and sciences, as well as for its emphasis on ethics and social responsibility.
During her tenure, Bentley has reached a number of milestones. She launched Bentley's PreparedU initiative and return-on-investment-focused approach, preparing students with the market-ready skills needed for their first job and the lifelong learning abilities to ensure long-term success. Larson has also supported career planning and hands-on learning as a crucial aspect of the college experience for every student beginning in their first year.
Dedicated to Preparing a New Kind of Business Leader
Bentley University is one of the nation's leading business schools, dedicated to preparing a new kind of business leader with the technical skills, global perspective and ethical standards required to make a difference in an ever-changing world. Bentley's diverse arts and sciences program combined with an advanced business curriculum prepares graduates to make an impact in their chosen fields. The university enrolls approximately 4,000 undergraduate and 1,000 graduate students. The Princeton Review ranked Bentley #1 in the United States in both career services and internships and Bloomberg BusinessWeek ranked Bentley a top 10 undergraduate business school.