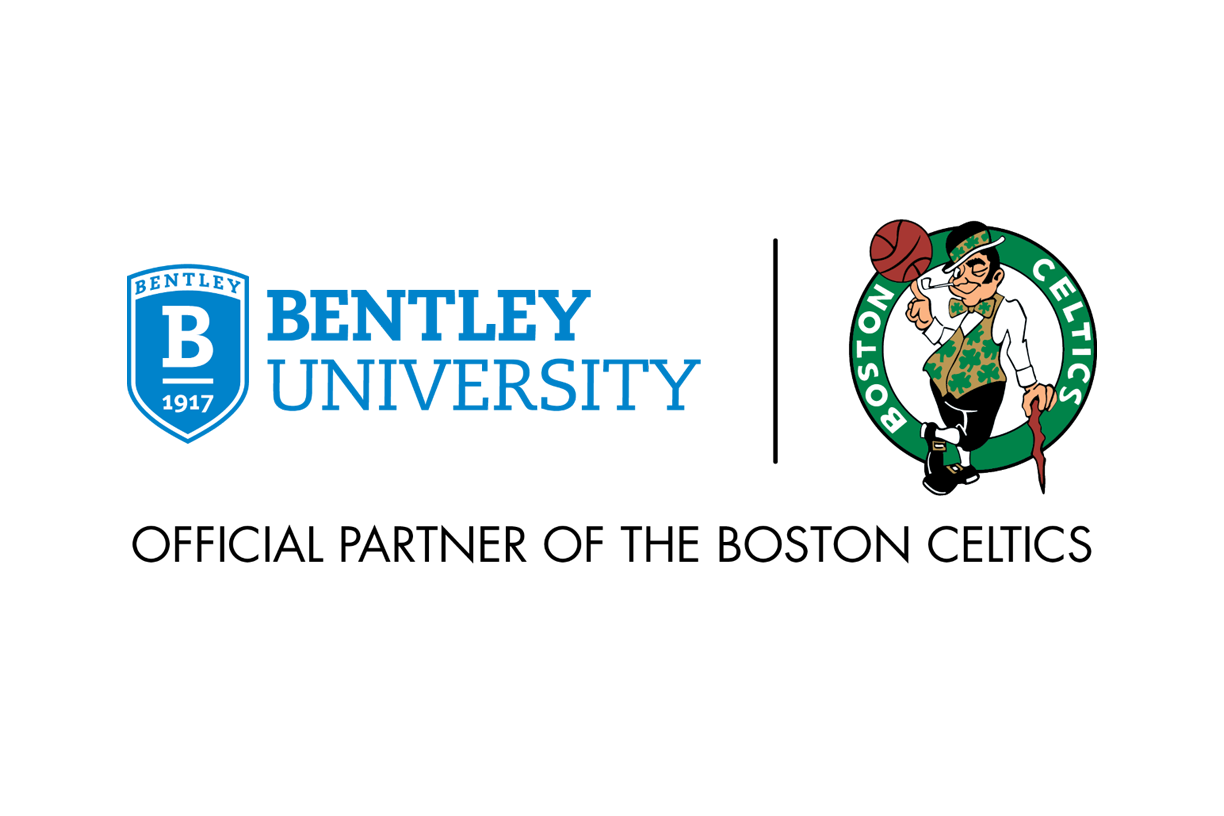 Bentley University Launches Partnership with the Boston Celtics
Students will gain access to Celtics executives and learn about careers in sports business
Bentley University has launched a multiyear partnership with the 17-time world champion Boston Celtics, a cornerstone NBA franchise and one of the most closely followed teams in the league every year. As an official university partner of the C's, Bentley students will gain access to team executives and operations, strengthening the university's nationally recognized position as an institution that prepares graduates for exciting careers in the changing global marketplace.   
"Teaming up with the Celtics offers a winning opportunity for Bentley," said Bentley President E. LaBrent Chrite. "This partnership between Bentley and the Celtics will bring a true competitive advantage to our students by allowing them to learn from sports industry professionals and explore potential career paths."
This partnership between Bentley and the Celtics will bring a true competitive advantage to our students.
President of Bentley University
The partnership includes opportunities for Bentley students to develop solutions to real-life business situations and present to executives from the Celtics and CLTX, the team's official NBA 2K affiliate. The students will get a behind-the-scenes look at the emerging esports market, which was valued at $1.42 billion in 2022 and is projected to be $4.47 billion by 2030, according to Cognitive Market Research. By analyzing industry trends and applying their own business knowledge, the students will have the opportunity to analyze how CLTX can reach new markets and grow its audience.  
The collaboration will highlight Bentley and the Celtics' shared commitment to expanding access to historically underrepresented communities through hands-on experiences. Beginning this season, Bentley will sponsor an annual career day at Celtics headquarters, during which the Celtics will provide high school students with a day-in-the-life experience with the Celtics front office staff highlighting pathways to a career in the business of sports.  
"Bentley University shares our Celtics values of commitment to excellence, pride and collaboration," said Ted Dalton, Boston Celtics chief partnership officer. "We're thrilled to team up with Bentley and its students to make a positive difference on and off the court." 
About Bentley University
Bentley University is more than just one of the nation's top business schools. It is a lifelong-learning community that creates successful leaders who make business a force for positive change. With a combination of business and the arts and sciences and a flexible, personalized approach to education, Bentley provides students with critical thinking and practical skills that prepare them to lead successful, rewarding careers. Founded in 1917, the university enrolls 4,100 undergraduate and 1,000 graduate and PhD students and is set on 163 acres in Waltham, Massachusetts, 10 miles west of Boston. For more information, visit bentley.edu. 
About the Boston Celtics
A charter member of the Basketball Association of America (which evolved into the National Basketball Association) since 1946, the Boston Celtics have won a record 17 NBA championships, including eight (8) in a row from 1959-1966, winning their first title in 1957 and their most recent in 2008. The Celtics have long stood for equality, and respect, including hiring the first African- American coach and starting the first all-Black starting five. In addition, 50 former Celtics players, management or staff have been inducted into the Naismith Memorial Basketball Hall of Fame. In December 2002 the team returned to local ownership for the first time since 1963. For more information on the Celtics, log on to www.celtics.com.
Bentley partners with Gallup to report on Americans' view of business and society