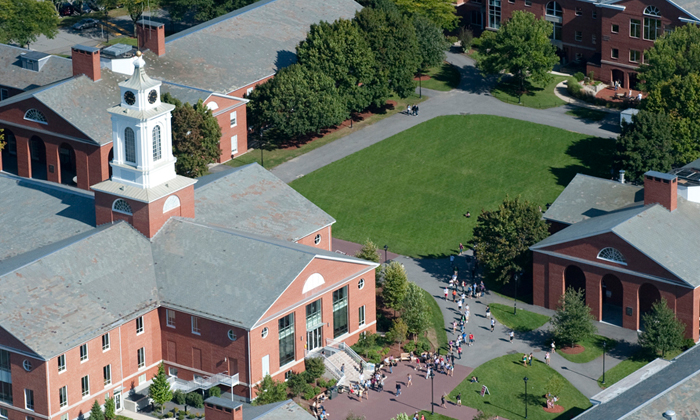 Thought leaders in the Conscious Capitalism® field from around the world will gather at Bentley University for the Third Annual International Conference on Conscious Capitalism on May 17 to 18, 175 Forest Street, Waltham, Mass. The two-day conference will focus on the themes of conscious leadership and conscious marketing, with particular emphasis on the feminization of the culture. The conference is co-sponsored by the Conscious Capitalism Institute. For more information on cost, registration, detailed agenda and speakers, please go to: http://conscious-capitalism.bentley.edu/
This year's event will feature a blend of corporate leaders, academics and thought leaders who will together explore the frontiers of our knowledge on what it means to be a conscious business in the 21st century.
"The annual Conscious Capitalism conference has grow in scale and scope every year, as the idea of Conscious Capitalism gains broader acceptance globally and the need for a new business paradigm becomes ever more urgent," says Bentley University Professor of Marketing Rajendra Sisodia, who is the event chair. Sisodia is also chairman and co-founder of the Conscious Capitalism Institute.
According to Sisodia, the dual theme of the event will be addressed in the context of the feminization of the culture, which is driven by rising societal consciousness regarding past and existing inequities, growing global access to higher education, changing demographics, and fast changing societal attitudes and value systems.
Among the featured speakers are: 
Joanna Barsh, senior director of McKinsey & Company, author of How Remarkable Women Lead
Linda Dunkel, president and CEO, Interaction Associates
Michael Gelb, author, leadership and creativity expert
Jeffrey Hollender, co-founder and former CEO, Seventh Generation
Juriaan Kamp, founder and publisher, Ode magazine
Rosabeth Moss Kanter, author and Ernest L. Arbuckle Professor of Business Administration, Harvard University
John Mackey, founder and CEO, Whole Foods
Linda Mason, chairman and founder, Bright Horizons Family Solutions
Srinivasan Pillay, author and CEO, NeuroBusiness Group, and assistant clinical professor of psychiatry at Harvard Medical School
Faith Popcorn, author and founder, BrainReserve
Doug Rauch, former president, Trader Joe's, and fellow, Harvard Advanced Leadership Initiative
Alison Sander, director, BCG Center for Sensing and Mining the Future
Ron Shaich, founder and chairman, Panera Bread
Kip Tindell, co-founder, chairman and CEO, The Container Store
Marianne Williamson, spiritual teacher and author of A Return to Love
Speakers also include authors and corporate leaders such as Marti Barletta, author, speaker and consultant; Rúna Bouius, CEO, Rúnora LLC; Bill Breen, author and former editor, Fast Company; Kristin Engvig, founder, Women's International Networking; Partha Ghosh, founder, The Boston Pledge; Bettina Gordon, freelance journalist and columnist; Jean Kilbourne, author and filmmaker, Killing Us Softly; Trish Karter, co-founder and CEO, Dancing Deer Baking Company; Peter Larson, principal, Ashley McGraw Architects; Doug Levy, founder and CEO, imc²; Sandra March, chief marketing officer, Ashley McGraw Architects; Monika Mitchell, executive director, Good Business International; John Renesch, author and futurist; Peter Ressler, CEO, Ressler Mitchell Group; Vineeta Salvi, director of wellness and professional effectiveness, Conscious Capitalism Institute; Eva M. Selhub, MD, senior physician at the Benson-Henry Institute for Mind Body Medicine at Massachusetts General Hospital; Shubhro Sen, co-founder and executive director, Conscious Capitalism Institute; Satish Thatte, director of modeling and simulation, Conscious Capitalism Institute; and Cindy Wigglesworth, president, Deep Change.  
Academic presenters include Leonard Berry, Texas A&M University's Distinguished Professor of Marketing, M.B. Zale Chair in Retailing and Marketing Leadership, and professor of Humanities in Medicine; Ernest Cadotte, University of Tennessee professor of marketing; Valerie Gremillion, research assistant professor, Department of Biology, University of New Mexico, Albuquerque; Philip Kotler, Northwestern University's S.C. Johnson & Son Professor of International Marketing; Gloria Cordes Larson, Bentley University president; Susan Linn, author and Harvard Medical School instructor in psychiatry; Ted Malloch, research professor, Spiritual Capital Initiative at the Yale Center for Faith and Culture, Yale University; Ann Mirabito, Baylor University assistant professor of marketing; Judi Neal, director of the Tyson Center for Faith and Spirituality in the Workplace, University of Arkansas; Jagdish Sheth, Charles H. Kellstadt Chair of Marketing, Goizueta Business School, Emory University; and Rajendra Sisodia, Bentley University Professor of Marketing.