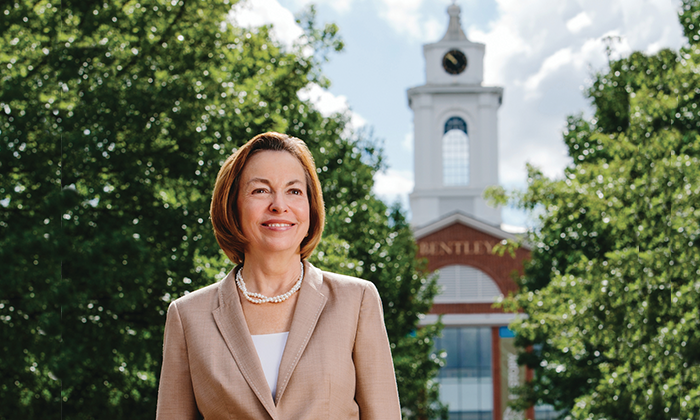 Bentley University President Gloria Cordes Larson announced to the college community in a letter today that she had informed the Board of Trustees of her intention to step down on June 30, 2018, after more than a decade of service. Under Larson's leadership, Bentley transitioned from a regional business college to a nationally recognized, highly ranked university.

"To have had her leadership, her enthusiasm and her determination to put Bentley into a prominent position has meant a very great deal to this university and we could not be more grateful," said Board of Trustees Chair Steven Manfredi '73.

Larson has led Bentley since 2007. She deftly managed the university through the Great Recession and in a time of economic uncertainty launched Bentley's PreparedU initiative and ROI-focused approach, preparing students with the market-ready skills needed for their first job and the lifelong learning abilities to assure long-term success.

As president, Larson expanded Bentley's dual commitment to business and the liberal arts, while strengthening the university's focus on hands-on learning and access to technology in the classroom. She supported career planning as a crucial aspect of the college experience for every student beginning in their first year. In 2016, Bentley's Career Services was named #1 in the United States by The Princeton Review.

"It has been the highest honor of my long and varied career to serve as Bentley's 7th president," said Larson. "I could not be more proud of the university and our extraordinary family of alumni, faculty, staff and students."

President Larson's list of major accomplishments includes:
Launched the Bentley MBA and added nine new majors to the curriculum.
 
As Bentley's first female president, established the Center for Women and Business, extending Bentley's influence into the business community, supporting young women entering the workforce, and helping companies to remove barriers to gender equality.
 
Oversaw the university's most sweeping physical changes in a generation, including the renovation of the Jennison academic building and the construction of a new multipurpose arena.  
 
Led Bentley to numerous national awards and recognition including Bloomberg BusinessWeek (#10 Business School in the U.S.); The Economist (Top 5 for Return on Investment); Money Magazine (a best value school); Forbes (Top 30); and The Wall Street Journal (one of the Top 100 U.S. colleges).
 
Championed student life as a signature part of the Bentley experience, including committing the university to adoption of the Gallup-Purdue Index measures to encourage the long-term success, workplace engagement and overall well-being of its graduates.
 
Led Bentley through a year-long centennial celebration marking 100 years since the school's founding in 1917.
 
Committed Bentley to an environmentally sustainable future as a member of the executive committee of the American College and University Presidents' Climate Commitment.
 
Encouraged the development of Bentley's thought-leadership networks and touted the innovative disciplinary and cross-disciplinary research that distinguishes Bentley's faculty on the national and international stage.
 
Oversaw a university-wide review to update and expand Bentley's graduate school portfolio and boosted the university's academic standing, leading to three prestigious EQUIS accreditations as well as accreditations by the Association to Advance Collegiate Schools of Business and the New England Association of Schools and Colleges.
Larson will share insights from her decade as president in an upcoming book, PreparedU: How Innovative Colleges Drive Student Success. Board Chair Manfredi has appointed a 15-person committee, led by Board Vice Chair Robert P. Badavas '74, to search for Larson's successor.