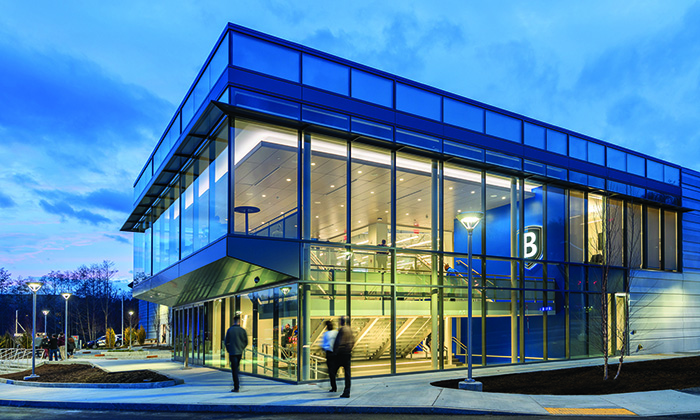 Built for Community
Step inside the Bentley Arena
Gleaming walls of glass stretch skyward. A contoured concrete façade animated with flecks of mica simulates skate blades on ice. More than 400 linear feet of LED lights reflect off the soaring roofline, beacons of blue as night falls. The Bentley Arena makes a dramatic first impression. What happens inside eclipses even the sleek lines and grand physicality of the exterior. Designed by ARC/Architectural Resources Cambridge, the arena is an MVP in building knowledge and skills, pride and community — and more.
CENTER OF THE ACTION
It was the first game held at the new arena: Bentley vs. Army West Point in Division I hockey.
Jillian Offermann '20 looked out from the control room. The game was going well, the jumbotron was cranking, the crowd was cheering. She turned quickly toward rows of green and red buttons and camera screens.
"Camera 2, you're on standby," she said into the headset. Then, "Camera 2, live," as she pressed a green button.
Offermann was in her element: directing a student team that she helped recruit to run the arena's control room and 10 high-definition cameras. Her mentor, John Mitchell '89, was impressed. Offermann had worked with Mitchell in similar settings at UMass Amherst and Northeastern University, through an internship at his company, Digital Multimedia Solutions. The firm installs Newtek TriCaster HD control rooms for universities, radio and TV outlets, major and minor league sports teams, corporate clients and others. Mitchell is also director of audio/video at Boston's TD Garden.
"John and I were meeting at Bentley, in the office with all the new equipment for the arena. He showed me an Excel spreadsheet with different roles and said, 'This is what I do at TD Garden and there's no reason you can't do it at Bentley,'" recounts Offermann, a Media and Culture major. "So that's what I did."
She isn't the only Bentley student putting on a good show. Reginald Fils '21 was stage manager for a fashion show sponsored annually by the Black United Body. Since much of the planning for the March 16 event happened before the building opened, Fils relied on Arena Operations Manager Bo Stewart.
"It's challenging to create an environment if you have no idea what it will look like," says Fils, who oversaw stage design, lighting, music and overall production of the show. "With Bo's help, the show went off without a glitch. When the first models started walking out, cameras were flashing and people were smiling. Seeing people enjoy my work is why I do this."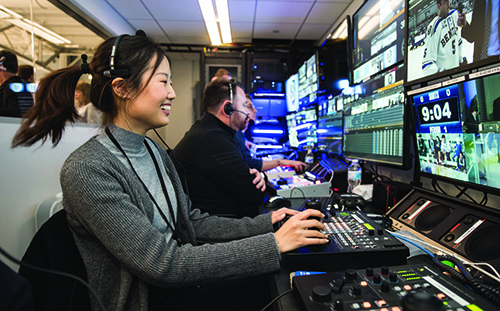 Fils, who grew up in the fashion industry — his mother owns a fashion production company and he launched the clothing brand Urban Inspired in eighth grade — had high expectations. So did Stewart, who joined Bentley last October after more than a decade at Boston University's Agganis Arena.
"I knew we had the professional resources in our students, faculty, staff and alumni to pull off the high-quality productions that you find at some of the country's top arenas," says Stewart, who has been a resource for everything from ticket sales to branding to lighting to video graphics.
Stewart was particularly impressed by what faculty member Mike Goldberg brought to the table in producing a video for the opening hockey game. The professor of information design and corporate communication, who has worked as design director for WBZ and videographic designer for Studio 5 Production at WCVB, had ambitious goals for the project.
"All of the visuals had to match and reinforce the quality of the entire arena," Goldberg says. "I owed it to our students and to the university to make ESPN-quality film and nothing less."
It was Associate Dean of Arts and Sciences Wiley Davi who reached out to Goldberg to produce the video; she also introduced Offermann to Mitchell. A natural relationship builder, Davi welcomes the hands on learning that the arena puts into play.
"Think of a marketing student analyzing customer data, a natural and applied sciences student gathering energy usage information or a math student crunching player stats at a game. The arena is meant to be a live learning laboratory that consistently adds to students' academic experience in addition to the social one."
SPIRITED CONNECTION
The arena's community-building mission traces back to the drawing board.
"If you look around and see the width of the concourse, for example, it's all about making sure that the people who come here connect with each other," says J. Andrew Shepardson, vice president for student affairs and dean of students. "Alumni may see someone they haven't run across in a few years; students may bump into a professor."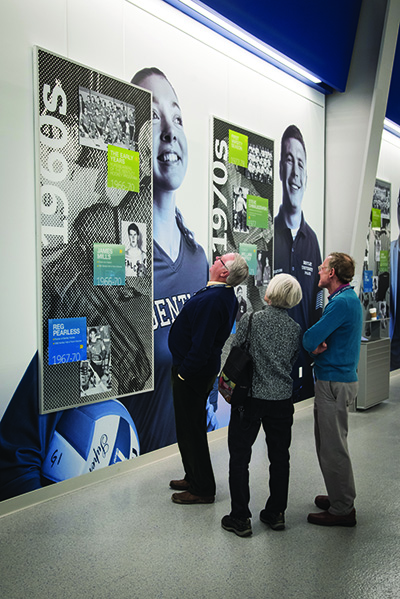 He credits student focus groups for helping to develop the arena's look and feel. One designated section, for example, has seating close to the ice (behind the opposing team's goalie) so devoted student fans and the Bentley Pep Band can be part of the action.
"Members of the Campus Activities Board provided insight into the kinds of events they would want to host," adds Shepardson, who chaired the Building Committee. "The input helped ensure that lighting elements were in place, supports were available to host concerts, and the flooring system would go in easily to cover the ice."
Since opening in mid-February, the arena has hosted three hockey games, a lecture by actress Laverne Cox, a dinner for admitted students, a concert during Spring Day and more. The venue pays tribute to Bentley's founding year with 1,917 fixed seats for hockey, plus standing room for 400 to 500; it can welcome 3,400 for a concert and 750 to 1,000 people for lectures or other events.
"We strongly believe that when students are engaged and attending various activities, their overall campus experience is that much better," explains Shepardson.
He points to findings from a Gallup survey of Bentley students and alumni. Students who attend five or more athletic events report higher levels of engagement, hope and well-being.
"This makes sense. Being at a game with friends, feeling proud of their institution and cheering on a team brings students closer together and fosters a stronger connection with Bentley as a university."
The arena hasn't lacked for school spirit so far — hockey tickets sold out in minutes and the Black United Body fashion show drew upward of 400 people — and initiatives are underway to sustain the momentum.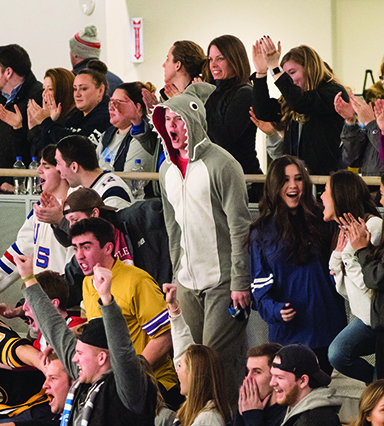 Student Affairs staff members Stephanie Cohen, program coordinator, and Jessica Kenerson, director, took on a project with marketing professor Mike Tesler. "Falcon Tank" brought student teams from his Sports Marketing course before a panel of Bentley judges, to pitch ideas for promoting awareness, attendance and engagement at athletic events.
"Engagement is the ultimate goal — creating the superfan," says Cohen, who was one of five Falcon Tank judges.
"At all colleges, students tend to get locked into their schedules, so it's a challenge to change their way of life and get them to carve out time for sporting events," Tesler says. "Student Affairs wanted to provide a way for students to take a break from academics to relax and socialize. We challenged marketing students to think about diverse demographics, including international students and non athletes."
One winning idea borrows from the movie The Wolf of Wall Street. Picture the movie's main characters, Leonardo DiCaprio and Matthew McConaughey, each beating his chest with a fist and humming the "money chant" to fire up employees at a Wall Street brokerage firm.
"Our group's idea was to use this chant at the start of the third period at hockey games, to pump up the team and get the crowd excited," says Marketing major Emily DeMarinis '18. "We knew that we needed only a few students to start it and everyone else would chime in, because it's a familiar chant among our generation. With the opening of the arena, it is a perfect time to start a new tradition that will continue at Bentley for many years to come."
ENERGY AGGREGATOR
Listening to the volume of cheers and applause coming from the arena so far, there's no question that the venue is an energy builder.
But it's also an energy saver, thanks to a Building Committee dedicated to sustainability from the start. In April, it became the first stand-alone ice arena in the country to earn the LEED Platinum certification — the highest possible rating awarded by the U.S. Green Building Council.
"Under President Gloria Larson, Bentley was already committed to aggressive, campus-wide greenhouse gas reduction goals," says Amanda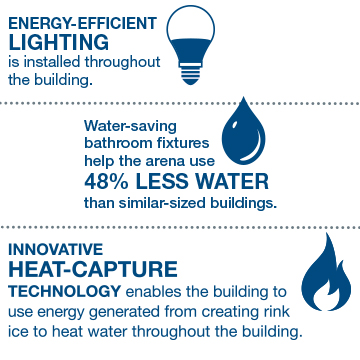 King, the university's executive director of sustainability. "So it was critical that, in early planning, we consider the impact of the added building on Bentley's carbon footprint."
Where hockey is concerned, that impact can be significant. "A hockey rink is known as 'a building at war with itself' because you're keeping the ice cool while keeping fans warm in the stands. There's also a substantial amount of evaporation from the ice, which necessitates a dehumidification system. Controlling that environment takes a lot of energy."
A non-negotiable requirement for architect proposals was to make "good ice for D-I hockey" and achieve at least a LEED Silver rating.
Due diligence by various constituents was essential, says King. For example, the Building Committee did a careful evaluation of environmental impact, upfront and long-term costs and savings, and maintenance requirements. Such cost-benefit analysis helped the design team home in on the right mix of sustainable features.
The building has what King calls "the perfect orientation for solar power," that is, a roof sloped to the south/southeast with no obstructions.
"The solar installation produces almost half of the arena's electricity — a huge deal for a building that houses an ice sheet. This was critical in achieving the LEED Platinum certification."
Another major conduit for energy conservation is a heat reclamation system. This technology captures and uses "waste heat" — a byproduct of running chillers to keep the ice cold — to heat hot water for faucets and showers; doing so reduces the amount of natural gas the arena needs.
Committee members also considered wetland areas adjacent to the building. Wetlands are a protected habitat for plants and animals; they also act like a giant sponge during major rain events and, as such, reduce flooding during storms. To help safeguard wetlands, the outdoor plaza uses permeable pavers, which allow rain and storm water to absorb into the ground and recharge the water table.
Though King herself is a LEED Accredited Professional, she cites the special expertise of the architects, mechanical engineers, builders and LEED consultants. Broad-based support was also essential to the green building process.
"None of this would have been possible if the whole team — the president, the Building Committee, trustees, faculty, staff and students — wasn't on board," says King. "We could have just built the arena to code and walked away, but people took that extra hour or day to consider something different. It was a community process, and that's what feels so good to me."
GROWING PRIDE
When Chris Wheeler '94 heard about the arena, texts and emails started flying.
"All of us were so proud," he says of fellow former hockey players. "We were constantly checking Facebook for updates on the construction."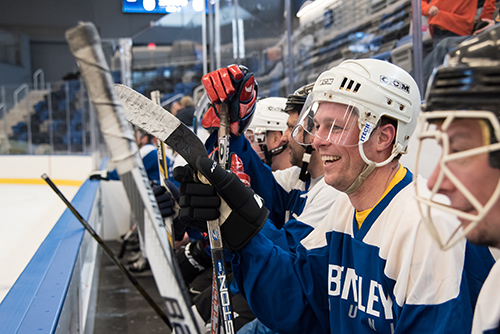 At opening weekend, Wheeler and his Falcon buddies took to the ice for an alumni hockey game. High turnout allowed for four different alumni teams.
"We had enough players to divide up the older and younger guys, so I wasn't playing against newly graduated students," Wheeler says with a laugh.
His parents were among the alumni families who attended, and they stayed for the varsity hockey game against Army West Point. Wheeler's father is a West Point alumnus and served as team doctor for the Army hockey team.
"I grew up learning to skate with the cadets. For them to play Bentley at the opening of the arena was fantastic," says Wheeler. "My mother wore her West Point pin but also had a Bentley scarf on."
Wheeler says that alumni players, who have remained close, have dreamed about an on-campus arena for years. He remembers waking up for 5:00 a.m. hockey practices at the Watertown rink, when off-campus logistics made it hard to get fans to the games.
"A lot of us had parents at the alumni game; we were waving to them and they were waving back like we were little kids," he says. "It was unbelievable."
A similar scene unfolded outside the arena, as head hockey coach Ryan Soderquist '00 lined up Bentley players before bringing them in for the first time as a team.
"To see their faces and the sheer excitement in their eyes was much like Christmas morning for a child," Soderquist recalls. After taking in the locker room, which incorporates features from some of the top collegiate arenas, players wasted no time taking to the ice. Soderquist, who has been a part of the Bentley hockey program for more than two decades — 16 years as head coach, two years as assistant coach and four years as a player — admits that it wasn't until the steel beam raising ceremony that the arena became a reality for him. He stood alongside players, alumni, students, faculty and staff on that April day in 2017.
"I could tell they were proud that they play for the university and that they'd now have a physical presence on campus in the Bentley community."
From a recruitment perspective, the arena has already "created quite a buzz in college and youth hockey" in its first few months, he adds. "Not only is the building beautiful, but it shows Bentley's strong commitment for the hockey program, which is important to recruits and their families."
Though coaching duties kept Soderquist from the alumni game, he was just as proud as Wheeler and the nearly 300 other graduates who did play.
"The magnitude of what the building means to so many people really set in," he says of greeting former players through the decades and surveying the sold-out crowd of students, faculty, staff, alumni, families and members of the Waltham community. "Seeing the pride on their faces was a special moment."