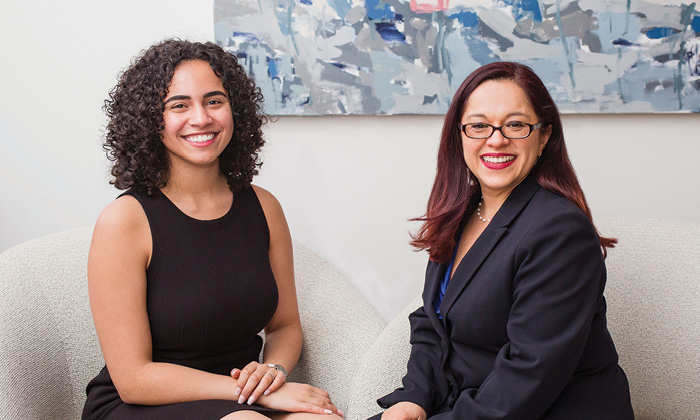 Changing the Course of (Family) History
Carolina Figueroa and Valerie Perez are separated by years, interests and backgrounds. But the Bentley vice president for enrollment management and Class of 2019 alumna are united in having added the new chapter "college graduate" to their respective family histories.
Tell us about your decision to go to college.
Valerie Perez '19: I was raised in New York and Boston and moved to the Dominican Republic at age 10. But it was always in the back of my mind to come back to the United States for college. My determination came from my mom, who instilled that I needed to go to college. She didn't — and wanted me to have more opportunities.
Carolina Figueroa: I grew up in Ecuador but ­finished high school in New York. Education was always important to my family, but no one had gone to college and completed a degree. I thank my lucky stars for my guidance counselor, Mr. Mendez; he encouraged me not only to think about college but also to go away for college.
How did you work to make it happen?
CF: In my culture, many women stay home until they get married. It was a challenge for my family to think about me in college, but they supported me. Mr. Mendez helped me through the application process. It was overwhelming, but he pushed me and encouraged me to focus on completing one step at a time.
VP: I went to a small high school and didn't have a guidance counselor, so I did a lot on my own. I made a list with all the tasks: taking standardized exams, completing the Common Application, getting my transcript translated into English. I was often in the principal's office asking for a signature so I could meet my deadlines.
What were your first months on campus like?
VP: I had lived in the United States before, but college is a different atmosphere — meeting so many new people from different backgrounds — and that was hard. My biggest support groups were the Multicultural Center and STEP [Summer Transition in Education Program, which serves ­first-year college students with academic, socioeconomic or personal challenges]. I wasn't officially involved in STEP, but I made friends with a lot of "Steppies" during orientation. The program director, Claudette Blot, was my light and a mentor. She helped me understand my fi­nancial aid package and apply for scholarships. When being away from my family and having a lot on my plate became overwhelming, I knew I could always go to Claudette for guidance. She became my second mother on campus.
CF: I was fortunate to attend a program at MIT the summer before I started. A small number of students took some courses, not for credit, and were introduced to the services on campus. If I hadn't done that and instead been dropped into MIT with 5,000 other fi­rst-year students, it would have been overwhelming. I agree that finding communities and getting to know people who support each other make a big difference.
With your strong sense of self-reliance, was it difficult to ask for help?
CF: A major challenge for me was, because I was used to doing well in school, I didn't know how to deal with an academic setback. Normally, if I worked hard enough at something, I could overcome any obstacle. This was not the case in college and it took me a few months to come to that conclusion and look for help. I remember thinking, I have never needed to go to office hours or work with a tutor. Am I really cut out for this?
VP: My sister, who graduated from Bentley in 2010, told me to reach out to people for help. But I did not want to experience the feeling of letting myself or anyone else down. At Bentley, I started to realize that people who had experienced similar situations and challenges could help me overcome them. Receiving help was not a sign of weakness but something that would allow me to grow and become a stronger leader.
How did you choose a major and career?
CF: As the fi­rst in my family to attend college, I felt pressure to reach the ultimate goal: to be a doctor. So I majored in biology. After volunteering at a hospital emergency room, I realized it wasn't what I wanted to do. I then considered a PhD and worked in a research lab on campus; it was great, but I couldn't picture myself doing it 20 years from now. I remember going to career services and saying, "I'm in trouble." My family had bet all their chips on me and I didn't know what I wanted to do with my life! My adviser suggested consulting and I did a summer internship at Smith Barney — and really liked it. I asked myself what I could study to gain the right skills and took a computer class. e combination of biology and technology helped me land a job doing fi­nancial assistance for the Environmental Protection Agency.
VP: I knew that I wanted to major in Management so I could get a better understanding of what my role would be within an organization. I did a minor in Computer Information Systems because I love technology. Internships in internal audit and risk management broadened my skills and prepared me for a career in consulting. I'm always willing to learn more and see what path life takes me down.
Do you consider yourself a role model?
CF: I was the ­first one in my extended family to get a master's degree, and many of my cousins gained perspective on how that can help advance a career. My going to college set a new baseline and many of my close family members have ended up fi­nishing college. Now it's just an expectation in my family that you're going to go to college.
VP: A lot of students from my high school reached out to me with questions about applying to college and I sent them the to-do list I created. That opened the door for their journey. My family is very proud of my accomplishments. They always told me that I could achieve anything if I put my mind to it. Now I am committed to showing that same kind of support for others to pursue their dreams.
---
About the Participants
Figueroa is the oldest daughter of Fernando and Rosa Avendan. She holds a BS in Biological Sciences from Massachusetts Institute of Technology and an MS in Management of Information Systems from George Washington University. Her sister, Marianella Grieco, graduated from Bentley in 1999.
Perez is the youngest daughter of Jocelyn Read. She graduated in December, earning a BS in Business Management with a minor in Computer Information Systems. She is pursuing an MBA at Hult International Business School. Her sister, Fanelly (Perez) Marcial, graduated from Bentley in 2010.