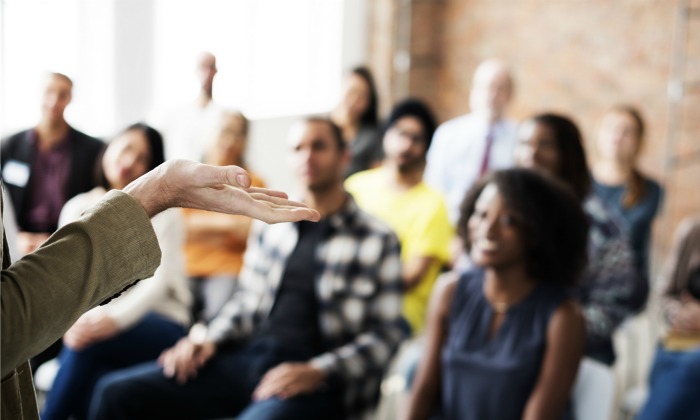 Rawpixel.com/Shutterstock.com
To succeed in the new global workplace, millennials need to see the opportunity in their cultural differences.
You land your dream job and your first team assignment includes colleagues from China, England and the United States. Do you have what it takes to effectively collaborate with people who may look, act and think differently from you? If not, says Bentley University's Katherine Lampley, your dream job may not last long.

How Diversity and Inclusion Will Help Your Career
"In today's marketplace, you don't know what you're going to face, and if you have a very singular view of the world you're not going to be successful," says Lampley, associate program director of the Office of Diversity & Inclusion. "Having the ability to effectively work with diverse groups is a non-negotiable 21st-century skill that employers want you to have."

The skill set, says Lampley, goes beyond tolerance for differences like ethnicity, age, gender, religion or sexual orientation. "It's not just about diversity; it's about diversity and inclusion. And getting a sense of that takes practice. It requires being put in situations that push you outside of your comfort zone."

"Companies are not just looking for diverse students," adds Jeannette Buntin, director of Bentley's Multicultural Center. "They are looking for that student who has had very diverse experiences."

In some ways, it's not just a matter of wanting to be comfortable with diversity; it's having to be comfortable with diversity.
The Diversity Mindset Career Trend
The Pew Research Center reports that millennials are "America's most racially diverse generation."

Moreover, almost three-quarters of millennial respondents in Bentley's preparedness study agree that the value of a degree is more than just a job; it's an opportunity to pursue a passion and contribute to society, which will be a minority majority in 2043.

It's not surprising, then, that more and more recruiters are hiring graduates who don't shy away from differences, and have a talent for fostering an inclusive work environment.

According to Len Morrison, director of undergraduate career services, corporate partners appreciate the ability of Bentley students to not just work in diverse teams but to take advantage of the variety of skills and experiences those teams represent.

Rich Caturano, partner and national leader of culture, diversity and inclusion for McGladrey LLP and immediate past chairman of the American Institute of CPAs, agrees. "College graduates who are culturally competent can communicate, network and work in multicultural teams. They are highly sought-after talent in the increasingly globalized business environment."

Caturano identifies cultural dexterity — or the art of understanding cultural differences and navigating a variety of cultures — as a critical requirement for moving into corporate leadership in the accounting profession. "Graduates lacking these skills severely limit their ability to relate to and promote their business to a diverse clientele, which can limit their opportunities to advance in the firm. Cultural competency in today's marketplace is the difference between success and failure."

A Portfolio of Experiences
While millennials are no strangers to diversity, it doesn't necessarily mean that they know what to do with those differences, says Donna Maria Blancero, an associate professor of management at Bentley. "Having different races or genders at the table is one thing, but then what happens?"

Blancero and fellow associate professor of management Marcy Crary — who co-teach the course Managing Diversity in the Workplace — push students to find out. It begins with gaining a better understanding of your own social identities, and learning how they inform the way you view other people, all done in a safe environment with limited consequences.

"Once you enter the workforce, you will not have the same leeway," Lampley notes.

"Students should build a portfolio of experiences rather than check off a handful of requirements," adds Crary. "Take advantage of a variety of opportunities to have relationships with people who are different from you."

At Bentley, skill-building begins with a diversity section in First-Year Seminar and a course requirement with a diversity and inclusion component. The Study Abroad Program and the Bentley Service-Learning Center (BSLC) also provide opportunities.

"One of the core tenets of service-learning is working with and learning from diverse individuals and communities," says Shawn Hauserman, BSLC associate director for academic programs. "The service-learning center strives to provide these types of well-structured and academically rich opportunities for students to learn about the importance of diversity on individual, group and societal levels."

Annual campus events include the MLK Breakfast to celebrate the historic civic rights leader and the Rainbow Luncheon to celebrate the LGBTQ community. The Center for Women and Business hosts programs that focus on women in the workplace. Also, thanks to the increasing diversity of the student body, students have the opportunity to build meaningful relationships with classmates from different backgrounds and life experiences.
 
Investing in Diversity
While Lampley finds coursework and extracurricular programming valuable in creating a foundation for students to build on, she also sees the need for a broader conversation in higher education to show students the business case for engaging in these meaningful diverse interactions: A shift has to be made from a "check the box" attitude to a "skill-building" mindset. "You don't just wake up and know how to deal with differences. These are skills that are built over time and exposure. It's something that we need to invest in."

As more schools are successful in changing the look of classrooms, offices and faculty, inclusion becomes more important. Universities must build the capacity of their staff to take advantage of this diversity by building skills.

Earl Avery, special assistant to the president at Bentley, has led diversity efforts on campus for more than 20 years. Initiatives such as diversity retreats for staff, faculty and student leaders, he says, are essential resources. "Our work is about moving people from awareness to tolerance to acceptance, to eventually embracing 'the other.' Individuals must start with their own thinking versus trying to change others. It is a process based on recognition of your own social identity and an understanding of your emotional response."

Lampley seconds that. "Higher education needs to create diverse experiences for faculty and staff so they can in turn create opportunities for students. As a graduate you can look polished and get all the right grades and internships, but if you lack the skills to connect and collaborate with people who are different from you, then you're not ready for today's marketplace."

Kristen L. Walsh is a freelance writer.