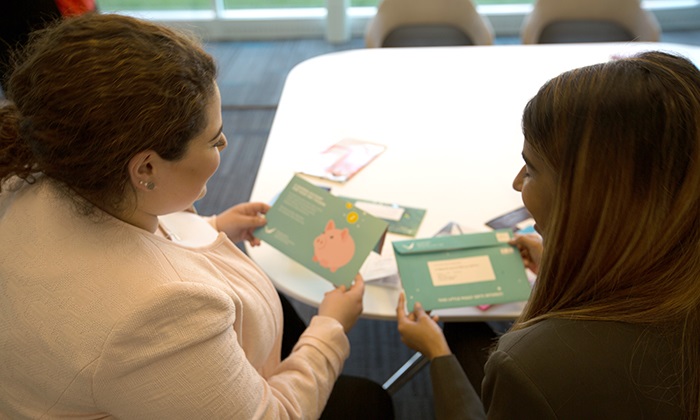 Students Get Hands-on Experience Designing Direct Mail For Business
Old stereotypes die hard, particularly when it comes to direct mail (those promotional letters and post cards that some see as "junk mail.") But a makeover can do wonders, as Nina Freedman '19 learned when she developed a direct mail campaign for a high-end framing company.
"What people don't know is that direct mail can be turned into whatever you like, dependent on budget and target customer," says Freedman, a Marketing major at Bentley. "The stigma against direct mail is a hard one to overcome but I think it will happen once people start learning more and incorporating that into their work."
The realization for Freedman came when she took a class, Digital to Direct, with Ian Cross, Marketing professor and director of Bentley's Center For Marketing Technology, that included a hands-on project to create a direct mail campaign for a small business – in her case, the framing company.
As part of the class, students provided feedback on a direct mail certificate program that the Postal Service offers to companies to help update it for younger audiences.
Learn More About Bentley's Partnership with the U.S. Postal Service
Freedman worked on a student team with fellow Marketing major Shivani Rajan '18. The first step was to conduct research and create a customer persona that would help them choose the most effective calls to action for their framing company campaign. Beyond just studying the framing industry, they analyzed specific details of the intended target audience including their location, income and need. The research led to a direct mail campaign tailored specifically for the framing company.
"We determined millennials as potential customers who may be new homeowners and parents," Rajan notes. "Since this demographic is tech-savvy, we used a QR code on the direct mail piece to generate leads and track response rates."
The campaign covered design specifics such as font, finish and paper weight. Some of Freedman's favorite direct mail design elements include LED screens, holograms, scratch and sniff and even 3D buildable objects --  a far cry from the traditional direct mail pieces you grew up pulling out of your mailbox.
You've Got Mail 
Shivani believes that printed pieces could be a welcome change. "The use of digital channels is getting increasingly saturated and to have a more effective reach, a change is needed," she says. "This could be bringing direct mail back but with an integration of digital components such as QR codes, virtual reality and personal URLs."
She was surprised that the U.S. Postal Service is already ahead of the game with initiatives such as the Irresistible Mail campaign, whose tagline is "when paper and pixels converge." The program offers a free guide full of technologies, demonstrations and inspirational ideas for direct mail.
Advances in technology that have transformed direct mail beyond catalogs and brochures presents an opportunity to propel direct mail into the digital age. And companies are catching on.
Rajan says a B-to-B company where she interned, for example, was exploring direct mail as a new marketing approach. Though she was skeptical at first, she realized in the Bentley class that direct mail is more than just designing a pretty brochure. "Big data is so powerful in today's society," she says. "We need to leverage it for research when creating an effective, realistic printed piece."
Today when Rajan heads to her mailbox and finds pieces like a postcard from her bank, she views it with a critical eye. "I immediately start analyzing word placement and font size, and how technology is used. Those details make a difference."
Freedman was among a group of Bentley students who presented about direct mail at the National Postal Forum in San Antonio, Texas, in May. She considers "the mail moment"—the act and ritual around getting/sorting/reading the mail—something that her generation is missing. "It's not something that tends to happen too often," she says. "Direct mail has and can evolve with changing times, trends and technologies. People just need to be educated about it and how to effectively implement and analyze it."
Rajan adds: "It's important for my generation to understand because the market is constantly evolving and we not only need to be aware of these changing trends and capabilities, but need to be a part of it if we want to be successful in the business world."