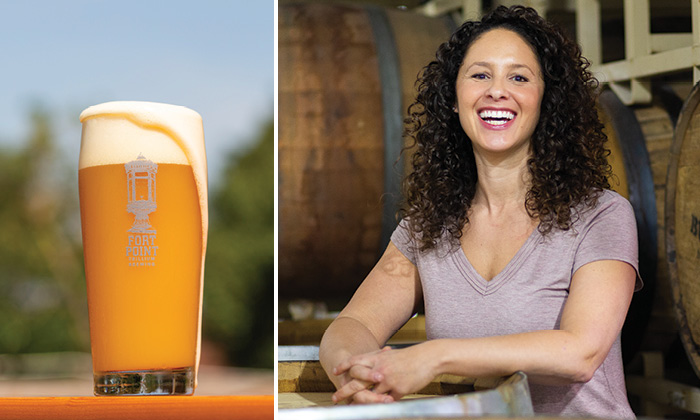 An Entrepreneurial Spirit
Inside Trillium Brewing with Esther (Rothstein) Tetreault '99, MBA '03
Esther (Rothstein) Tetreault '99, MBA '03 owns Trillium Brewing with her husband, JC. What began in 2013 as a small storefront in Boston has grown to three locations: a taproom and brewery in Canton, a restaurant and brewery in Fort Point, and a farm and brewery in North Stonington, Conn.
Here, she shares the secrets of Trillium's success.
Community on Tap  
We like to entertain at home, and it's always about having good drinks and good food, but also about the experiences you're sharing with people. With Trillium, we envisioned creating places where people could share life's moments. I love seeing people bring their kids and dogs to the taproom.
Farm to Glass
Th­e quality of our beer is of the utmost importance to us, and the quality of ingredients is what drives that. We already work with amazing local vendors for our coffee, cacao and even malted grains. Having a farm will allow us to grow some of our own and focus on sustainability and efficiency. ­There's also a certain romanticism and nostalgia that comes along with growing something you can make into an incredible beverage or food to share with people.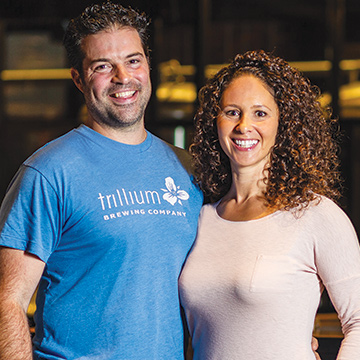 Passion Project
It took me some time to realize that I have an entrepreneurial spirit, and pretty strong beliefs about how a business can and should run. I've been fortunate to always work in an industry I was passionate about. It's something that more people should do if they're able. Business isn't rigid; there are so many opportunities if you think about applying something that you're good at to something that you love. 
Getting Social
We don't do any advertising or marketing, and we don't distribute our beer, so we rely on social media to build our following. It's a great way to connect with customers, to hear what they love and want to see, to answer questions. In 2018, we were listed as the fifth-most "checked-in" brewery on Untappd. Based on production volume, we're tiny in comparison to others on the list — some make hundreds of thousands of barrels of beer! It feels great to know that our fans are so passionate.
Sip the Seasons
We're pretty well-known for brewing beer that a lot of people would call trends, but we stick with what feels right and authentic for us. We make beer that we think represents what New England farmhouse beers can be. Right now I'm loving our pilsner. It's crisp and refreshing, and really flavorful — a perfect spring beer.