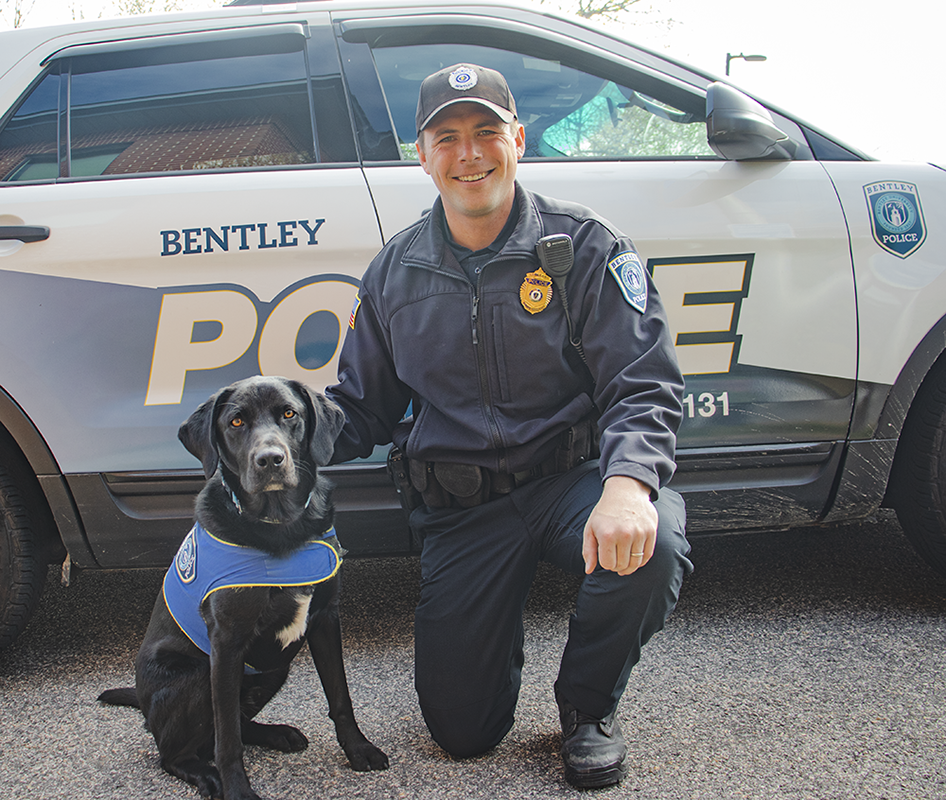 Blue the Comfort Dog and Sergeant Bartkus. Photos by Kevin Wong.
Feeling Blue? Fetch Sergeant Bartkus and Blue the Comfort Dog
Over the course of an average semester on a college campus, students experience a wide range of emotions as class assignments are due, internship deadlines approach, social circles change and professional developments are made. When these ups and downs lead to added stress and anxiety, students should seek out the support services offered at Bentley, including the Counseling Center, a trusted advisor or professor — and, of course, Blue the comfort dog.
Possibly the most adorable resource on campus, the two-and-a-half-year-old black Lab first joined University Police in 2020 after completing six months of comfort-dog training at Hero Pups, Inc., a New Hampshire based non-profit that trains and pairs support dogs with veterans and first responders throughout New England. In his training, Blue learned how to be comfortable around strangers and large crowds and was trained to remain calm, approachable and social. Those skills have served him well in his two years on campus and has made him a resource to students in need of comfort or support.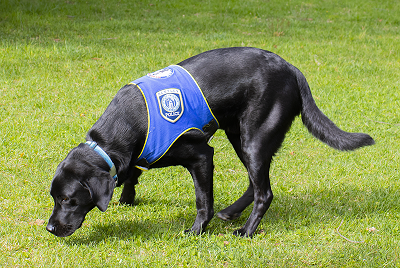 Blue's handler, Sergeant Tobe Bartkus in University Police, helps to keep him focused and on task while making rounds together to check in on community safety and wellness on campus. A member of the Bentley community for close to six years, Sergeant Bartkus is a member of University Police's Crisis Intervention Unit and responds to calls of students in need of medical or emotional assistance. "On college campuses over the past four to five years, there's been a huge uptick in mental health needs and stress," he says. University Police saw Blue as an important partner to bring on board to combat this rise in stress and anxiety, particularly in light of the COVID-19 pandemic.
On a typical day, Blue eagerly claims his spot riding shotgun in the cruiser as he and Sergeant Bartkus make their rounds and respond to calls. When he's not on campus, Blue lives permanently with Sergeant Bartkus and his family, which includes a newborn (human) and two other dogs. At home, Blue is high energy and playful, holding his own with his two furry companions. But when he puts on his University Police work vest, the canine professional is trained to immediately snap into work mode. "Once he has the vest, he knows it's business time," says Sergeant Bartkus.
For this comfort dog, that means being ready to interact with a high volume of students, something that would normally tire out an untrained dog. But thanks to his time with Hero Pups, Inc. and the guidance of Sergeant Bartkus, Blue always stays calm no matter how many students, faculty or staff come to pet him.
In some cases, students reach out to University Police directly to request time with the department's four-legged friend. In these casual encounters, Sergeant Bartkus and Blue have helped to comfort students feeling homesick, stressed or anxious — but they have also been there in more serious situations.
"Sometimes we get calls about students experiencing a panic attack or anxiety for the first time in their life," said Sergeant Bartkus. "So Blue and I pay them a visit and bring them to the Health Center or Counseling Center to talk to someone. I always say that 'We're the first responder, not the last responder.' Walking with Blue really takes their mind off how they're feeling and keeps them calm as we get them to the assistance they need."
I always say that 'We're the first responder, not the last responder.'
Sergeant Bartkus always checks with students first to ensure that they are comfortable around dogs before bringing Blue to a responding call. For those who are, Sergeant Bartkus finds that petting Blue and simply being around the comfort dog has a positive effect on the student in that moment. "I can distract students from how they're feeling for a brief time, but Blue helps to really take their mind off of what's triggering their anxiety," he said.
In just two years on campus, Blue has already developed quite a following. On an average day, 50 to 100 students will pet him. As University Police prepares for Blue's third birthday this October, the department is looking forward to the many ways that Blue and Sergeant Bartkus can continue to have a "paws-itive" impact on the Bentley community.​
Need Some Blue in Your Life?
Reach out to University Police's non-emergency line at 781-891-2201 to inquire about scheduling a time with Blue or his regularly scheduled rounds. For other support and resources, the Counseling Center is available at 781-891-2274.