Getting to Know New Trustee Debora Spar
The interplay of technology and relationships
Debora Spar is an expert on the interplay between humans and technology, particularly how technological change impacts social structures like marriage and family. A New York Times bestselling author, she has been helping people and businesses re-imagine their roles in the face of accelerating technological change. Spar is also an advocate for empowering women at home and in the workplace and takes a strong stance on why women can't have it all. Spar is the Jaime and Josefina Chua Tiampo Professor of Business Administration at Harvard Business School and Senior Associate Dean for Business and Global Society. She previously served as president of Barnard College.   
 
As the former president of a women's college, you led initiatives to highlight women's advancement. What were some important insights you learned?  
At Barnard we talked to students, alumni and powerful women about leadership skills and what it takes to teach them. Among those skills are public speaking, financial fluency and resilience, the latter of which is particularly tricky to teach and to learn. We also launched the Global Leadership Symposium, a women's conference held in a different part of the world each year (including Africa, China and the Middle East) and partnered with women in Hollywood to launch the Athena film festival, the first women's film festival in New York.    
 
You also implemented a move to admit trans women at Barnard. Why was that important for the institution?  
I joined presidents at other women's colleges, and we decided to tackle the issue openly. When we implemented the decision to admit trans women, we spent a year educating the community. Conversations were sometimes challenging — balancing legal constraints as a women's institution with what is socially right, for example — but they were real. Students, faculty, staff and alumni learned from each other in unexpected ways, and it was one of the best things I did at Barnard in terms of my own learning.   
 
Students are comfortable around you, even giving you the nickname "DSpar." What makes you an approachable and relatable leader?    
The best part of my job is dealing with students, so I always look for opportunities to put myself out there in structural ways — things like weekly office hours — or in ways that are more personal and idiosyncratic, like bringing in a favorite dance instructor so we can all dance together.  
The Bentley University Board
Your book Work Mate Marry Love: How Machines Shape Our Human Destiny explores how technological revolutions have shaped social structures including dating and marriage. What were some of your most interesting findings?  
One of the central arguments of the book is that monogamous marriage and women's liberation are both linked to technology and emerged in many ways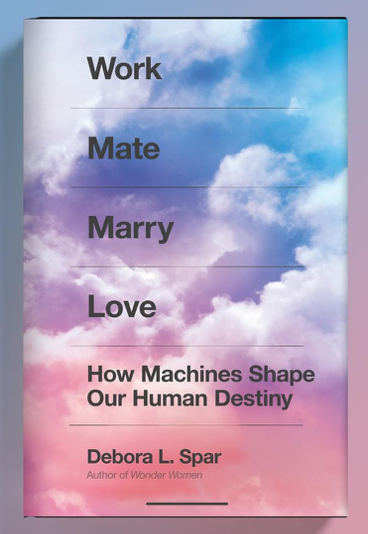 as a result of technological change — the rise of agricultural technologies in the first case, and the invention of household appliances and contraception in the latter.   
  
"Reluctant feminist" is a term you've used to describe yourself. Why?    
I'm not against feminism in any way; certainly not as the president of a feminist college. But women of my generation were brought up to believe that we could have it all. Particularly women who were white, upper-middle class and who thought the struggle was over. So, I came to my feminism reluctantly because I thought — naively in retrospect — that women of my generation would no longer need it.   
 
You have led candid conversations about juggling motherhood, a successful career and life in general. Any advice for others?
The combination of a 40-hour workweek and more intense parenting — every bake sale or Halloween costume is a competition now — means that many women are doing two jobs. Marrying the right partner who will pick up some slack is important. Women also must let go of that quest for perfection that is portrayed in society.    
 
You're a political scientist by training. How does this inform your work at Harvard Business School?   
Political science is the art of understanding how people allocate power and that exists in many realms, so it informs everything I do.  
   
Why did you say "Yes" to joining the Bentley board?   
I love higher education and remain really interested in what it takes to run a university. My job as president at Barnard was to help the institution define and leverage its niche as a liberal arts college, and I'm looking forward to helping to do the same for a business university at a time when parents and students are going to be increasingly interested in having a rigorous education focused on both the person and career path.   
 
Would you like to tell us about your family?   
I'm married to a Greek architect I met in graduate school and we have three children — two sons and a daughter. Both of my sons were supposed to be married in 2020 so we had the joyous occasion of canceling two weddings. The good news is that we managed to pull one off in May 2021 and the day of the wedding was when Washington, DC, lifted COVID-19 restrictions. It was amazing.