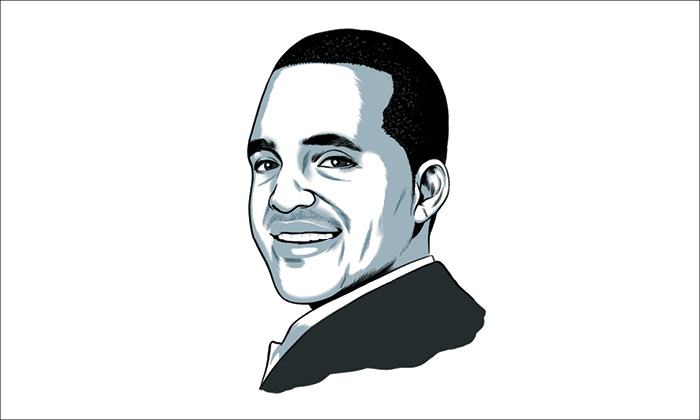 Jhan Carlos de la Cruz '07, illustrated by Joel Kimmel
It's tough for a New York kid to move to Boston. My first week on campus, I was walking around the activities fair and he just came up to me, this senior. "My name is Jhan Carlos de la Cruz," he said. He shook my hand, sat me down and the questions poured in: Where you from? What do you want to do? How can I help?
It'd be 9:00 in the morning, me rolling into the Student Center on the way to class and there he was, every single day. Blazer, shirt tucked in, huge smile and ready to quiz me. "Ney, what'd you read this morning?"
"I just woke up," I'd say.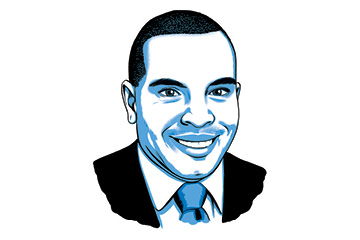 "You want to go into finance, don't you? What's going on in the market?"
Every day, he got me on my game, and kept me there.
This kid grew up in one of the toughest neighborhoods in New York City, but, to him, nothing was ever wrong in the world. There wasn't a reason not to embrace everyone he met, to call me once a week even after he graduated in 2007 and started working for J.P. Morgan, to be like an older brother to me.
Jhan Carlos passed away suddenly at the age of 23.
He left behind his mother, a sister, two brothers, countless friends — and a legacy of enriching his peers and the university.
I was going into my senior year at the time, working two jobs, but also living on grants and scholarships. Jhan Carlos was big on scholarships, how they not only help you succeed, but also help your parents save for your brothers and sisters, help your whole family do well and position you to give back to the community. Anthony Leroux '06 and I worked with Bentley to set up the Jhan Carlos de la Cruz '07 Memorial Scholarship. I made a five-year pledge that I started paying off once I graduated and got a job. Making my own lunch or coffee meant I could give that pocket money to students who needed it.
It was making sure the way Jhan Carlos lived lives on.
I hear from the students who receive Jhan Carlos' scholarship; they're so grateful. Another New York City kid, Argenis Rojas '15, said that, being born to a teenaged mother in an impoverished area, he wasn't supposed to make it and graduate from a top business school. The scholarship was huge for him. Now, he's a business development analyst for World Business Leaders LLC.
I think in numbers, always have. I even see people in numbers: one beautiful wife and one baby girl on the way means working so many hours to retire at a young age and enjoy my remaining years. But finance is also family. Everything is interconnected. Bentley taught me that.
Ney Peralta is a vice president for Bank of America Merrill Lynch.