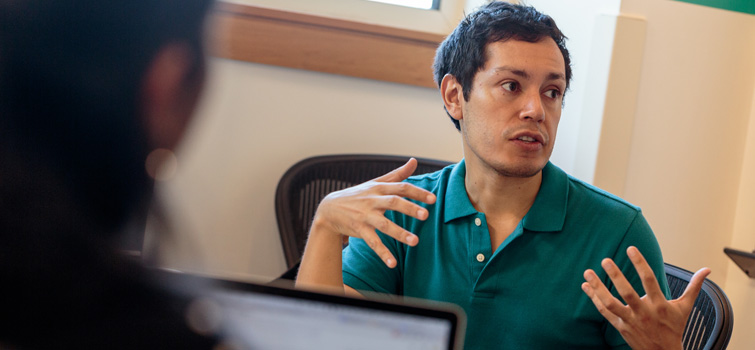 How To Convince Your Boss To Support Your MBA (& Keep Your Job)
Bill Starner, director of the MBA program and a management professor at Bentley University, has seen it happen time and time again: large, multinational employers supporting promising employees in their decision to attend an MBA program in a part-time format, in hopes of seeing them move up the ranks when they're done.   
Many companies in the Boston area see value in continued educational pursuits, so Starner wasn't surprised when he recently crossed paths at Bentley with an employee of a large defense contractor headquartered in the area. She was pursuing her MBA while working full time in communications. As part of the program, she participated in a global business experience to the Middle East led by Starner and spent an afternoon at her employer's Middle Eastern branch with the in-country manager of the region. Her hard work eventually paid off. Soon after completing the part-time MBA program, she was promoted to an international corporate communications position. The right mix of ingredients — her job performance, her new skill set, and the insights from her recent trip — proved to be just what the company was looking for in its next-generation leaders.
There are plenty of companies that see value in supporting their employees' desire to further their education. Sometimes, employers themselves may even suggest the idea if they want to see you compete for a higher-level job. But what if they don't?
Don't wait for your employer to come up with the idea, Starner says. In most cases, it's up to you to get the ball rolling. Pursuing an MBA while working is a challenge no matter what the circumstances, but it will be easier if you have the support of your current employer. For some, additional time off to attend class is enough; others might need financial assistance or some solid assurance that they'll be considered for a position higher up the ladder as a result.
But how do you ask for what you need? The key, says Starner, is to focus on the benefits to your employer.
Convincing Your Employer To Support Your MBA
Most companies are more willing to help out than you might think, but your boss must be convinced that your MBA will have value for the organization. That's not hard to imagine when you consider these realities: More than 25 percent of all job openings in New England will require graduate degrees by 2020, and one-third of all managerial positions will require advanced degrees. If you've been an asset to your company in your current job, chances are your boss would rather promote you to a leadership position than hire someone new. With that in mind, statistics like these are handy to have at your fingertips when you're talking to your boss.
To drum up an employer's support for earning your MBA while working, craft a persuasive case  based on the following:
You'll have a broader and deeper understanding of how your department functions within the rest of the business. MBA students learn about all aspects of business and how they work together; as a result, they develop unique insights about an organization's "bigger picture." Your MBA will enable you to bring the same kind of strategic thinking to your employer and be part of driving your organization forward.

You'll bring current business practices and fresh ideas to the job. A good MBA program incorporates the very latest in business concepts, tools, and techniques, all of which you can share with your employer and your co-workers. As a student, you'll have an inside look at how leading companies operate and innovate. Such knowledge can be invaluable if your current company hopes to stay competitive.

You can start applying your newly acquired business skills immediately. As you progress through the MBA program, you'll become more adept at decision-making, communication, problem-solving, leading groups, and looking at business issues from different perspectives. It's likely that not enough current employees possess the combination of these higher-level business skills, which makes you a hot prospect.  Having someone with advanced business knowledge who is already part of the team will be seen as a value-add.
Whatever the specifics, be sure your boss hears this message: "I want to scale my career and I want to do it here." If you're hoping for support, make it clear that your goal is not to look for a job outside the company; it's to apply your new knowledge at your current one.  
Get Your MBA While Working With Bentley's MBA Program
Bentley's MBA is offered in three convenient formats for students to choose from: full-time, part-time and accelerated online. The part-time options allow students to pursue their MBA while working, gaining valuable business skills that will make them desirable candidates for next-level jobs within their organizations. To find out more about Bentley's MBA program, visit our website or request more information from our admissions team.