How to Sell: 5 Career Tips Everyone Needs
Want to excel at your job? Here's why sales is a must-have skill.
Sales jobs are up 150 percent in the past five years, according to a new market analysis commissioned by Bentley University and powered by labor market analytics firm Burning Glass. But sales isn't only a job — it's a set of fundamental professional skills that everyone should possess.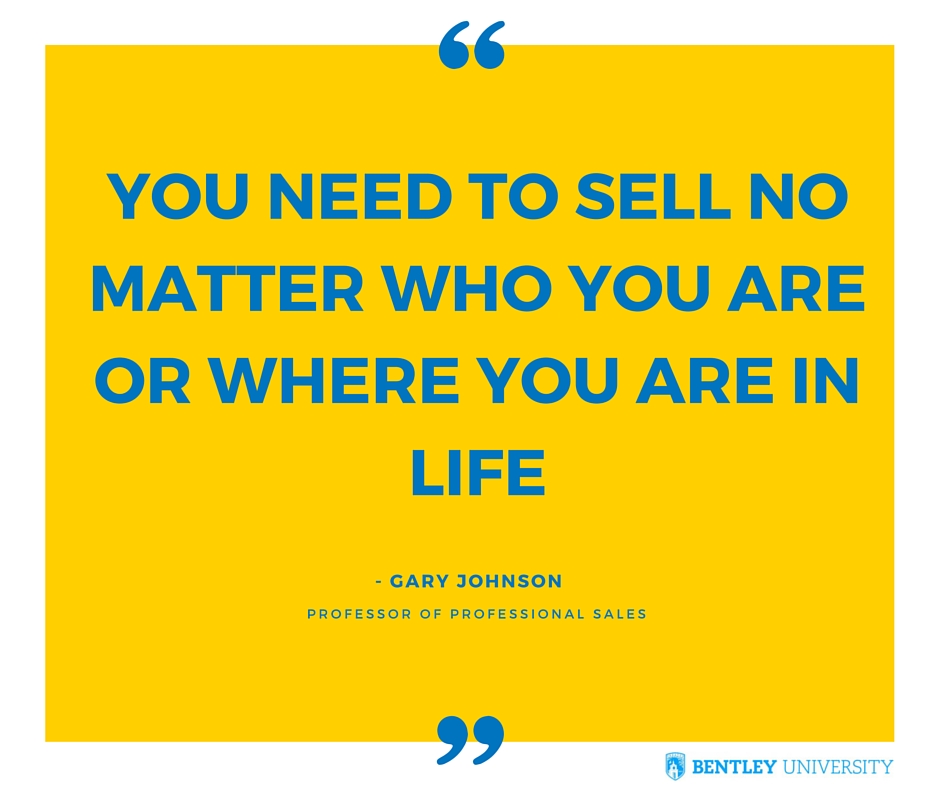 "If you know how to sell, you can easily take that experience into other functional areas in the corporate space, as you have a good read of a client or market," says Bentley University professor Gary Johnson. In fact, mastering some of the fundamental skills needed to close a deal may be your ticket to better performance at any job, and better communication and results outside of work.

Read how Bentley's new Professional Sales major is answering the market demand for talent.

Forget the stereotypical slick-talking salesperson; a successful career in sales is informed by knowing how to really connect with other people and help them solve their problems, according to Johnson. His Effective Selling course at Bentley attracts not only Professional Sales majors, but also students from other business disciplines. A key assignment in the course: Raise at least $500 for the Jimmy Fund charity to benefit cancer patients. In just one semester, students raised close to $24,000.

Johnson says positive results begin with mastering these five skills:
Listening
The most successful sales people have an ability to listen — and listen well. "You talk, you lose" is Johnson's mantra. "People want to be understood. You've got to be able to show empathy, show the client that you hear them and understand their business pain and challenges."
 

A successful #career in #sales is formed by knowing how to listen, says prof.

TWEET THIS


 
Asking the Right Questions
In addition to doing your homework in advance, be curious enough to ask pertinent questions about the needs of those you come in contact with. If you have a good degree of business acumen and understand how a business operates, you'll know the right questions to ask.
 
Building an Opening Statement
You've got about 30 seconds to capture someone's attention, shares Johnson. "If your elevator pitch isn't succinct and exciting, you have a strong chance of losing a client's interest right then and there."
 
Being a Team Player
People are most effective when we collaborate as a team and create synergy, Jonson says. "Salespeople get pegged as lone rangers out to make a buck, but the best sales people actually work hand-in-hand with a sales team, sales manager, clients and even other departments such as marketing."
 
Negotiating
In all kinds of situations, people want to negotiate; but it goes beyond price. Other elements of business agreements include payment terms, additional functionality (everyone likes extra bells and whistles) and referrals. And if you consistently practice skills one through four, Johnson says there will be less negotiating in the end.

"You don't have to go into a career in sales to take advantage of this advice, because you need to sell no matter who you are or where you are in life and your career," Johnson says. "And you're always selling yourself and your talents to employers."
 
"You need to sell no matter who you are or where you are in life," shares @bentleyu #sales prof.
TWEET THIS


Bentley junior and Management major Alexander White agrees. "Sales plays a vital role in our everyday lives. Whether it's for a traditional sale, making a new friend or demonstrating your value to ace that interview, effective sales and the ability to effectively sell, ultimately helps you accomplish all of these things."

And if you're considering jumping into sales — an industry with projected employment growth through 2024, according to the U.S. Bureau of Labor Statistics — you'll be ahead of other applicants, Johnson says. "Sales training can be very costly to a company, so graduates with coursework in that area are considered a good hiring decision. You'll have the basic elements, knowledge and skills to start off the ground running."

Learn why sales is one of six must-have job skills for 2016.