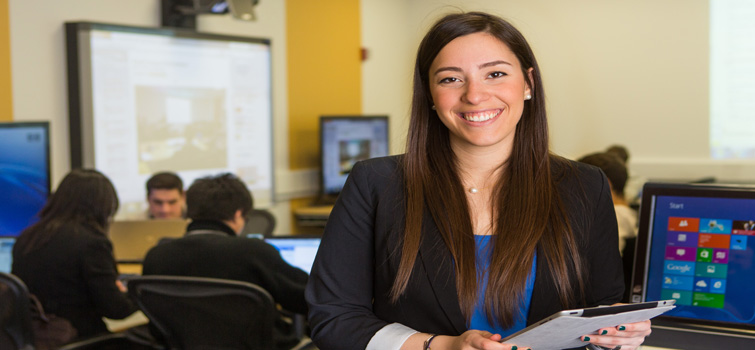 How Would A Master's In Information Technology Help Your Career?
Would you like to work in one of the fastest-growing industries in the U.S.? If you're interested in being a computer systems analyst, a network administrator, an information technology (IT) consultant, or any one of a vast number of jobs encompassed within the information technology field, you're heading in the right direction.
According to the U.S. Bureau of Labor Statistics, employment in computer and information technology roles is projected to grow by 12 percent from 2014 to 2024 — faster than the average rate of growth for all occupations. That translates to about 488,500 new jobs, bringing the total number of IT jobs to 4.4 million.
That's great news for you — and your career! Having a master's in information technology makes you a prime candidate for these positions, giving you a valuable leg up against the competition. Bentley's comprehensive information technology master's program (which we like to call "MSIT") prepares you for excellence in this increasingly complex and competitive field.
What will a master's in information technology do for my career?
The decision to pursue a master's degree is not one to be taken lightly. Reasons for getting a master's vary depending upon the person and the situation and may range from advancing career goals, to boosting compensation, to better marketability.  
Bentley's Professor of Computer Information Systems Heikki Topi notes that Bentley's MSIT program serves students with a range of different backgrounds. Some are experienced professionals who have been working in the IT industry for several years, while others come soon after earning an undergraduate degree (often in information systems, computer science, or engineering). A master's degree in information technology benefits these students in different ways, depending on their situation.
For recent graduates with little-to-no work experience and a bachelor's degree, it's certainly possible to gain entry to the information technology field without a master's degree. But the number of applicants for available jobs is high, and it's becoming increasingly necessary to differentiate yourself — even for entry-level jobs. Employers know that advanced-degree holders are well-qualified and prepared to practice in the field; on the other hand, the organization may be taking on a risk with a candidate who is less knowledgeable and experienced.
For information technology candidates with some work experience, a master's degree holds the promise of advancement. It can pave the way to jobs in management or senior-level technical jobs as well as consulting positions. Students who have already worked in the field have the advantage of knowing exactly what they want and where they hope to go. For them, a master's degree is the key to securing a job they want in a field they love, which ultimately makes their career more enjoyable.  
Of course, salary is among the top reasons why people of all backgrounds invest in a master's in information technology. Data gathered by the U.S. Bureau of Labor Statistics shows that IT is one field in which people with a master's degree often earn a premium over workers with just a bachelor's degree. In this case, then, a graduate degree is a worthwhile investment in your future.
Jobs You'll Be Prepared For With A Master's Degree In Information Technology
The landscape varies significantly regarding the types of jobs available to someone with a master's degree in IT.
In general, the business world is in great need of people who can understand a business problem and translate that into a technology solution. According to Topi, there are four fundamental competencies that a person must have to be successful in jobs within the higher echelons of information technology in business:
Technical competency: Higher-level workers need a fundamental understanding of information technology, computing, and their use within organizations.
 
Management of information systems technology competency: The most effective IT personnel have the ability to answer questions like, "What processes should we have in place to manage technology systems?" "What organizational structures should we use?" "How can we use technology to advance the organization's goals?"
 
Organizational competency in the domain in which the technology is applied: For instance, what is a specific organization doing to reach its goals?
 
Individual foundational competencies: To thrive in business you'll need to develop skills in communication, negotiation, teamwork, problem-solving, critical thinking, analyzing complex problems, and articulating solutions.
In other words, graduates who are able to put together a solid combination of these competencies will find that a wide variety of jobs that were unattainable previously are now well within reach, as long as the master's program has prepared them adequately. Demand for people with these capabilities is not likely to diminish in the foreseeable future.
Different programs emphasize different aspects of information technology, but here's a sampling of some of the jobs you will be well-prepared for as a graduate of the Bentley MSIT program:
Recent college graduates with a nontechnical or technical undergraduate degree plus a master's degree in information technology: Business/systems analyst, database analyst, IT security analyst, IT auditor, IT risk and assurance consultant, or IT advisory consultant. (And for recent college graduates with a technical degree, add programmer analyst to the list.)
 
Experienced professionals without an IT background plus a master's degree in information technology: Project manager, product manager, program manager, or senior business/IT consultant.
 
Experienced IT professionals plus a master's degree in information technology: IT director, program manager, enterprise architect, software development scrum master, or senior IT/business consultant.
At Bentley, our job placement rate within three months of graduation is more than 85 percent. We believe our rigorous coursework and diverse student body contribute to this success. With a mix of domestic students, international students, and students with wide-ranging work experiences, learning opportunities are everywhere. Everyone has something different to offer, and students actively collaborate and learn from one another. This rich mix of backgrounds makes our learning community more dynamic and benefits everyone.
How Bentley's MSIT Program Can Help You Succeed
Professor of Computer Information Systems Bill Schiano points out how important it is that any master's of information technology program reflect what's happening in the real world and notes that Bentley's coursework is designed to provide the blend of technical training and business knowledge that employers want. To make this happen, faculty members are regularly taking the pulse of the business world. "We work very closely with the employers of our students when they come to recruit," says Schiano. "We also regularly run focus groups, not just with our employers, but with companies that aren't hiring our students and other places where we think it's important to understand what's going on in the market. We update the curriculum based on that feedback."
One case in point is Schiano's class, which focuses on the agile methodology of software development — a very different approach than that of many schools teaching project management. He says that agile's more flexible, responsive approach to project management is dominant in the field, so students should be familiar with it. The reality is that most companies can't afford to be so doctrinaire; it's better to do what's right for each project and the organization you're working for.
To align with best practices in companies, the Bentley program includes a mix of technology skills — large-scale database skills, Java programming, and enterprise architecture — and general business skills. According to Schiano, this mix is a necessity in the real world: "Students who are trained purely on the business side can't see what the technology could do for the company because they don't have a good grasp on the technology itself. They're also not as productive with the technical folks because they don't understand the language or in-depth what these people do for a living. Employers have a clear interest in people who have meaningful depth on both sides."