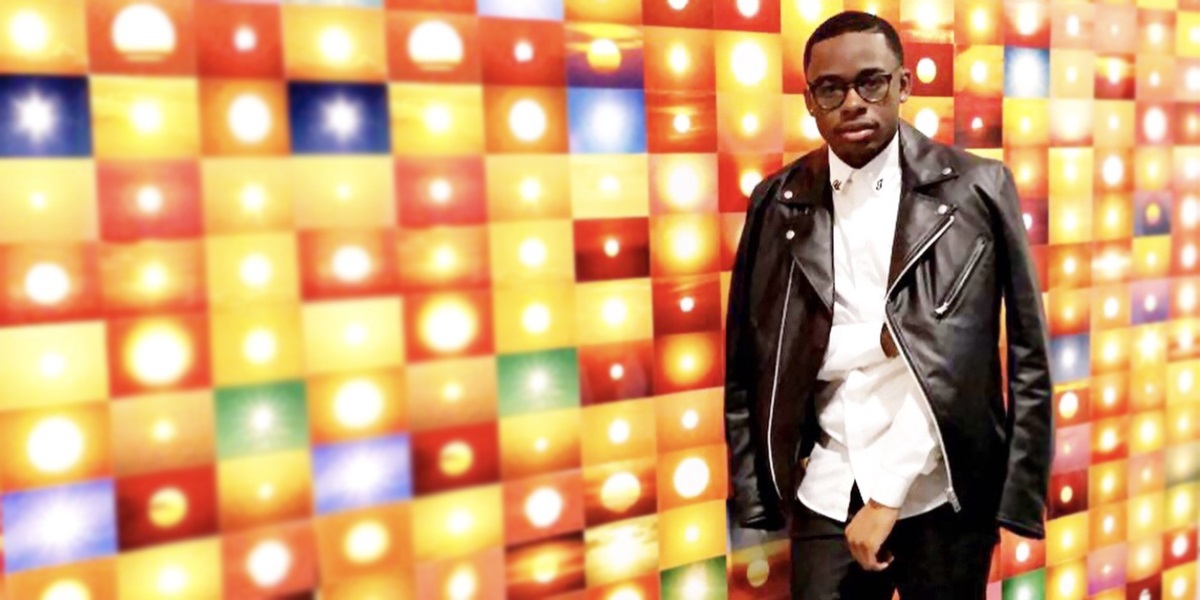 Reginald Fils '21 in one of the shirts he designed for his Urban Inspired clothing line
Improving the World, One Shirt at a Time
For Entrepreneur Reginald Fils ˊ21, a Clothing Line is More Than a Fashion Statement
Reginald Roshard Fils ˊ21 grew up attending the fashion shows that his mother produced – the lights, the cameras, the clothing designers and trend-setting fashions. By age 14, Fils was ready to launch a fashion line of his own.
"I've always had a knack for business, especially entrepreneurship," he says. "But seeing my mother create a fashion production business helped me believe in myself and gave me the confidence that I could do it, too."
The young clothing designer drew particular inspiration from Kerby Jean-Raymond, whose Pyer Moss clothing label carries a broader message about social justice. "He's able to use fashion to transcend race and speak about police brutality," says Fils. "I also identify with his culture because I'm Haitian-American."
Fils believes that entrepreneurship comes with a level of social responsibility. So when he sat down to develop a business plan for his new line, he decided his message would focus on inspiring youth. And so the name of his clothing line, "Urban Inspired," was born.
"A lot of young people aren't really engaged in their community or inspired by the people around them," says Fils. "I want to encourage them to go out and notice things around them, to identify a need in their neighborhood and be inspired to take action."
See Fils Giving Former President Obama One Of His Urban Inspired T-Shirts
Fils was only in eighth grade when he launched the line. The message of urban inspiration resonated immediately with classmates but getting it off the ground required plenty of entrepreneurial hustle. Fils polled friends about colors. He compared pricing for materials and printing. He wore the brand to school. He got teachers to wear it, too, posed for yearbook photos in the brand's signature t-shirt, and drew the logo on white boards.
"I believe in the brand and the message and the people I'm selling to," he says. "Young people today are really interested in companies with social causes to make the world a better place. It's our responsibility as entrepreneurs to create innovative businesses that help solve social needs."
Read How One Bentley Student Became A Restaurant Entrepreneur In Turkey
By the time Fils arrived at Bentley, he had started his company and taken the Urban Inspired message to heart through public policy work on his own, as a peer advisor for the Obama Foundation and a constituent services intern for Massachusetts Governor Charlie Baker. He also developed entrepreneurial workshops for the Boys and Girls Club of Boston.
Not surprisingly, while at Bentley Fils has held several leadership positions on campus, including stage manager for the Black United Body fashion show, head of communication for the Freshman Class Cabinet, and freshman liaison for the Caribbean Ancestry Student Association.
"My interest in the public and private sectors allows me to enjoy social entrepreneurship," he says. "Because when we merge the two together, that's when real growth happens."
Reginald Fils' Advice on How to Start a Clothing Line
Figure out a clear message for your product and why it makes sense.
Determine your target audience. Who are you trying to get to buy what you're selling?
Determine the budget. This will determine what you can (and can't) make. I started off with a $200 investment from my mother. If you need money, find stakeholders who are excited about your passion.
Start small. Manufacture five to 10 pieces to ignite a buzz and create demand.
Get people excited. I wore my brand and doodled the logo wherever I could, sharing lots of photos on social media to add to the buzz.