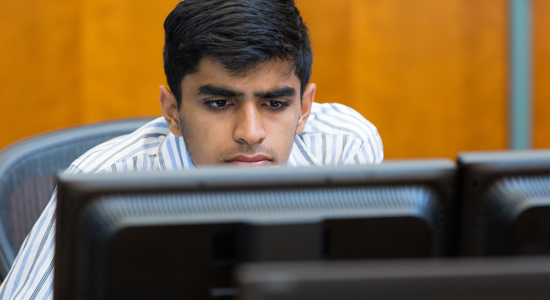 If you're an international student seeking an MBA in the United States, your college application will look a little bit different than that of a U.S. student. Instead of just taking the GMAT, you'll also have to take the TOEFL.
The TOEFL (Test of English as a Foreign Language) is an MBA entrance exam (like the GMAT), required for all international students—it measures your ability to use and understand English at the university level.
The TOEFL is an extremely important part of your master's degree journey, so it's crucial that you're prepared for it. To help you master this test, we've highlighted the important steps of the testing process and given you some guidelines on what to study and when to start. Here's what you need to do.
How To Prepare For The TOEFL
1. Know your school's requirements.
The first step in the TOEFL process is (obviously) deciding what school you want to attend. Then, figure out what the deadlines and requirements are for their application process. Each school will have a different timeline, as well as a minimum score requirement.
2. Decide when and where to take the test.
The TOEFL is administered 50 times each year at 4,500 locations in over 165 countries (so finding a test site shouldn't be difficult). Some are located at colleges and universities, and others are at business technology facilities.
(At Bentley, we recommend students take the test 2-3 months before the earliest application deadline—your scores are required before we can process your application.)
3. Register and practice for the test.
You should register for the TOEFL 3-4 months before your test date to allow sufficient time for studying and preparation. You can register online, by phone, or by mail. (Visit toeflgoanywhere.org to find out more information about test registration.)
While everyone's studying and test-prep styles are different, we recommend you begin studying at least 2-3 months before your test date. (The English language isn't really something you can cram in a few days!)
As you begin your prep, you'll want to get an overview of the four TOEFL test categories. Reading and listening are the two biggest sections on this MBA entrance exam, although the speaking section is usually what students struggle with the most. The official TOEFL website offers several online prep resources—both free and paid—including example test questions, full-length practice tests, prep courses, and more. Doing a practice test will give you an idea of where you struggle and what to focus on.
Below, we've included an eight-week plan to give you some general guidelines on what to study and when.
8-Week TOEFL Test Prep Plan
Adapted From The TOEFL Test Prep Planner
Week 1

Familiarize yourself with the test.
Take a TOEFL practice test to establish your starting point.
Determine your target scores.
Research and learn about others' test experiences.

Week 2

Learn about the speaking section of the test.
Practice sample speaking questions.
Practice your English-speaking skills.

Week 3

Learn about the reading section.
Practice sample reading questions.
Practice your reading skills.

Week 4

Learn about the listening section.
Practice sample listening questions.
Practice your listening skills.

Week 5

Learn about the writing section.
Practice sample writing questions.
Practice your writing skills.

Week 6

Begin planning for test day.
Take another TOEFL practice test to measure your progress.
Get evaluations from a teacher or tutor on your writing and speaking skills.
Begin focusing on your weakest skills.

Week 7

Continue studying—take another practice test, if desired.

Week 8

Continue with final studying.
Gather your documents: photo ID, registration confirmation, test-site directions, and transportation plans.
Take the test!
Be Prepared
Taking the TOEFL can seem a bit overwhelming, but if you properly learn and prepare, it won't be as difficult as it seems. Remember, this test is just as important as other MBA entrance exams, so register early, give yourself enough time to study, and follow this eight-week prep timeline to make sure you do your very best.