Navigating the Numbers
Financial Internships Lead to Healthcare Jobs at Novartis for Graduate Students
Jhansi (Jen) Potluri, MBA, MSBA '21, realized at an early age that she didn't have to be behind a lab bench to help advance science. Her mother works on software development for a kidney dialysis company, and Potluri grew up just outside of Boston and its thriving biomedical industry. So, after meeting recruiters at an information session hosted by Novartis in collaboration with Bentley's Graduate Career Development office, she applied to be an intern in the global healthcare company's Financial Development Program.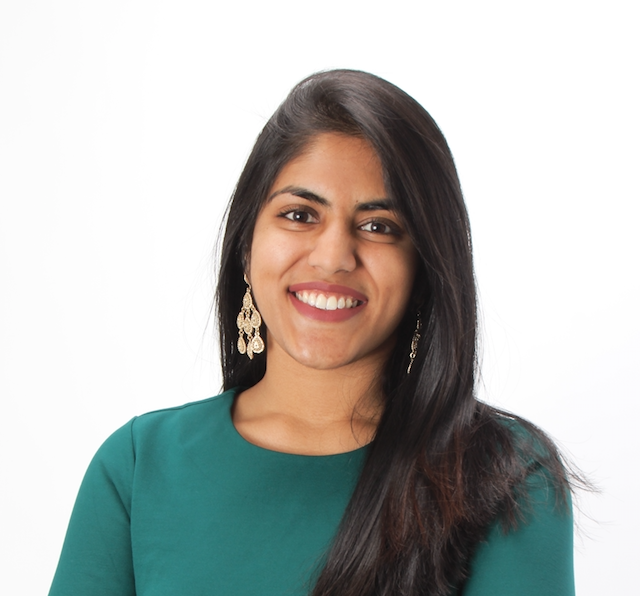 "I was never a science kid, but my mom always talked about how rewarding it is to work for a company that's making a positive impact on people, even if their product or service isn't in your field," says Potluri, who enrolled in Bentley's dual MBA/Business Analytics degree with a concentration in finance. "I saw that same kind of energy and passion from the Novartis recruiters."
Over the course of a few months, Potluri did virtual and in-person interviews and eventually landed the internship in the company's New Jersey office. But the excitement waned when the Covid-19 pandemic hit. 
"I was really nervous because I thought Novartis would cut out all internships," Potluri recalls. But they didn't. Instead, the company quickly pivoted the prestigious program to a remote internship. Though the first few weeks were hectic, getting the laptop set up and virtually meeting her team in a slew of Zoom meetings, Potluri quickly became immersed in projects. She used Qlik Sense data analytics platform, for example, to create interactive reports and dashboards. 
"I used Qlik Sense to organize the data a little bit differently, clean it up, input it into the software and create dashboards that will update reports each month," she says. "It's a very intuitive dashboard that presents users with focused metrics instead of having them get lost in a sea of numbers, which is really easy to do in finance."
Eye for Analytics: Pearl Brian-Esema, MBA, MSBA '19 on rational decision-making
Estefania Barnuevo, MBA '21, was at the same information session as Potluri. She met the CFO of Novartis U.S. operations and recruiters and, like Potluri, was impressed by the company's purpose and applied to an internship. "I had to interview, but they didn't feel like interviews. They were more like conversations and it made me feel good about the business and the culture."
Barnuevo joined the Global Drug Development program as a finance intern. Among the projects: helping to build a finance curriculum for the R&D finance college, a research and development training program for employees in the Novartis Finance Academy. She also helped create content for the program's online version.
The educational aspect of her role is in line with Barnuevo's personal choice to enroll in an MBA. "I wanted to climb one more step toward finding my perfect job. I liked Bentley's curriculum because it's open and personalized. Like what Novartis does with their medicines, Bentley focuses on small niches and tries to improve people's life quality." 
The finance concentration reflects Barnuevo's love of problem-solving. "Finance is the center and the core of a company; it's what keeps a business running."
But the MBA is also teaching Barnuevo how to keep her personal and professional life running. Some of her top takeaways: "Engage; make personal connections that go beyond your job. Also, go that extra mile and take advantage to stand out. I have learned that my MBA is not just going to class; it's about spending time with people like professors, other students and my career adviser."
Though the Novartis internship is remote, the experience has strengthened Barnuevo's commitment to engage and stand out – and to do so authentically.
"One of the most important takeaways from the internship is to be confident, particularly when it comes to meeting new people," she says of conversations with senior-level company executives. "Novartis associates taught me that every time I engage, I need to be myself and to speak up and give my opinion. Feedback is really important in the company, no matter your position."
Ahmadou Balde, MBA ˊ18 Works to Make the World a Better Place
Graduate students like Potluri and Barnuevo have made an impression on the Novartis team. 
"Bentley students have shown strength in analytical skills, dealing with large databases, high curiosity and self-motivation," says Novartis U.S. Corporation Head of Finance Katherine Vazquez. "They've worked on analyzing vendor staffing model efficiencies, developing training courses, regression analyses, financial market trends and indicators for commercial paper liquidity, benchmarking costs of clinical diagnostics, competitive analysis and working to convert excel/PowerPoint into interactive Qlik Sense databases."
Bentley students have shown strength in analytical skills, dealing with large databases, high curiosity and self-motivation.
Novartis US Corporation Head of Finance
Both Potluri and Barnuevo say the Novartis internship was a good fit. 
"Our goal for interns is that they get a well-rounded finance experience and see possible career paths," Vazquez says. "But we also want them to understand the Novartis passion for patients, our mission and culture, and to get an appreciation for the innovative pharmaceutical industry."
Upon completion of the internship, Barnuevo and Potluri -- along with Bentley MBA students and Novartis interns Enri Dervishi and Connor McGrath -- were offered full-time jobs at Novartis.
"When I tell people that I want to work in finance, their minds often go to banking or something similar, but it's so much more than that," Potluri says. "I'm going to use my number skills in a way to contribute to the greater good."