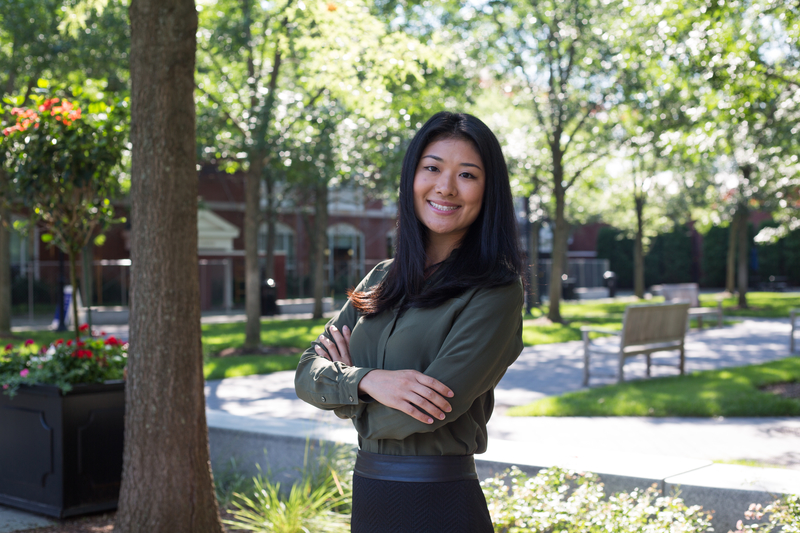 Networking to Build a Career in Accounting
When Gloria Jiang MSA '14 was an undergraduate, she says she purposely tried to stay away from her parents' career paths in finance and accounting when she was deciding the major in college. But once she entered the workforce, she quickly realized that accounting was "the business language spoken everywhere in the world." And she wanted to learn it.
"Even though I studied international event management, I ended up being in a complete business environment after graduation," Jiang recalls of doing business development for a Fortune 500 retail company in Shanghai.
Her job was to scout potential locations for retails stores, which required her to research marketing, engineering and financial feasibility. "No matter how good the project from other aspects, financial factor is always the crucial one when it comes to the life and death moment of the project. However, not knowing much about accounting, I didn't get to play a key role in the decision making back then."
Jiang moved to Boston in 2012 to pursue a Master of Science in Accountancy degree at Bentley. Among her top reasons for choosing the program:
Career Preparedness. "Accounting students are strong candidates for positions at Big 4 accounting firms because during the two-year program, Bentley has prepared students to be the technically proficient and also well-rounded accountants who can dive into the real world work situation right after graduation."
Career Services/Networking. "Bentley has the top career services tailored to students with different concentrations and provides multiple resources. Supported by its strong alumni network all over the country, I knew that I would have countless coaching, mentoring and office visit opportunities to build my own network from day one. As an international student, this is significant because I was coming from a completely different background with no U.S connections."
Jiang did build a network, and landed a job at KPMG after graduating. She is a senior associate with the Business Tax Services in the Boston office, providing local, state and federal tax compliance and provision services to mainly corporate clients.
"My client base varies from early stage startup companies to multinational companies, mostly in the life science, technology and other commercial industries," Jiang says.
Jiang also participates in the KPMG networks. As co-chair of the Tax Associate Council, for example, she plans trainings, fun activities and volunteer events, and serves as a "bridge between the management and staff groups." She also graduated from the MST program at Bentley in October 2017.
And she credits Bentley with helping her get to where she is today—not just because of advancing her accounting and tax skills. Jiang was involved in multiple student organizations, including as president of the Graduate Tax and Financial Planning Association and vice president of Ascend Bentley Chapter (a pan-Asian professional network).
"From these organizations I was able to build relationships with professors, career advisers and alumni," Jiang says. "It was not only an ideal way to practice my professional skills including communication, teamwork and leadership skills, but also opened my eyes to see the world from other people's experiences and stories."
Her top skills gained at Bentley:
Interpersonal. "I was totally in shock by the culture difference between China and the U.S. and I did not even know how to carry out a normal conversation with people I just met. However, by going to more networking workshops and stepping more out of my comfort zone each time at the events, I started to regain my confidence and to be genuinely curious about people's stories. I am now much comfortable meeting new people."
Teamwork. "Working in a team environment is never an easy thing, especially when my teammates were all from different backgrounds. Doing group projects in almost every single class at Bentley I learned to work with people with different styles, backgrounds, personalities and timing and to learn to tackle all kinds of difficulties and work through disagreements."
Quick learning and self-study. "By doing the case studies with no fixed answers, we learned to research and work together to come up with our own solutions with supports. Today when I face an issue at work, I always do my own research first before asking any questions."
The final result goes beyond landing "a dream job at a dream firm."
"Having so many faculty mentors, I plan to give back and mentor students who are going through the same experiences I did. Bentley not only changed my career direction, it also changed my mentality as a professional and potentially a business leader."