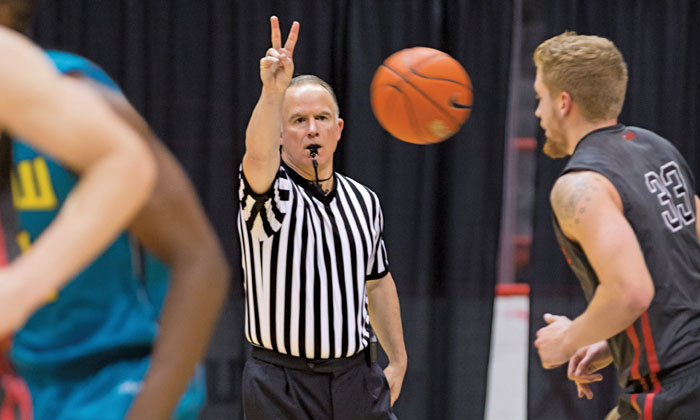 Official of the Court: John Gaffney '89
On Tuesday evening, it's the Carrier Dome at Syracuse University. Wednesday night, it's a Georgetown game at the Verizon Center in Washington, D.C. Bright and early Thursday, it's a client meeting in downtown Boston. John Gaffney '89 spends every November to April all over the map. By day, he is vice president, new business development, at Marsh & McClennan Agency, an employee benefits and risk management firm. Evenings find him hustling up and down the hardwood as a Division I NCAA men's basketball referee.
HOOPS JUNKIE
I've played basketball all my life, including four years at Bentley. But you can only play for so long, unless you feel like ripping an Achilles or a knee. Officiating keeps me in the game.
LIGHTS, CAMERA, SCRUTINY
Officials are paid to get the calls correct. Bottom line. I only have one chance to make the right call. Fans have the luxury of watching replay after replay. It puts you under a microscope, but it's just part of the deal. If you work at your craft and make sure you're in the correct position on the court, you're going to get most of your calls right.
FILM DON'T LIE
Coaches break down tape. Players watch tape. As an official, I watch film so I can review my calls, learn from them and improve. Did I make the right call? No? I need to make sure I get it right next time, and watching film helps. It could end up the difference between thinking and knowing. As one of my supervisors once told me, 'We don't pay you to think. We pay you to know.'
FOUL LANGUAGE
The vast majority of fans are awesome — just there to enjoy the game. Every now and again you run into a knucklehead. Once there was a guy in West Virginia who, let's just say, wasn't shy about yelling some choice words about my mother and my wife. I mean, really? That's just a line you don't cross. I informed Security and they tossed him out."
WORKING OVERTIME
My most memorable game was actually two games. I think itwas February 9, 2013 (editor's note: it was). I worked the DePaul/Marquette game at 2:00 p.m., and then drove nearly four hours to South Bend to fill in for another official and work a primetime Louisville/Notre Dame game. The second game lasted five overtimes. That night, I got calls from the Wall Street Journal, ESPN, CBS Sports and others to talk about my day.
I had to politely decline. The game should always be about the players and coaches, not the officials.