'One Community, One Team'
More than 90 staff, from coaches to police officers, sign up as mentors to support remote students
Above: Student Affairs staff member Antonio Willis-Berry (center) is one of the new NEST mentors. Photo illustration by Claire Anderson.
It's not the kind of call a university police officer normally makes, but in these extraordinary times, Bentley Police Captain Francis Bourgeois is more than happy to switch things up.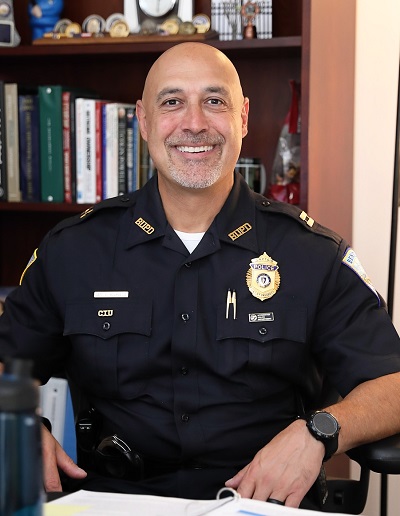 Bourgeois is one of 92 new Bentley NEST mentors — members of the university staff ranging from athletic coaches to campus police, and from administrative assistants to the dean of students — who have signed on to serve as mentors to students now learning remotely because of the coronavirus pandemic.
The NEST program (which stands for Navigate, Engage, Support, Together) is meant to ensure that students continue to feel connected to and supported by the Bentley community, even while living and learning at home.
"We at University Police are grateful for the opportunity to take part in the NEST program because it gives us the chance to maintain our commitment to engagement with our students virtually at a time when we can't do so on campus," says Bourgeois. "For the University Police, participation as NEST mentors is consistent with the Bentley University mindset that we are one campus, one community, one team."
The idea for NEST hatched, if you will, when Student Affairs staff members learned that students would be learning remotely for the rest of the spring semester.
"We started thinking about how we could keep connected to students, how they could feel like they're part of Bentley when they're not physically part of Bentley," says Jamie Bang, assistant director of Student Conduct and Development. "In a time of uncertainty, we wanted to give students the certainty that Bentley is still there for them."
Online classes and a new virtual community begin
Bang spoke with her colleague Erin Thompson about helping students keep that connection even as they learned from home. Once the NEST concept was agreed upon, Student Affairs Director of Strategic Planning Jessica Kenerson and Strategic Projects Coordinator Benjamin Longstreth were brought in to help with the logistics.
"We knew if we were going to serve all 4,000 undergraduate students, we were going to need a large team to do this," says Longstreth, "especially since Bentley focuses so much on the individual student."
That focus on the individual student for which Bentley is known meant keeping small groups of students assigned to each mentor. To have enough mentors, nearly everyone in the Student Affairs division was deputized to help, from staff members in Residential Life to Athletics to the Health Center to Spiritual Life and campus police, giving students access to mentors with different perspectives and backgrounds.
Each mentor was given an email template, sample Zoom meeting agenda and technology resource guide on how to best use Microsoft Teams and other remote-collaboration platforms. Mentors email students and schedule team chats and Zoom videoconferences at least once a week to connect with students, listen to them and offer support.
In a time of uncertainty, we wanted to give students the certainty that Bentley is still there for them.
Assistant Director of Student Conduct and Development
The speed of the university's reaction — the NEST program went from concept to first student contact in just over a week — has been noticed by students.
"Bentley moved quickly to reach out to students," says Andrew Lin '20, a Computer Information Systems major. "My friends at other colleges have not heard from anyone. I'm very appreciative that Bentley's doing something like NEST to keep students engaged."
"I'm grateful we had the ability to switch over to an electronic platform so quickly," says Jeremy Glick '22, an Accounting major. "It'll go a long way toward helping our students, both academically and socially."
That focus on providing support inside as well as outside the classroom is intentional, to help students not only keep up their classwork but their "human" connections, too. Still just a week off the ground, NEST has already inspired students and staff alike.  
"When this program was introduced, everyone was like, 'How can I be involved? I want to be a part of this,'" says Bang. "It shows, from the top of the division down, the overwhelming desire to take care of our students."