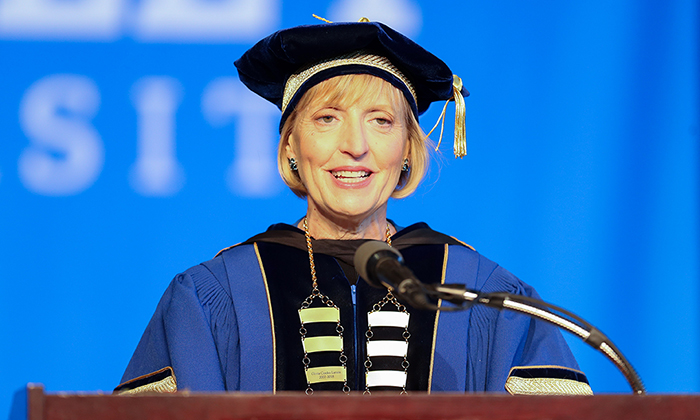 The Path Forward: President Alison Davis-Blake's Inaugural Address
Chair Badavas, members of the Bentley Board of Trustees, and Trustees emeriti; former presidents Morone and Larson; Dr. Mary Sue Coleman; Dr. Jeffrey Pfeffer; esteemed delegates; faculty students, staff and honored guests; friends and colleagues from around the country; my husband Michael, Mom and Dad.
Thank you all for being here for this very special day. I'm particularly thankful to my many friends who are here from the University of Michigan where I served as dean of business before coming to Bentley.
While Bentley University and the University of Michigan are quite different in many ways, I have learned that both institutions share a very similar story.
About trees.
In the 1850s, Professor Andrew Dickson White had moved to the University of Michigan in its early days of teaching students. Though he loved the intellectual environment, he was distressed at the state of the campus. He described it this way: "Unsightly plank walks connected the buildings and in every direction were meandering paths, which in dry weather were dusty and in wet weather muddy. Coming as I did from the glorious elms of Yale, all this distressed me."
Professor White set to solving the problem, and with a group of students carefully planned and planted the trees and the paths that later came to define the university's iconic central gathering spot called the Diag. Many of those trees still stand today.
I learned just a couple of weeks ago, in talking with a Bentley alumnus, that when the campus here in Waltham was newly established, it was also bare of trees with planks as connecting walkways. Recently I saw some aerial photos depicting Bentley's early campus, and it is clear how much careful planning and building has happened through the decades.
The Bentley community came together, not only to build a beautiful campus, but to transform itself from its founding as a school of accounting to the remarkable institution it is today.
For me, tree-lined campuses always serve as a reminder of transformation and regeneration. Roots provide stability, the trunk growing ring by ring, year by year.
Earlier this week, as part of our inaugural ceremonies, our community gathered together and planted a new tree up on the main campus to mark this important moment in time.
As we recognize the theme of today's event – A Century of Growth, A Future of Leadership – we see the trees as living symbols: the deep roots and solid trunks as this university's historic success, with leaves and branches as signals of optimism and growth, reaching ever upward, toward our collective future.
It is a transformative time for higher education and also a challenging one. Today we face watershed moments, both for colleges and universities broadly and in business education.
We face challenges regarding cost, access and inclusion on our campuses, and questions about the value of a college degree at all. The public's trust and confidence in us has eroded. And yet, higher education has never been more important.
Dr. Mary Sue Coleman was a mentor from the first moment I met her. Inspired to study science during the Sputnik era of space exploration – when not many young women were taking that path – she went on to a brilliant career first as cancer researcher and then in national higher education leadership.
President Coleman said that, "American higher education … is one of the monumental achievements of our country." She has advocated passionately that higher education is a public good, one that reaps vast dividends for our country and our world.
But in order to continue to fulfill that critical societal promise President Coleman has long described, I believe it is a time for self-assessment. We must take stock, so that we may ensure that will truly serve the public good and earn the public trust in the decades to come.
Now we must take the opportunity to build on our institutional strengths, to understand what employers value most, what makes organizations truly great, and most importantly to offer what our students most need to succeed – not only in their first job but in their careers and most especially throughout their lives.
Here at Bentley, right here and right now, we have the exciting chance to imagine what the future of leadership in business and in society can be, and to create business-focused education for the next generation of leaders.
Management scholar Andy Hoffman, who studies sustainable enterprises, recently wrote a paper called Management As A Calling. He argues that, "Business's capacity to transform society is only as great as the schools that train its future leaders."
Bentley is uniquely positioned for the work of training our future leaders: This university's foundational strengths – especially in the integration of business, science, the arts and technology – are completely aligned with today's greatest needs. Our students must gain not only business acumen and skills, but also the ability to interpret and make sense of the world around us…
to recognize the speed and the impact of change…
to assess the profound effects of technology…
and to develop an ethical grounding that provides a firm foundation for a life well-lived.
As we prepare ourselves to look to our future, we should consider some lessons from the past, right here in Waltham.
Waltham, Massachusetts, was the cradle of the Industrial Revolution where the first integrated manufacturing facility to turn raw cotton into cloth was founded.
Just down the road from our campus, a company that would become known as the Waltham Watch Company became famous around the country and the world for the quality of its mass-produced timepieces called wristwatches. The company was so successful at manufacturing watches with precision and excellence that Henry Ford came to the factory to see how the production was done, as he began thinking about how to mass produce automobiles.
The wristwatch was a societal watershed of its time. It was a new tool with remarkable implications — implications that could not have been foreseen in 1852 when the first Waltham wristwatch was produced.
Winston Churchill said that we shape buildings and thereafter they shape us, and so it was true with the wristwatch.
Fast forward from when communities tracked the time by the church bells in the public square, to the precise time-telling of Waltham's individual watches, to today. Now we track our heart rates and our blood pressure … monitor our steps ... send and receive emails and texts … and digest all sorts of multi-media content … on our wrists.
All on screens as small as those famous Waltham timepieces produced in the factory down the street. The implications of that first wristwatch are astounding, aren't they?
Today, as we grapple with the intersection of technology and humanity, we must consider how best to prepare our students to navigate and lead in this world of constant change and adaptation. The technologies we invent and utilize today are powerful. The impact of one invention, one business decision, or one program, can upend the world in ways we cannot now imagine.
It is therefore imperative that we not invent, nor make business decisions, nor build products or services or academic programs in a vacuum. We must search for a deeper understanding of the ethical and societal implications of our decisions. A piece of computer code can change humanity. A mobile phone with access to the Internet can upend traditional businesses. It takes the critical thinking born of a multi-dimensional education to consider cause, effects and consequences.
The future doesn't come with a manual.
But this is why at Bentley we develop in our students both the practical skills necessary to navigate business and the interpretative skills to navigate the complexity of today's world. And as we look to Bentley's next decades, we know we will continue to provide truly transformative learning experiences that will stay with our alumni for a lifetime.
Karissa Smith, a member of Bentley's Class of 2020, recently shared with me her personal Bentley story that highlights this very idea. She's busy planning for her semester abroad and thinking about which marketing internships she will apply to while in Spain. She says, "I'm not worried about the future because I know that I've developed real skills and experienced things that a typical student would not have experienced elsewhere."
Karissa credits the Bentley experience, the curriculum, and the campus culture with helping her realize her dreams and aspirations to appreciate the diverse peoples and cultures of this world and someday work in international marketing.
Today, Karissa is confident and prepared, ready to build a life and career that knows no bounds — or borders.
As our community comes together to imagine and create Bentley's future, I want us to think carefully about the culture on our campus. Together we can foster a positive environment that recognizes the value of human sustainability across all our endeavors. We have choices about how we structure our organizations … how we motivate and sustain employees … how we inspire students to make a difference in their companies and their communities … and how we support businesses so they can do well and also serve a greater societal good.
My doctoral dissertation advisor Dr. Jeffrey Pfeffer, here with us today, has written extensively about the fact that leaders can either enrich or impoverish the human condition. He argues that we create more effective organizations when we invest – really invest – in our human capital and capabilities.
With that in mind, I offer some guideposts for us at Bentley as we forge our path forward together.
First, we will recognize the power of diversity of all kinds as fundamental to our success, and we will foster a sense of belonging on this campus that enables our community to work, to learn, and most of all to thrive, in diverse teams. In order for our community to thrive, we will fully support our students, faculty, staff and alumni, recognizing the collective power and positive impact that results when all of our contributions are understood and respected.
Next, we know we can NOT be all things to all people, so it is important that, as we launch an inclusive and collaborative strategic planning process, we focus on those things we do really well and that can be distinctive in the future.
To identify our areas of true distinction, we will tap into our collective strengths, talents and expertise as we plan for our future.
And finally, we will put our business-focused education and research in a framework of ethical decision-making, always with integrity.
Thrive. Focus. Integrity.
These are the key guideposts that can help us create a truly positive organization where each of us can be our best selves and where together, we can play an important role in that most critical of public goods — American higher education.
By now most of you know I come from a family steeped in higher education. Growing up surrounded by intellectual inquiry, teaching and learning inspired my own career choice. Over the years I've met many people who argue that  schools -- particularly business schools -- must make certain kinds of tradeoffs.
We can honor what is best in our traditional approaches to education -- OR we can be innovative, creative and transformative.
We can attend to local concerns -- or we can be citizens of the world.
We can share common goals and values -- or we can be diverse.
We can be outstanding, bottom-line business strategists -- or we can be ethical.
We can be deeply interested in the real world and in pragmatic business problems -- or we can be humanists.
In my view, the key to much of Bentley's history of success and transformation – and the key to its future success – is that we reject these tradeoffs as false alternatives.
Our students are highly employable, talented leaders who are sought after by businesses of every type because our academic programs offer a rich variety of learning opportunities.
We strive for a diverse and international student body that reflects the world beyond our campus because we know that the strongest organizations are ones with the widest array of people and mindsets.
We can be business strategists and humanists and ethicists.
We can be all of these things and, indeed, Bentley's distinctive reputation comes from the fact that we are deeply committed to precisely that goal.
As we have discussed today, the world is not getting any simpler. But that's just fine. Bentley is up to it. We are up to it, as we work together to define the future of business leadership in this country and around the world.
Thank you.