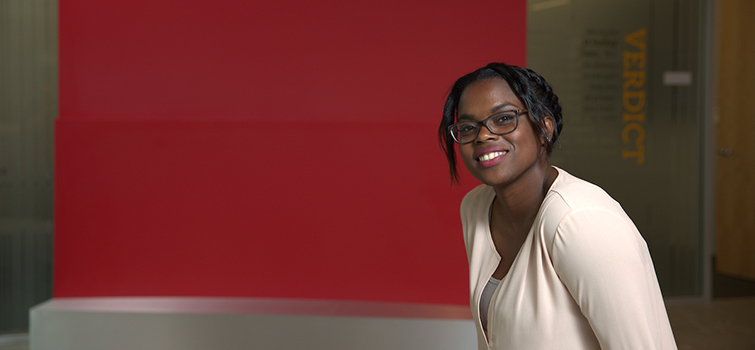 Persistence and Passion Pay Off for Recent HFID Alum
As an undergraduate, Latoya Hall HFID '16 studied Design and Visual Communication at San Francisco State. While spending part of her senior year abroad at Brunel University of West London, she learned the value of incorporating ergonomics and human factors into the design process.
Little did she know it'd be a few years before she could put those lessons into practice.
"I really loved the human factors part of that program," Hall remembers. "It added an extra layer of complexity to how I created products. I returned to the U.S. and landed a packaging design job but it ended up being a total snooze for me."
So off she went. First, it was a stint in AmeriCorps in Oakland. Then a position in sales. But she wanted a career, not just a job. And she wanted to do something she loved. That's when she found Bentley and the McCallum Graduate School of Business's Human Factors in Information Design program.
"I was working in an industry and field I wasn't passionate about," says Hall. "I knew that if I could do anything for the rest of my life it would be design and research so I literally googled, 'Design Research Master's' and found Bentley. I applied and went for it."
It was a perfect fit.
"I chose Bentley because it definitely is one of the best UX programs in the nation, and the director of the program really cares about the well-being and success of the student," she explains. "Bentley also has a very hands-on, client-based curriculum, making it very easy to build your first portfolio even if you're coming from a non-design background."
Flexibility and Fusion
Bentley's California HFID program gave Hall the option to study closer to home — or wherever she was. 
"The program is so flexible, which is another reason why I chose Bentley," she says. "I've taken classes in Boston, San Francisco, and online — all while working a full-time job. This hybrid approach is perfect for those who want or need to work while they're in the program."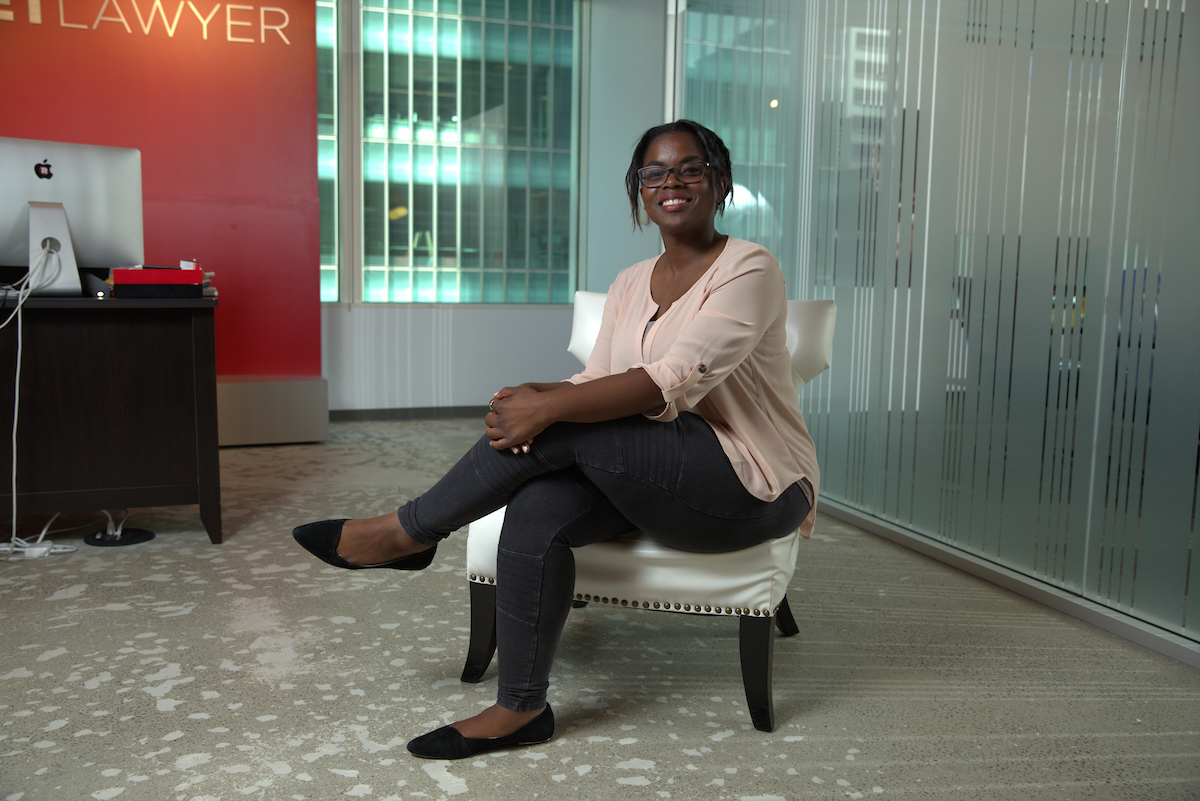 By the time she had completed her first semester at Bentley, Hall had quit her sales job and landed a UX position with Object Edge, a small Bay Area tech company. This experience, and other Bentley UX projects outside of campus with companies like Twitter and the Harvard Business Review, helped her put together a portfolio many more seasoned UX pros would envy. Upon leaving Object Edge, Hall hired a Bentley HFID graduate to replace her. She knew she would be leaving the role in good hands, and recognized that her successor's Bentley education would bring value to the tech company.
Bentley's HFID curriculum exposed Hall to a mix of design, business and science. It's a blend of skills that prepared her for the field's technical demands, and its less obvious challenges.
"One of the biggest challenges in the field of UX is learning how to communicate with other people who have differing communication styles than your own," says Hall. "Once you get into the tech industry you realize that everybody has an opinion on something and how they get their opinion across can be positive or detrimental to how the product is built, or what features go into it. One of the best skills I gained from the Bentley program is recognizing these communication styles and learning how to work with them."
A Worldwide Network of Alumni
Hall had a new job just a few weeks after graduating, working as a product designer at Rocket Lawyer in the San Francisco Bay area. She's already responsible for the full design process for the company's first mobile app.
"One of the biggest perks of a Bentley HFID education is the level of preparedness you have once you leave the program," says Hall. "If I didn't have that training, I wouldn't have been able to produce a full-on user study with findings within a month and a half as a brand new employee, barely knowing anything about the ins and outs of the product or the user. That's the value of a Bentley education — I was able to tackle my first task week one full steam ahead because I heavily relied on my Bentley training."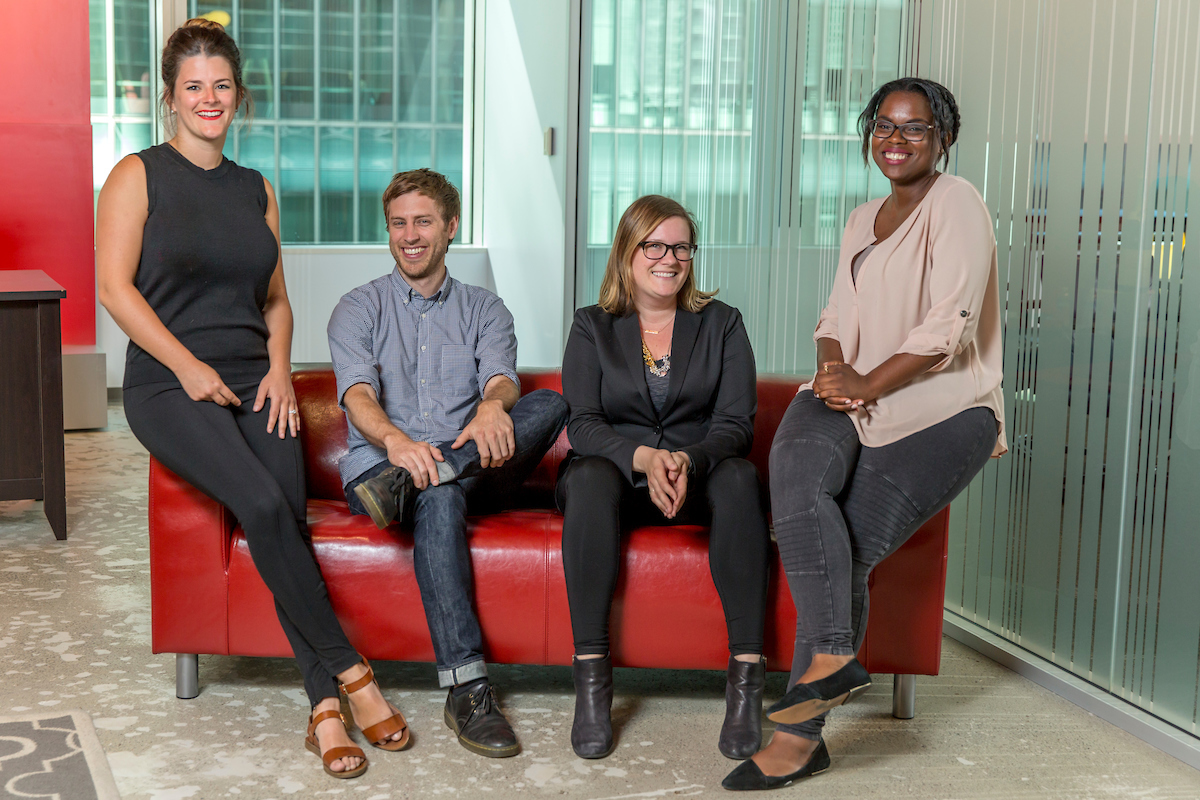 She's also loving her new life as a Bentley alumna.
"Everybody I've spoken to has been very approachable, informative, open to giving advice, or happy to just talk design and technology," she says of the school's global alumni network. "Bentley's HFID graduates work at some of the top companies in the tech industry, so it's nice to have those connections in your back pocket. 
"I'm reaping the rewards of Bentley's solid program daily," Hall adds. "My employer really trusts me and my judgement, all thanks to Bentley."