Plugged In Business
Gabriel San Miguel '22 launches e-commerce platform to help local companies in Puerto Rico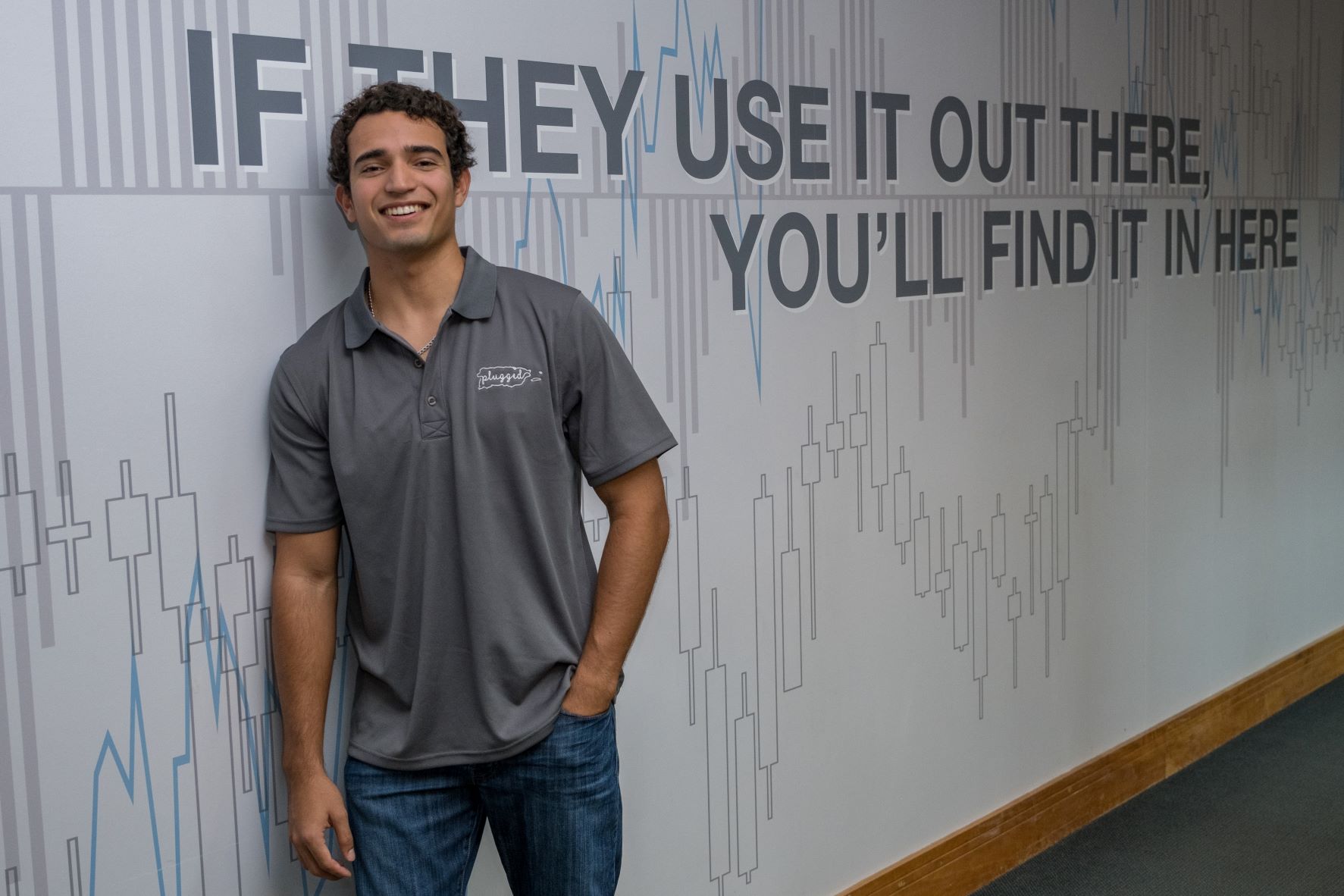 On a Saturday morning in late July 2021 just before 8 a.m., Gabriel San Miguel '22 was standing outside a local shop in Puerto Rico waiting for the doors to open. By 6 p.m., he had talked to dozens of shop owners and managers. No, he's not a shopaholic. San Miguel was pitching an e-commerce business to help entrepreneurs on the island compete with large corporations like Amazon, Alibaba and Wish.   
The idea for e-commerce site Pluggedpr came after San Miguel and co-founder Nelson Capote witnessed the devastating impact of the COVID-19 pandemic on Puerto Rico, as more consumers were buying online and having items shipped directly to their homes.  
"A big issue in Puerto Rico is that everyone is buying and importing from big corporations, which leaves local stores and entrepreneurs in the shadows," says San Miguel, who grew up in San Juan, Puerto Rico. "Some people may think that big corporations are the future and local stores should just close, but what is a city or town without its beautiful local shops and entrepreneurs who live from their businesses every day of their life?"
A big issue in Puerto Rico is that everyone is buying and importing from big corporations, which leaves local stores and entrepreneurs in the shadows.
The company's mission is to help small, Puerto Rico-based businesses achieve exposure and growth while providing a unique shopping experience for consumers worldwide. Once vendors register, a Pluggedpr team member photographs products and assigns a category — fashion, electronics, home decor and sports, for example. To compete with bigger e-commerce websites, Pluggedpr prices include shipping for most items.  
Being a vendor on the website is free, with Pluggedpr receiving a percentage of sales. Partners also have access to sales analytics and other data.
GLOBAL BRAND BUILDING
San Miguel is no stranger to small businesses. His father has owned an exterminating company since 1997. In elementary school, San Miguel started exploring his own entrepreneurial opportunities — buying candy in bulk to resell and managing a car wash in his neighborhood. It wasn't long before he set his sights more globally.   
"In high school I used to compete in professional surfing, and I would travel to Europe and other countries," San Miguel recalls. "I would stay with host families and learn about their cultures. I also met with many people who were owners of clothing or product brands and I would always picture myself becoming a distributor of those brands from Europe, Central America, U.S., and bringing them to Puerto Rico."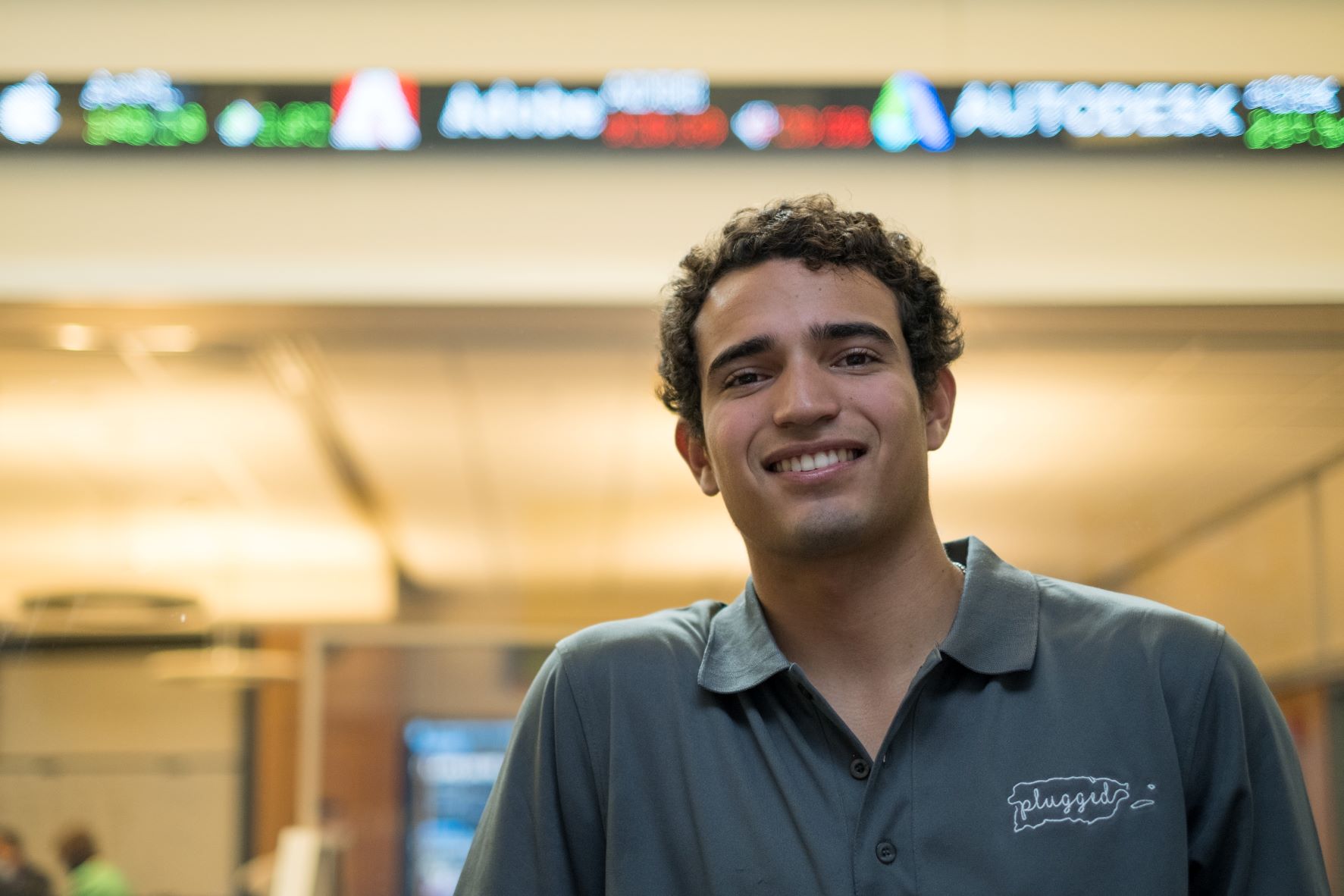 His appreciation for culture and connections led San Miguel to a Global Management major at Bentley. He crafted the art of the elevator pitch in a GB 320 course with Adjunct Assistant Professor of Finance Santosh Sambare.  
"One group project included creating and presenting a marketing strategy for a product," San Miguel says. "We presented a few times so Professor Sambare could give us advice on how to pick out the most important parts of the presentation to fill a limited 10-minute time slot. Learning how to do that was helpful when I was meeting with potential vendors to pitch Pluggedpr."  
He also learned how to manage time and make informed decisions by doing research beforehand. "Before I visited any new companies to speak with the owners when presenting Pluggedpr back in Puerto Rico, I had done previous research with Nelson so we could have a better understanding of the company's vision and know how to approach the owner when explaining our company mission."
MISSION TO (RE)BUILD
When Capote initially proposed the idea for an ecommerce website in early 2021, San Miguel was finishing up spring semester at Bentley and the pair made a pact to tackle the project when they returned home to Puerto Rico for the summer (even though San Miguel was taking remote summer courses and Capote was doing an internship).   
"I would go to Nelson's house around 8 p.m. and we would be there all night, nearly every night," San Miguel recalls of building the Pluggedpr website. "We wanted to design a cool website before we went out to get vendors."  
Lucius Firmin '23 created a clothing line with a social mission
Today, Pluggedpr hosts about 15 businesses and added two employees based in Puerto Rico to help procure and manage vendors. When San Miguel and Capote are at their respective colleges during the academic year, the team meets virtually a few times a week. So far, vendors "love the new concept," according to San Miguel.   
"We met two young entrepreneurs with a vision," says Maria Leon, owner of Champagne in the City. "We are very excited to be a part of the Pluggedpr project." 
It's not surprising. In August 2020, The Weekly Journal reported that the Department of Economic Development and Commerce estimates that the coronavirus pandemic's impact on Puerto Rico's economy could result in the permanent closure of 20 to 30 percent of existing businesses. Damage from natural disasters like Hurricane Maria have also impacted the economy.   
But San Miguel sees opportunities to beat the odds. "Our goal at Pluggedpr is to help vendors manage their store on one platform while reaching a larger audience boosting not only sales but hope for the future."