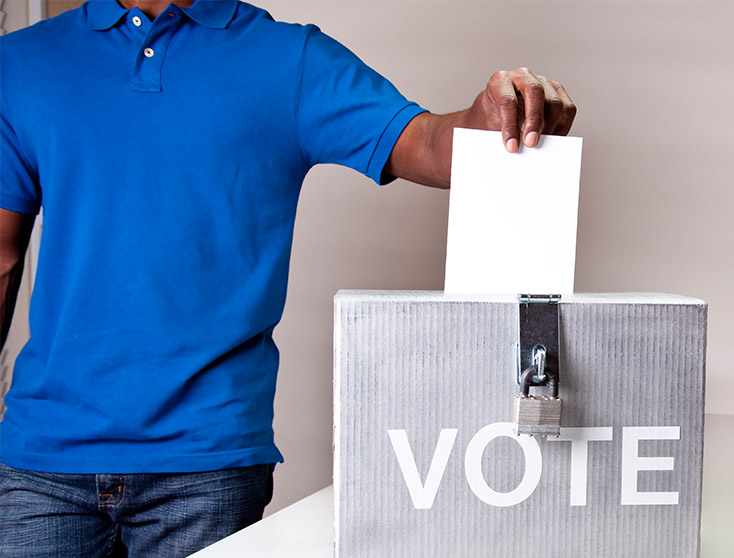 The Power Millennials Don't Know They Have
We know the millennial generation is the most racially diverse in American history, but the question is: Do they know it?
Much has been made about their diversity being key to the liberal attitudes characteristic of this younger generation. Politicians have surveyed and courted the non-white youth vote as if it's a defined political bloc. Millennials' higher tolerance of other races and groups has been praised as a conscious progressive stance.
We assume a significant number of millennials share the same set of liberal attitudes, especially if they are non-white. And that their diverse generation is more enlightened because they think and talk about racial bias. It turns out we're wrong.
The diversity of the millennial generation — 40 percent non-white — represents a trend driven by the large wave of Hispanic and Asian immigrants who have been coming to the U.S. for the past half century, and whose U.S.-born children are now aging into adulthood, according to a 2014 Pew Research Center report.
"I hesitate to say that just because there is more diversity among millennials, that somehow causes new attitudes toward diversity," says Marianne DelPo Kulow, a law professor at Bentley with a teaching interest in diversity issues. "The influences of millennials of technology and a decreased interest in organized religion — rather than millennial racial diversity — are equally likely explanations for more liberal attitudes on issues such as same-sex marriage or working mothers. Moreover, to conclude that their racial diversity is impacting millennial attitudes, one must presume a certain self-awareness of their own diversity. I'm not at all sure that most millennials are aware of their own diversity since they do not necessarily interact across racial groups."  
One of the most interesting national reports on millennials and racial bias was conducted in 2014 by MTV Strategic Insights, which surveyed approximately 3,000 people ages 14 to 24. The pollsters found many values are shared across all racial groups, like a strong sense of the importance of equality, but millennials lacked historical perspective and often race wasn't something they talk about very much.
The young millennials said they wanted a colorblind society in which all people would be treated the same, regardless of race, and they felt people their age believed in equality more than older people. They felt never considering race would improve society — while at the same time they said embracing diversity and celebrating differences would make society better.
The majorities of both young whites (74 percent) and people of color (65 percent) said they were opposed to preferential treatment being given to one race over another, regardless of historical inequalities. Relatedly, majorities of people of color and white people felt that people of color use racism as an excuse more than they should.
White respondents were nearly twice as likely to feel that the government pays too much attention to the problems of racial minority groups. And nearly half of all white respondents said they felt discrimination against white people was as big a problem as discrimination against people of color.
Only about 20 percent of the millennials said they were comfortable talking about bias.
"People assume that because millennials are diverse, not only are they progressive on social issues, but also that they'll speak up and have an impact," says Kulow.
"You have to put together the diversity of the millennials with the voting habits of the millennials to see if this assumption bears out. Since millennials don't get out there and express their opinions by voting, their impact is minimal and their views are hard to measure. So there really is no voting-based evidence that millennial diversity is causing an impact on social policies."
Millennials are the largest generation in the modern era and represent more than 25 percent of the age-eligible electorate in the United States, a figure that will rise to nearly 37 percent by 2020, according to Census Bureau projections.
In short, this generation carries serious political clout, a reality that has not yet drawn their interest.
A recent national poll by Harvard's Institute of Politics in the John F. Kennedy School of Government found a surprising number of younger millennials don't plan to vote in the upcoming midterm elections. The April poll surveyed more than 3,000 millennials age 18 to 29 and found less than one in four (23 percent) of young Americans say they will "definitely be voting" in November, a sharp drop of 11 percentage points from five months ago (34 percent).
Among the most likely voters, the Harvard poll found traditional Republican constituencies showing more enthusiasm than Democratic ones for participating in the upcoming midterms, with 44 percent of 2012 Mitt Romney voters saying they will definitely be voting — a statistically significant difference compared to the 35 percent of 2012 Barack Obama voters saying the same.
Where do non-white millennials fit in here? In multiple surveys, including the 2014 Pew Research Center report, the political views of millennials did sometimes differ significantly across racial and ethnic lines. While half of both white and non-white millennials say they are political independents, nearly twice as many non-white millennials — 37 percent — identified as Democrats compared with 19 percent of white millennials.
The Pew survey also found that white and non-white millennials have different views on the role of government. On balance, about half of white millennials say they would prefer a smaller government that provides fewer services rather than a bigger government that provides more services. Non-white millennials lean heavily toward a bigger government — more than 70 percent say they would prefer a bigger government that provides more services. The racial gaps are about as wide among Gen Xers and baby boomers.
Surveys are all well and good but the true political voice of the majority of millennials remains to be seen. Less than half showed up at the ballot box in the past two presidential elections. And those numbers are dropping: 48.5 percent of millennials between 18 and 24 voted in 2008 compared with only 41.2 percent in 2012. In contrast, elders have increased their participation: turnout rates for people age 65 and older rose from 70.3 percent in 2008 to 71.9 in 2012, according to the Census Bureau.
For non-white millennials, entering the voting process would provide momentum in a political landscape that is changing fast. Non-white voters in the 2012 election claimed an historic turnout — 26.3 percent — a record high. And that could have been even higher: 43 percent of all U.S. adults age 18 and older are non-white, according to a Pew Research Center analysis of a report from the Census Bureau on the diversifying American electorate in 2012. By 2020, non-whites will be more than 37.2 percent of the electorate, and by 2060 they will be 54.8 percent, according to Census Bureau projections.
About half of newborns in America today are non-white, according to a recent statistics report from the U.S. Department of Health and Human Services. Projections estimate the county's population will be majority non-white sometime around 2043.
Are the millennials aware of this incredible ground shift?
Michael O'Halloran, a senior lecturer in management at Bentley University, says millennials are not really noticing a distinction from previous generations.
"This is their generational reality and therefore does not necessarily imply millennials espouse greater liberal philosophy but that it is 'natural' for them to be more accepting of identity differences."  
Meg Murphy is a freelance writer.