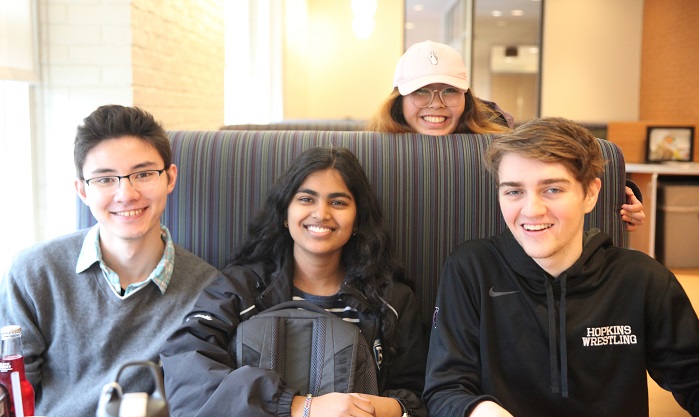 "We have the power to build a positive community that welcomes cultural and political differences." - President Davis-Blake.
President Davis-Blake's Election Day Message
Dear Members of the Bentley Community,
Today is Election Day. Across the U.S., people will cast their votes to help determine our country's direction. It's a privilege to be able to choose the people who govern us and I hope, if you are eligible, you will participate in this important election.
As we know all too well, it is also a time of division in our country. Too often, we criticize or attack those who think differently or belong to different groups. And too often, we react to cultural or political differences by retreating into likeminded groups rather than seeking common understanding. While this divide is on full display across the country during election season, that does not have to be the way we act on our campus. If we are up to it, we have the power to build a positive community that welcomes cultural and political differences with open arms. Over the weekend, posters promoting the upcoming Drag Queen Bingo event were torn down. It is the second year in a row this has occurred and a reminder that Bentley is by no means isolated from this divided and charged atmosphere.
Our community is grounded in the Bentley Beliefs of respect, diversity, integrity and learning. Campus forums discussing and affirming these beliefs over the past few weeks have been well attended and have provided valuable feedback as to how the members of our community look to these beliefs as a common values statement. A key tenet of the Bentley Beliefs is recognizing that while we are all different, we also seek to understand each other. We affirm and protect the right of all people to be themselves—in fact, we embrace that right, for it is precisely those differences that help us to learn from each other and grow intellectually, socially and emotionally.
On this Election Day, I ask us to make a special effort to recognize the dignity and worth of every person in our community and to show respect for views different from our own. When it comes to political discourse, civil engagement is just as important as civic engagement.
We are all responsible for fostering an atmosphere where political and other views can be freely voiced and debated. In the classroom, hallway, lunchroom or dorm, it's up to each of us to do our part to create an environment where differences of experience, perspective and background are welcomed and celebrated.
Let us recommit ourselves to that effort beginning today.
Alison